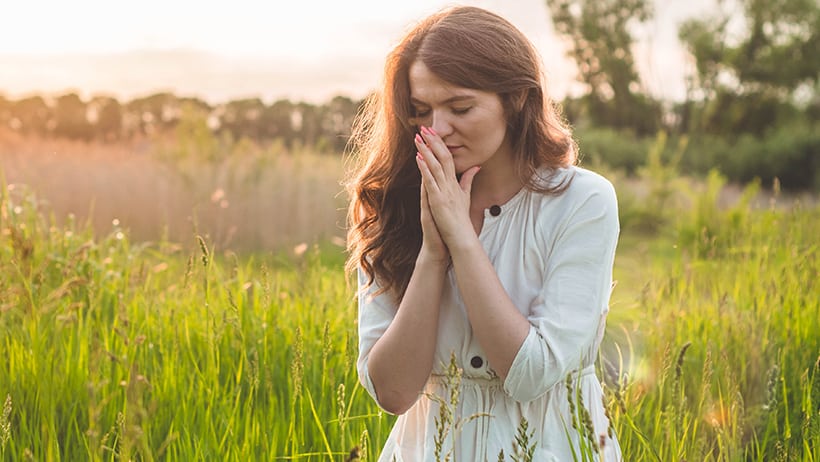 Prayer is known as vandanam in the Vedas. It's one of the nine practices which form the path of bhakti-yoga, or approaching God through devotion. Whether silent or vocal, unique or traditional, spontaneous or scheduled, sincere prayers deliver a heartfelt connection with God.
Forms of Prayer
Among the nine practices of devotional yoga, prayer is the sixth. Prayer can be quiet enough that only we hear the words or loud for public involvement. It can also be silent. Audible prayer provides a multi-sensory experience which can make the process of prayer easier to focus on.
Prayer overlaps with other practices of bhakti. Loud prayer for example, is also a form of kirtanam, or glorification. When the content of prayers require privacy, there are silent forms. These mystic prayerful contemplations also overlap with smaranam, or remembrance of God.
Classic Examples
The Vedas are full of prayers offered in various circumstances and moods. Vandanam as a yoga practice can incorporate recital of these prayers, especially when they embody a meaning, purpose or value which we want to tap into. Here are a few examples from the Vedic literature:
hiranmayena patrena satyasyapihitam mukham
tat tvam pushann apavrinu satya-dharmaya drishtaye
The face of the Absolute Truth is covered by a lid of golden light. Dear sustainer of all that lives, kindly remove that covering and exhibit Yourself to Your pure devotee.
(Isopanishad Mantra 15)
svasty astu visvasya khalah prasidatam
dhyayantu bhutani sivam mitho dhiya
manas cha bhadram bhajatad adhokshaje
avesyatam no matir apy ahaituki
May there be good fortune throughout the universe, and may all envious persons be pacified. May all living entities become calm by practicing bhakti-yoga, for by accepting devotional service they will think of each other's welfare. Therefore let our consciousness be absorbed without ulterior motives in Adhokshaja (The Absolute Truth, who is beyond sense perception).
(Srimad-Bhagavatam 5.18.9)
baddhenanjalina natena sirasa gatraih sa-romodgamaih
kanthena svara-gadgadena nayanenodgirna-bashpambuna
nityam tvach charanaravinda-yugala-dhyanamritasvadinam
asmakam sarasiruhaksha satatam sampadyatam jivitam
You, whose eyes are like lotuses growing in a lake, please sustain our lives as we constantly relish the nectar of meditating on Your lotus feet, with our palms prayerfully joined, our heads bowed down, our bodily hair standing up in jubilation, our voices choked with emotion,
and our eyes flowing with tears.
(Mukunda-mala Stotra 33)
Starting Where You Are
Whether we recite a relevant prayer from the past, or make a new one, it should relate to something we care about. One name of the Absolute Truth is Bhava-grahi which means one who accepts the mood in which an offering is made, more than the offering itself.
Sincerity in prayer is important. If we pray for something we don't care about, our real desires aren't being addressed, and our mind will wander where it wants anyway. Honesty is the best policy in prayer. After all, God already knows what we want. In prayer, we share our hearts.
Perhaps some of this idea is conveyed through Claudius' words in Shakespeare's play, Hamlet:
My words fly up, my thoughts remain below:
Words without thoughts never to heaven go.
Spontaneous and Ceremonial Prayer
In 1930, a guru of devotional yoga, Srila Bhaktisiddhanta Sarasvati Thakura, captured the mood of bhakti practitioners in his Bengali couplet:
matala hari-jana visaya range
pujala raga-patha gaurava-bhange
While meditating on the object of love in bliss, the followers of Hari (God) worship, in awe and wonderment, the path of spontaneous devotional service.
Our practice of bhakti-yoga may not be spontaneous at first, but that spontaneous quality of devotion is what we want. Prayer in bhakti can also become spontaneous, and that is ideal; however, scheduling periodic prayer times, or ceremonies, can help us now to get in the groove.
Formalizing our prayer practice aligns with the element of yoga known as niyama, or regulation. There's an interesting Sanskrit word, niyamagraha, which has two opposite meanings. In either sense, niyamagraha is a gutter on the side of the yoga path. One is to the left, one to the right:
Niyama-agraha — Not following a regulative principle
Niyama-aagraha — Only following a regulative principle
Failing to prioritize yoga practices, such as vandanam, is type 1 niyamagraha, and when the pendulum swings to the other extreme of type 2, we pray mechanically, just because we're supposed to. The middle path of daily, heartfelt prayer is represented by the old adage, "Practice makes perfect."
Evolving Through Prayer
This article has looked at prayer mainly through the devotional yoga lens, but prayers are often motivated by less spiritually-evolved hopes or fears. These kinds of prayers have been left out not because they're bad, but because they're so familiar already. Bhakti focuses on self-sacrifice for the pleasure of the Lord. It is beyond self-service.
Yet, bhakti also begins with mercy. Everyone experiences pain, poverty, loneliness and other challenges. If we pray for help with these problems, at least we've turned to the Absolute Truth. Don't beat yourself up if the desires you pray for are selfish. Any prayer is better than none!
Sometimes, if we're first kind to ourselves, we can then be kind to others.