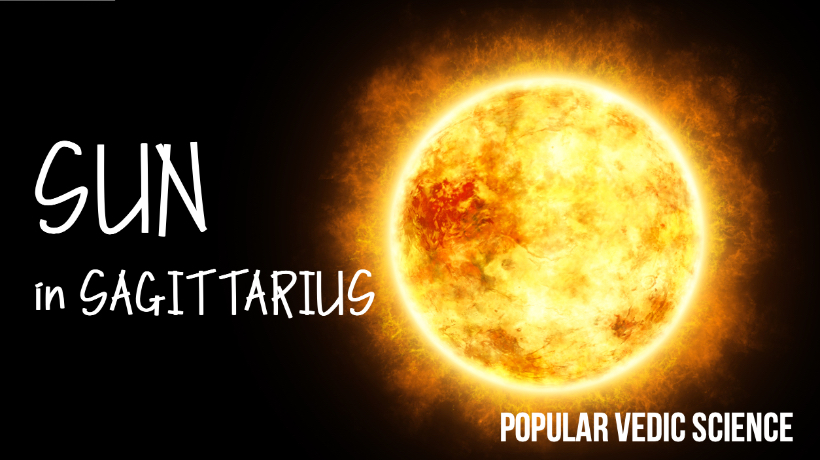 In this article we provide a detailed overview of the Sun in Sagittarius as well as its impact in each of the 12 houses of the zodiac. Do you have the Sun in Sagittarius in your horoscope? If so then this article is for you.
Sun: The Planet of Selfhood, Rulers, and Health
As the powerhouse that makes life possible on our small planet, the sun has been worshiped in many ancient human cultures for its radiant and rejuvenating qualities. In astrology, the sun is considered the king of the planets. According to Vedic theology, the sun is an expansion of God.
Weekday
As the leader of the planets, the sun's weekday is Sunday, the first day of the week. The movement of the sun is also the basis for the Gregorian calendar, which is used by most of the modern world.
Speed of Travel
The sun travels through the twelve signs of the zodiac exactly once per year, and moves through each sign at the rate of approximately one sign per month.
Areas of Influence
In an astrological chart, the Sun governs the following:
The soul, consciousness, or the self
Kings, rulers, and governments
The father, a guide, or a mentor
Will-power, courage, and discernment
Health, eyesight, and general well-being
Blessings, happiness, and patience
Victories, strength, and enthusiasm
Fame, social status, and charisma
Self-sacrifice, self-realization, and religiosity
LEARN MORE: The Puranas provide an advanced understanding of our universe, including descriptions of life on other planets. Check out our guide to Vedic Cosmology.
Sagittarius: The Sign of the Archer
Sagittarius is the ninth sign of the zodiac. In Vedic astrology, Aquarius is known by the Sanskrit name dhanus, or "the archer." The sign of Sagittarius possesses a righteous, noble, and passionate nature. Sagittarius is a sign of good fortune. In an astrological chart, it indicates areas where you are religious and devoted in your efforts.
Basic Traits
Ruled by Jupiter. Jupiter is known as the planet of wisdom, devotion, and piety. He brings wisdom and a religious energy to the house he inhabits.
A fire sign. Sagittarius is temperamental, passionate, and energetic.
A dual sign. Sagittarius is adaptable and multi-talented.
A masculine sign. Sagittarius is aggressive, bold, and thick-skinned.
Areas of Influence
Aquarius influences its planetary lord in the following areas:
Virtue and wisdom
Spirituality and devotion
Passion and sacrifice
Vigor and athleticism
Fortune
Traits of the Sun in Sagittarius
The influence of the Sun in a birth chart will change depending on which house it is located in, its relative position in relation to other planets, as well as other factors. However, the following general traits are likely to be found in a native whose Sun is in Sagittarius:
You are fortunate. Sagittarius is the one of the signs ruled by Jupiter, the planet of prosperity and good fortune. You lead a comfortable life. You have sufficient wealth to provide for yourself and your family, and you are well-respected by your peers.
You are independent. You have a strong personality and you don't like being overly dependent on others. You are confident, and once you make a decision you stick to it. You are never afraid to speak your mind and stand up for what you believe in. You are also capable of defending yourself, and you're willing to use physical force if necessary.
You are drawn to the medicinal and healing arts. You have a passion for helping others and this can lead to a fruitful career in medicine or a related field. You are caring, kind, and sensitive to others' needs. This makes you an excellent friend, parent, and life partner.
You are physically fit. You aren't a scrawny person. You enjoy physical activity and you like to keep your body healthy through regular exercise. You possess above-average strength and endurance, and you can excel in sports.
You are spiritually-inclined. You were likely raised in a religious family and your spiritual life is important to you. You strive to live a virtuous and noble life. For you, religion is more than mere dogma and ritual; it is a path meant for bettering oneself and for serving one's fellow human beings.
Sun in Sagittarius in the 12 Houses
Every natal chart is unique. It is not possible to give a fully accurate reading without considering the various elements of the chart, including planetary combinations, aspects, friendships, directional strength, and more.
The traits below are general indications which will change depending on the influence of the factors listed above.
In the First House
The first house indicates physique and self-expression. You are have good character, and you help others. You are determined and brave. You have good health, and you are likely to live a long life. However, you may become proud of your many virtues. Try to cultivate humility.
In the Second House
The second house indicates wealth and cultural traditions. Through hard work you can become very wealthy. You may have trouble in school, as you prefer learn things on your own according to your own interests. You have difficulty expressing yourself. You may face some financial ups and downs in life.
In the Third House
The third house indicates siblings, courage, and literary works. You are intelligent and wealthy. You may rise to a position of leadership or authority in your career or social circle. You like to travel. You may have difficulties in your relationship with your siblings and / or your mother. Overall, you are a happy person. Some of your friends may not be a good influence on you.
In the Fourth House
The fourth house indicates one's mother, home, and basic beliefs. You are likely to work in the government, likely in a leadership role. You can earn money from property, and you are likely to have many friends and a large and influential social circle.
In the Fifth House
The fifth house indicates children, creative works, and overall success. You are intelligent and can easily make money. However, it may also be lost just as easily. Be very careful not to participate in risky investments. You are prone to love affairs. You can overcome challenges and vanquish your opponents.
In the Sixth House
The sixth house indicates debt, disease, and service. You work hard and enjoy helping others. You can have a successful career in the service industry or in government work. You are a very strong person. You may meet with many opponents in life, but in the end you will overcome them.
In the Seventh House
The seventh house indicates the spouse, marital happiness, and sexual desire. You experience many difficulties on account of the opposite sex. You are restless and impatient. You like to travel, and there is a good chance you will live abroad for a period of your life. You take too much interest in romantic affairs.
In the Eighth House
The eighth house indicates death, calamities, and interest in the occult. You can make great spiritual advancement in life. You have difficulty making friends — however you will keep one or two people close to you. You may live separate from the people with whom you grew up.
In the Ninth House
The ninth house indicates religion and morality. You are a just and noble person. You are wise, philosophical, and spiritually-inclined. You may experience trouble with your father or another father figure. You may experience disharmony at home, particularly in your marital relationship.
In the Tenth House
The tenth house indicates one's father, career, and reputation. You are famous, wealthy, and influential. You have many virtuous qualities. You are intelligent, and you can be highly successful in your chosen field. You may relocate to a place other than your homeland.
In the Eleventh House
The eleventh house indicates gains, aspirations, and friendships. You can earn lots of money and are very skilled in investing. You are ambitious, and you will likely rise to a high position in life. However, you do not have many friends. Still you can keep one or two people close to you, whom you can trust.
In the Twelfth House
The twelfth house indicates losses, misfortune, and liberation. You will likely experience many difficulties throughout your life. You lack self-confidence, and you have a hard time earning a steady income. However, you can gain great satisfaction from spiritual pursuits.