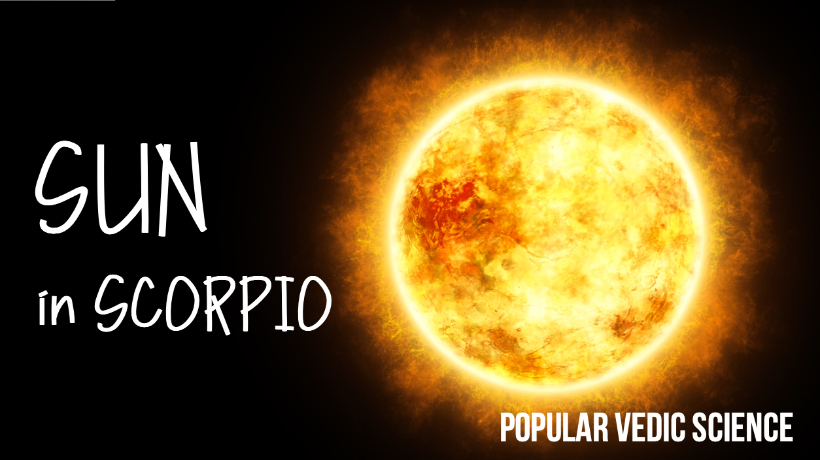 In this article we provide a detailed overview of the Sun in Scorpio as well as its impact in each of the 12 houses of the zodiac. Do you have the Sun in Scorpio in your horoscope? If so then this article is for you.
Sun: The Planet of Selfhood, Rulers, and Health
As the powerhouse that makes life possible on our small planet, the sun has been worshiped in many ancient human cultures for its radiant and rejuvenating qualities. In astrology, the sun is considered the king of the planets. According to Vedic theology, the sun is an expansion of God.
Weekday
As the leader of the planets, the sun's weekday is Sunday, the first day of the week. The movement of the sun is also the basis for the Gregorian calendar, which is used by most of the modern world.
Speed of Travel
The sun travels through the twelve signs of the zodiac exactly once per year, and moves through each sign at the rate of approximately one sign per month.
Areas of Influence
In an astrological chart, the Sun governs the following:
The soul, consciousness, or the self
Kings, rulers, and governments
The father, a guide, or a mentor
Will-power, courage, and discernment
Health, eyesight, and general well-being
Blessings, happiness, and patience
Victories, strength, and enthusiasm
Fame, social status, and charisma
Self-sacrifice, self-realization, and religiosity
LEARN MORE: The Puranas provide an advanced understanding of our universe, including descriptions of life on other planets. Check out our guide to Vedic Cosmology.
Scorpio: The Sign of the Scorpion
Scorpio is the eighth sign of the zodiac. In Vedic astrology, Scorpio is known by the Sanskrit name vrishcika, or "the scorpion." The sign of Scorpio possesses a piercing, intense, and mysterious nature. Scorpio is a sign of hidden power. In an astrological chart, it indicates areas where you are harsh and secretive in your efforts.
Basic Traits
Ruled by Mars. Mars is known as the planet of vitality, courage, and competition. He brings a fiery and fearsome energy to the house he inhabits.
A water sign. Scorpio is perceptive, artistic, and sentimental.
A fixed sign. Scorpio is steady, predictable, and slow to change.
A feminine sign. Scorpio is receptive, sensitive, and empathetic.
Areas of Influence
Scorpio influences its planetary lord in the following areas:
Energy and power
Mysteries and secrets
Brooding and mood swings
Criticism and harshness
Transformation
Traits of the Sun in Scorpio
The influence of the Sun in a birth chart will change depending on which house it is located in, its relative position in relation to other planets, as well as other factors. However, the following general traits are likely to be found in a native whose Sun is in Scorpio:
You are impulsive. You approach life with intensity and you don't like to waste time when making decisions. Some people find this trait impressive and attractive. However, you may also find yourself regularly facing unexpected consequences.
You have great courage. Natives with the Sun in Scorpio have a fearless quality about them. They are self-reliant and powerful. You know how to get yourself out of difficult situations. You may be a leader or pioneer in your field.
You are very intelligent. You have a burning passion for learning and expanding your knowledge of many varieties of subjects. You understand that knowledge is power, and you eagerly devour books, articles, and other content on topics that interest you.
You may frequently "go through the motions" of life. Because you are an intense person it is difficult for you to find meaning and fulfillment in the ordinary activities of day-to-day life. You may feel like your daily life is monotonous and you are running on autopilot. Developing a practice of meditation can help you become mindful and more appreciative of your surroundings and the people in your life.
You are likely to be more successful later in life. You may find that your inspiration and drive is somewhat lacking during the first part of your life. You are not likely to advance personally or professionally as much as you would like. However, once you enter your 30s you will start to see a visible improvement.
Sun in Scorpio in the 12 Houses
Every natal chart is unique. It is not possible to give a fully accurate reading without considering the various elements of the chart, including planetary combinations, aspects, friendships, directional strength, and more.
The traits below are general indications which will change depending on the influence of the factors listed above.
In the First House
The first house indicates physique and self-expression. You are a very aggressive, powerful person. You are healthy and can do well in sports and other competitive pursuits. You are self-confident and independent. However, you are also likely to be impatient and perhaps even opinionated and somewhat arrogant.
In the Second House
The second house indicates wealth and cultural traditions. You are able to make good money throughout life. You may not like learning, unless the topic has some practical utility. You are a modest, simple person. You have difficulty expressing yourself.
In the Third House
The third house indicates siblings, courage, and literary works. You are intelligent and valorous. You may have a poor relationship with your siblings, or with your mother, or both. You are a generous person. You may rise to a position of authority in your professional life.
In the Fourth House
The fourth house indicates one's mother, home, and basic beliefs. You can do well in government work. You are likely to be moody and unhappy for long periods. You may gain wealth through land or properties.
In the Fifth House
The fifth house indicates children, creative works, and overall success. You work hard and may be rather stressed. However, you are wealthy, and you like to travel. You can easily conquer your opponents. Beware of risky investments, and also beware of love affairs. These will cause you much trouble.
In the Sixth House
The sixth house indicates debt, disease, and service. You are proud. You take good care of your health. You enjoy helping others. You will have a successful career. However, you may lose money due to friends or the government. Also, your spouse may suffer some prolonged ailment.
In the Seventh House
The seventh house indicates the spouse, marital happiness, and sexual desire. You are likely to have challenges in relations with the opposite sex. You also make face difficulties with the government. You like to travel, and are likely to spend much time abroad. Your business and family relations may be strained. This is not a very good position for the sun, unless Mars is very strong in the chart.
In the Eighth House
The eighth house indicates death, calamities, and interest in the occult. You may not be very satisfied with your life on a material level. However, this can be a powerful impetus for spiritual practice and self-realization. You are not likely to have many friends, but you can have a close relationship with one or two people you trust.
In the Ninth House
The ninth house indicates religion and morality. You are materially successful. You are naturally noble and pious. You will earn well throughout life. You are likely to travel often. However, you relationship with your spouse may be strained.
In the Tenth House
The tenth house indicates one's father, career, and reputation. You are likely to have children. You are wealthy and intelligent. You can gain great success in whatever field you choose to pursue. You are able to achieve your goals in life.
In the Eleventh House
The eleventh house indicates gains, aspirations, and friendships. You are ambitious and you are able to set goals for yourself and achieve them. You may rise to a high position in life. You are successful with investments. You have a harmonious and happy relationship with your spouse.
In the Twelfth House
The twelfth house indicates losses, misfortune, and liberation. Your are likely to face obstacles in your personal and professional lives. You will see many financial ups and downs, and you lack self-confidence. However, you can find great satisfaction in spiritual pursuits.