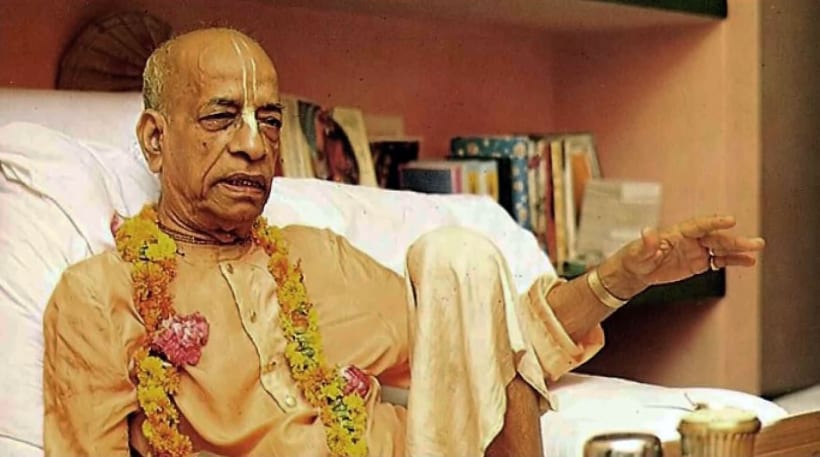 Srila Prabhupada is the founding spiritual teacher of the International Society for Krishna Consciousness (ISKCON), the world's largest organization dedicated to sharing the teachings of bhakti-yoga, devotional service to Lord Krishna, based on ancient scriptures such as the Bhagavad-gita and Srimad Bhagavatam.
Youth and Young Adulthood
Prabhupada was born in 1896 in Calcutta, India to Gour Mohan and Rajani De. Coming from long-established Gaudiya Vaisnava families, they named their son Abhay Charan, "one who is fearless, having taken shelter at Lord Krishna's lotus feet." At his naming ceremony, the family's astrologer predicted that at the age of seventy, Abhay would cross the ocean to spread love of God throughout the world and open a total of 108 temples.
From infancy, under the loving guidance of his parents, Abhay imbibed the spirit of Krishna consciousness. At the age of five, with the help of his father, he organized a small Ratha-yatra festival for his playmates on Harrison Road, where his family lived. He and his father carefully modified a small wooden cart to resemble the great chariots that carry Lord Jagannath, Lord Baladev, and Lady Subhadra each year through the roads of Puri. Abhay was so earnest to replicate the grandeur of the original festival that he attempted to make homemade fireworks, but his mother quickly intervened.
In his youth, Abhay worshiped his own set of Radha-Krishna deities in his home. He attended school and learned English, Bengali, and Sanskrit, in addition to math, science, history, and Vaisnava culture and practice.
In 1916, at the age of twenty, Abhay enrolled at Scottish Churches' College, where he studied English and Sanskrit literature, philosophy, economics, and other subjects. His father wanted him to get a good British education so that Abhay could eventually begin a career and start a family, but Abhay's heart had little room for these things. He was unmoved by the Western way of life, and he did not approve of the speculative approach of Western philosophy.
Abhay's dissatisfaction in his studies led him to the underground Indian independence movement of Mohandas K. Ghandi. Ghandi and other thought leaders in India were working to counteract British propaganda that India was a primitive nation with a backwards and unrefined culture. Although Abhay was attracted to many of Ghandi's high ideals, his direct involvement with the movement was short-lived. At the request of a friend, in 1922, Abhay reluctantly visited a lecture by one of Calcutta's many sadhus, or holy men, who often made scriptural presentations merely to win followers or collect donations to make their livelihood. However, this particular sadhu was quite different, and the encounter changed Abhay's life forever.
Srila Bhaktisiddhanta Sarasvati Thakur was a spiritual revolutionary, and at the time one of the most prominent spiritual teachers in all of India. Under the direction of his father, Bhaktivinode Thakur—who was a Vaisnava luminary in his own right—and his spiritual master, Gour Kishore das Babaji, Bhaktisiddhanta was launching a nation-wide effort to resuscitate India's traditional culture of God consciousness. Firmly rooted in the tenets and practices of Krishna bhakti, Bhaktisiddhanta was a living representative of Sri Krishna Chaitanya Mahaprabhu, the founding father of the kirtan movement, who appeared in Bengal in the late 1400s, and who was an avatara, or incarnation of Lord Krishna Himself.
When Abhay and his friend arrived at the lecture, they offered prostrated obeisances before Bhaktisiddhanta, a customary sign of respect for persons in the ascetic order. While Abhay was still rising from the floor, Bhaktisiddhanta, moved by the Paramatma, the indwelling Lord in the heart, immediately spoke to them: "You are educated young men. Why don't you preach Lord Chaitanya Mahaprabhu's message throughout the whole world?" Shocked to receive such an instruction from a complete stranger, Abhay quickly recognized this person to be his guru, a divine representative sent by God to direct him in his spiritual journey. In his heart, Abhay accepted the order of Bhaktisiddhanta as his life's work.
Middle Age
In 1933, eleven years after his first encounter with Srila Bhaktisiddhanta Sarasvati, Abhay formally underwent the initiation ceremony. He was now a family man and ran a pharmaceutical business. In his mind, Abhay envisioned he would gradually accumulate a small fortune that would enable him to fund the preaching mission his guru had commanded him to undertake in the Western world.
Krishna, however, had other plans for him. Though his frequent business trips allowed him to develop strong bonds with Srila Bhaktisiddhanta Sarasvati's growing network of disciples, Abhay's business ventures failed one after another.
By the onset of the second World War, Abhay's business prospects had dwindled, and he began to feel an urgent need to share the teachings of Krishna consciousness. He used a significant portion of his earnings to produce a new fortnightly magazine, Back to Godhead. Writing, editing, and typing the entire manuscript himself, Abhay published the first volume in 1944. The magazine's motto was printed in bold lettering at the top of the front cover: "Godhead is Light, Nescience is darkness. Where there is Godhead, there is no Nescience."
Abhay wasted no time in expanding his efforts to spread Krishna consciousness. While producing the initial volumes of Back to Godhead, he began work on another ambitious project: translating the entire Bhagavad-gita into English, along with an elaborate Vaisnava commentary. Impressed by his vigor and scholarship, several of Abhay's godbrothers awarded him the honorary title of Bhaktivedanta, or "one who has realized that devotional service to the Supreme Lord is the end of all knowledge." By 1950, at the age of fifty-four, he had minimized his business activities to direct his full attention to his preaching work.
Later Years
In 1959, Abhay was initiated into the sannyasa order, taking formal vows of purity and asceticism. For a number of years, Abhay's spiritual master, Bhaktisiddhanta Sarasvati, had appeared to him in dreams, urging him to take this final step of self-dedication to the Lord's service. As part of his sannyasa initiation, Abhay received the title of Swami, or "one who has mastered the mind and senses." He was now known as Bhaktivedanta Swami and had taken up residence in the sacred town of Vrindavan, where Lord Krishna had performed his earthly pastimes over 5,000 years prior. That same year, while living in a small room at the historic Radha-Damodar temple, Bhaktivedanta Swami commenced work on what would become his life's masterpiece: a sixty-volume translation and commentary on the Srimad Bhagavatam, the crown jewel of all Vedic literature.
Bhaktivedanta Swami adopted a strict daily schedule, rising as early as 1:00 a.m. to translate by lamplight. He would occasionally travel by train to the nearby city of Delhi to sell copies of Back to Godhead and collect funds for printing his Bhagavatam. Not a day went by when he didn't dream of traveling to America to fulfill his guru's order to spread Krishna's teachings throughout the world.
On a fateful day in the winter of 1965, by providential arrangement, Bhaktivedanta Swami encountered Mr. Agarwal, a businessman from Mathura whose nephew lived in Pennsylvania. Upon hearing that Bhaktivedanta Swami desired to preach in the West, Mr. Agarwal requested his nephew, Gopal, to formally sponsor the Swami's visit. Within months India's Ministry of External Affairs notified Bhaktivedanta Swami that his planned trip to America had been approved.
Fulfilling His Mission
On September 19, 1965, Bhaktivedanta Swami arrived at New York Harbor. He was sixty-nine years old. The thirty-five-day voyage in the small passenger cabin of a cargo ship had taken a toll on his aging body. While crossing the Red Sea, his seasickness had intensified, and in two consecutive days he had suffered two heart attacks. On the night of the second day, Krishna had appeared to him in a dream, rowing a small boat alongside the steamship, telling him not to be afraid. Within a few days, Bhaktivedanta Swami's pain had subsided, and over the course of the remainder of the journey he had gradually recovered.
His few possessions included a typewriter, an umbrella, a multi-tier cooker he used to prepare meals, and a small supply of dried cereal. He had only forty rupees in cash, the modern equivalent of about fifty dollars. In addition, he had traveled with several trunks containing hardbound copies of the first three volumes of his Srimad Bhagavatam.
After a brief stay in Butler, Pennsylvania with Gopal Agarwal and his wife, Sally, Bhaktivedanta Swami ventured to New York. Everything about America was foreign to him—the food, the language, the culture, the weather—but he persevered with full faith in the potency of his spiritual master's blessings. Despite the numerous hardships, he knew his mission was destined to succeed.
By the spring of 1966, Bhaktivedanta Swami had relocated to the Bowery, one of New York City's most run-down and impoverished neighborhoods. He was regularly holding kirtans and lecturing on the Bhagavad-gita to a small group of hippies who had moved to Manhattan's Lower East Side to participate in New York's counter-culture. That summer, several of his students pitched in to rent a small storefront on 2nd Avenue, and on July 11, 1966, Bhaktivedanta Swami registered the International Society for Krishna Consciousness as an official non-profit religious organization.
Many among his initial group of students expressed wonder at the concept of an "international society;" they could hardly have known how rapidly the Hare Krishna movement would spread in the decade that followed. Bhaktivedanta Swami's students would soon take to calling him Prabhupada, or "one at whose feet masters sit," a traditional title reserved for Vaisnava spiritual masters who had received special grace from the Lord.
Over the course of the next eleven years, Srila Prabhupada circled the globe twelve times, visiting six continents and opening 108 centers, schools, and farm communities for the purpose of sharing the teachings of Krishna bhakti with society at large. Even as he traveled around the world, Prabhupada found time to write over eighty books on the science of bhakti-yoga. In addition, he wrote thousands of letters to individual disciples, in which he answered questions and offered loving words of encouragement for their spiritual lives.
By the time he departed the world in November, 1977, Prabhupada had initiated over 10,000 disciples, many of whom would vigorously carry on his mission in his physical absence. The Bhaktivedanta Book Trust, established by Srila Prabhupada in 1972 as the publishing arm of the Hare Krishna movement, has since become the world's largest publisher of books in the field of Indian philosophy, and his Bhagavad-gita As It Is has been translated into nearly sixty different languages.
It is impossible to measure Srila Prabhupada's impact on our world. His spiritual example and teachings continue to transform lives even today.
We would like to thank Satsvarupa dasa Goswami for his Srila Prabhupada-lilamrta, the complete biography of Srila Prabhupada which was the primary reference for this brief summary.
To read the full life story of Srila Prabhupada, including many wonderful and heart-touching details we weren't able to include here, you can purchase your own copy of the Srila Prabhupada-lilamrta. You can also find it online at the Bhaktivedanta Vedabase.