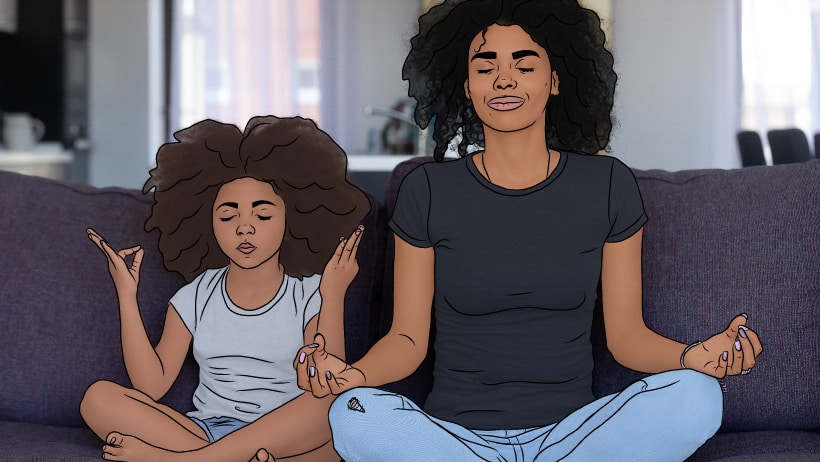 Are you a parent, teacher, caregiver, or another type of mentor for children? Would you like to help your kids feel calm, safe, and supported? Do you want to help them boost their confidence, improve their focus in school, and practice resilience in the face of social pressure?
Yoga can provide a path to a better sense of well-being for people of all ages. Read on to learn some key tips for introducing this practice to the kids in your life.
Key Benefits of Yoga
Many people know yoga offers multiple benefits. For example, yoga can help you:
Reduce stress
Sleep better
Protect your muscles, ligaments, and bones from injury
Enhance your mood and outlook on life
Boost your immune system
Improve your focus and concentration
Strengthen your muscles, improve your mobility, and generally increase your sense of physical well-being
Develop more patience as you face life's challenges
Children also have much to gain by practicing yoga and building habits that will help their bodies, minds, and emotions develop in a healthy way. For example, yoga can help them learn how to better manage the increasing stresses of daily life. From the constant stimulation of television, tablet, and smartphone screens to peer pressure amplified by social media, kids now face regular exposure to the modern world's many challenges.
Top Tips for Introducing Yoga to Kids
Anyone can introduce yoga to children. Here are four tips to help you successfully navigate this journey:
1. Maintain Your Own Yoga Practice
Kids generally "do as we do, not as we say." Use this to your advantage and practice yoga around them for yourself. You don't have to be an experienced yogi to set a good example. You can introduce them to yoga by simply allowing them to see you practicing your Sunday morning downward-facing dog, cat and cow, and balancing poses. Whether they show it initially or not, they're watching. In many cases, it won't take long until they start to mimic you.
For example, one yoga teacher recently caught her 5-year-old son closing his eyes, touching his thumbs to his forefingers in the classic "jnana mudra" pose thought to invoke the energy of infinite knowledge and wisdom, and then taking five deep, meditative breaths before jumping into a swimming pool. She never told him to do that. She hadn't even realized he noticed her doing so or knew what it was. He simply picked up those actions by watching her and then decided, by himself, when to use them.
2. Throw Away Your Agenda
Trying to stick to a rigid plan when teaching yoga to kids will result in stress and frustration for everyone. If you want to attract a child's interest in yoga, you must give them the space to ask questions, explore, and feel a spark of inspiration. If they suddenly want to start hissing and slithering around the floor in cobra pose, for example, give them space to release some energy and then recapture their attention with a story, open-ended questions, or another creative approach.
3. Develop a Loose Formula
While it's absolutely necessary to remain open to changing gears and abandoning the plan, you can more easily achieve this when you have a general formula to follow throughout a yoga session. Here's an example of a possible flow for a children's yoga class:
Warm Up. Use name games, circle time, movements like standing forward bends, reaching high for the sky, or swinging the arms around the body, and maybe even a song to help kids warm up their bodies. The aim here is to get everyone together and ready to explore.
Explore Several Poses. You'll likely want to include only a few yoga poses here because kids tend to have a short attention span. They may feel overwhelmed if exposed to too much all at once.

Animal poses go over well, and this is the perfect time to use storytelling. Teach the children the names of each pose and then let them make animal sounds or otherwise explore how to use their bodies to express the idea of the different animals. Ask questions that create a story as the various animals encounter and interact with each other through the yoga poses.

Shift to Free Play and Games. Most younger children can focus on following yoga poses for between five and 20 minutes. When you notice their attention beginning to wander, make space for a more-active form of play. Create some new games or use a few tried-and-true options. Yoga-related or not, you can decide what's appropriate for your group.
Wind Down With Quiet Time. Just like any adult yoga class, dedicate the final part of this practice to meditation and/or the deeply relaxing corpse pose. It's possible your biggest challenge at this stage will involve letting go of your expectations of what it means to have quiet time. Use techniques like counting the breath, reciting the alphabet, and guided meditations made for children with stories that encourage them to close their eyes and listen.
4. Let Kids Find Their Own Meaning in Yoga
Try to let go of your desired outcomes for the children to whom you introduce yoga. Allow them to question the practice and encourage them to answer their own questions. As you gain experience teaching yoga to kids, you'll find ways to help them focus on yoga's impact on their minds and bodies. If you make yoga fun and interesting for children — while also giving them space to try it out in their own time — they'll naturally begin to uncover what yoga means to them.
Further Reading
For more information on the benefits yoga can offer children and how to introduce them to yoga, check out these articles: