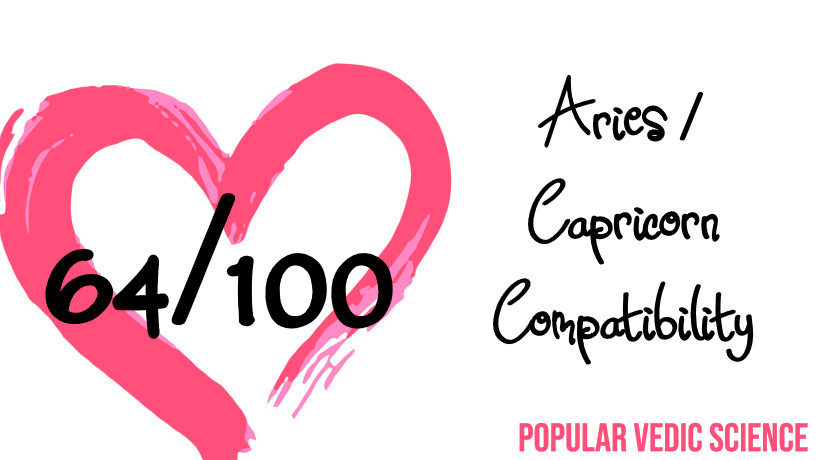 In this article we break down the astrological compatibility of Aries and Capricorn signs, in terms of strengths and challenges in the relationship, romantic compatibility, communication, and more. We give tons of practical insights on how to nourish your relationship and overcome obstacles you'll likely face.
Recommended: Learn more about yours and your partner's overall personality, check out our complete guides to Aries and Capricorn zodiac signs.
Aries Overview
Sign of the Ram. Aries natives are head-strong, and can be natural leaders. However, their competitive side might get them into trouble!
Ruled by Mars. Mars is the planet of war, explosions, sudden events, and land. Martian individuals are hard-working and self-confident.
A fire sign. Those with an Aries moon are temperamental, passionate, and energetic.
A movable sign. Persons born under this sign are fluid, spontaneous, and fond of change.
A masculine sign. This makes the native aggressive, bold, and thick-skinned.
Core Strengths
Natural born leaders
Ambitious and hard-working
Friendly and caring
Intelligent
Main Weaknesses
Overactive — may take on too much and leave things unfinished
Headstrong and reckless
Proud and boastful
Capricorn Overview
Sign of the Makara. Capricorn natives are peculiar and powerful. They are very intelligent, but they often have a mean streak.
Ruled by Saturn. Saturn is the planet of karma, poverty, disease, austerity, and mysticism. Saturnine individuals are somber and mysterious.
An earth sign. Those with a Capricorn moon are grounded, thoughtful, and practical.
A movable sign. Persons born under this sign are fluid, spontaneous, and fond of change.
A feminine sign. This makes the native receptive, sensitive, and empathetic.
Core Strengths
Deliberate and thoughtful
Philosophical
Disciplined
Focused
Main Weaknesses
Cold or intolerant
Somewhat shameless
Calculating
Slow to trust others
How Aries Approaches Relationships
Aries natives make excellent romantic partners when they see eye-to-eye with their spouse and experience genuine love and trust in the relationship. In fact, they might even become overly submissive out of a desire to please their partner. Ariens should make sure to be honest and open about their personal feelings and needs so that their partner has a chance to properly reciprocate with all that they are putting into the relationship.
How Capricorn Approaches Relationships
Capricorns prefer to keep a relatively private life. They are attracted to creative and loving individuals who have a maternal quality about them. They seek caring partners with whom they can connect on a deep, emotional level.
Planetary Compatibility
When assessing the compatibility of any two Zodiac signs, one of the first things to look at is the planetary friendships. Aries is ruled by Mars, a planet of youthful energy who loves competition, and Capricorn is ruled by Saturn, a philosophical, deliberate, and sometimes stubborn planet.
Unfortunately, these two planets are considered enemies due to their conflicting personalities, and they do not usually get along well. While Aries, governed by energetic Mars, brings passion and initiative to the table, Capricorn, under the disciplined influence of Saturn, adds a layer of pragmatism and ambition. The combination of Mars and Saturn often results in a challenging compatibility. Aries' desire to initiate new ventures often clashes with Capricorn's need for thorough strategic planning, creating potential friction and misunderstandings.
Strengths of the Relationship
A significant strength in the Aries and Capricorn relationship is their shared determination. Both signs are cardinal signs, meaning they are natural leaders who are not afraid to start new projects and see them through. This common trait can foster mutual respect and admiration between the two.
Another strength lies in the balance they can bring to each other. Aries' zest for life and spontaneity can help Capricorn to loosen up and enjoy the present moment, while Capricorn's practicality and reliability can provide Aries with the stability and structure they often lack. Together, these complementary strengths may help to create a balanced and fulfilling relationship.
Challenges in the Relationship
However, the pairing of Aries and Capricorn isn't without its challenges. Aries is impulsive and impatient, while Capricorn is cautious and methodical. These contrasting approaches can lead to misunderstandings and frustrations if not managed effectively. Aries might view Capricorn as overly conservative or rigid, while Capricorn might see Aries as reckless or irresponsible.
The fundamental differences between the two, particularly Capricorn's focus on duty versus Aries' desire for freedom, can often lead to tension and misunderstandings. Both signs must work hard to understand these differences and find ways to manage them effectively.
The Sexes at a Glance
The Aries Man
Influential
Spirited
Physically strong
Passionate / romantic
Egotistical
Likely to change residence
The Aries Woman
Straightforward
Outgoing
Ambitious
Dominant in relationships
Harsh in speech
Self-centered
The Capricorn Man
Detail-oriented
Dutiful
Long-lived
Family-man
Secular
Cold
The Capricorn Woman
Smart
Confident
Honest
Frugal
Lover of music
Rigid
Romantic Compatibility
While the romantic relationship between Aries and Capricorn can have moments of passion and security, the overall compatibility is often lacking. Aries' passionate nature can sometimes draw out Capricorn's hidden sensuality, but there is equal risk that the Aries partner will come off as overbearing or too demanding. Capricorn's need for stability may feel stifling to Aries, who craves excitement and spontaneity.
For this relationship to stand the test of time, both Aries and Capricorn must embrace their differences and view them as opportunities for growth. However, this is easier said than done and requires significant effort and compromise from both sides.
Things You Can Do Together
The adventurous Aries and industrious Capricorn can find common ground in activities that combine excitement with purpose. They might enjoy tackling challenging outdoor activities, like rock climbing or long-distance hiking. These activities can satisfy Aries' need for action and Capricorn's love for attaining goals.
Capricorn's interest in tradition might also draw them to historical sites or museums, which adventurous Aries might find intriguing. Joint projects, such as home improvement or community work, can also provide a platform for them to work together towards a common goal, thereby strengthening their bond.
How Aries and Capricorn Communicate
In terms of communication, Aries' directness and Capricorn's pragmatism can make for clear and straightforward interactions. Aries speaks their mind without hesitation, while Capricorn values honesty and prefers practical discussions. However, Aries' impulsiveness may clash with Capricorn's caution, leading to disagreements.
To maintain harmony, Aries needs to respect Capricorn's need for deliberation, while Capricorn should appreciate Aries' straightforwardness. If certain decisions are time-bound, both partners should agree on a schedule for discussions and a deadline for when the final decision will be made. This will give the Capricorn partner ample time to deliberate, while giving the Aries partner the reassurance that eventually a clear choice will actually be made.
With mutual understanding and respect, they can turn their differences into strengths and enjoy a robust and dynamic relationship. However, this requires a level of understanding and compromise that may be difficult for both signs to consistently achieve.
For each sign, there are different strengths and weaknesses. Rather than focusing on what you don't like about your partner, try to see their strengths. There will inevitably be differences in communication styles between you and your partner. The key is to find respectful ways you and your partner can express yourselves while still staying true to your core values.
Summary and Overall Score
On average Aries and Capricorn natives score 64/100.  This makes Aries and Capricorn slightly compatible signs. Their strengths may be able to help them overcome the numerous challenges they will face in a partnership.
No two people are perfectly compatible. Thus, there is no such thing as 100/100 compatibility. For Aries, the best score attainable is with a Leo partner, which scores 88/100. The idea is that every relationship requires self-sacrifice, respect, and mutual effort.
Note: Astrological compatibility is a highly nuanced science, and it is always a good idea to get a complete reading from a skilled astrologer to learn about the specifics of your personal chart and your romantic compatibility with your partner.
The 12 Signs of the Zodiac
Learn about each of the twelve signs of the zodiac.