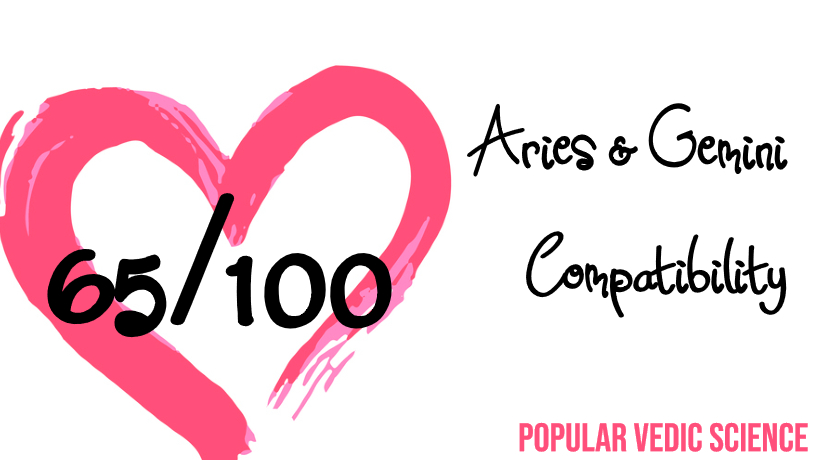 In this article we break down the astrological compatibility of Aries and Gemini signs, in terms of strengths and challenges in the relationship, romantic compatibility, communication, and more. We give tons of practical insights on how to nourish your relationship and overcome obstacles you'll likely face.
Recommended: Learn more about yours and your partner's overall personality, check out our complete guides to Aries and Gemini zodiac signs.
Aries Overview
Sign of the Ram. Aries natives are head-strong, and can be natural leaders. However, their competitive side might get them into trouble!
Ruled by Mars. Mars is the planet of war, explosions, sudden events, and land. Martian individuals are hard-working and self-confident.
A fire sign. Those with an Aries moon are temperamental, passionate, and energetic.
A movable sign. Persons born under this sign are fluid, spontaneous, and fond of change.
A masculine sign. This makes the native aggressive, bold, and thick-skinned.
Core Strengths
Natural born leaders
Ambitious and hard-working
Friendly and caring
Intelligent
Main Weaknesses
Overactive — may take on too much and leave things unfinished
Headstrong and reckless
Proud and boastful
Gemini Overview
Sign of the Twins. Gemini natives are charming and talkative. However, they may sometimes display a "know-it-all" attitude.
Ruled by Mercury. Mercury is the planet of thought, the nervous system, communication, and literature. Mercurial individuals are hard to predict. Their minds move so quickly that others have a hard time keeping up.
An air sign. Those with a Gemini moon are imaginative, logical, and curious.
A dual sign.Persons born under this sign are adaptable and multi-talented.
A masculine sign. This makes the native aggressive, bold, and thick-skinned.
Core Strengths
Clever and intelligent
Charming and funny
Scholarly
Analytical
Main Weaknesses
Arrogant, "know-it-all" types
May be emotionally immature
Manipulative
How Aries Approaches Relationships
Aries natives make excellent romantic partners when they see eye-to-eye with their spouse and experience genuine love and trust in the relationship. In fact, they might even become overly submissive out of a desire to please their partner. Ariens should make sure to be honest and open about their personal feelings and needs so that their partner has a chance to properly reciprocate with all that they are putting into the relationship.
How Gemini Approaches Relationships
Geminis seek to discover more about themselves through their significant other. For this reason, they tend to approach romantic relationships with immense energy, and at times it may be more than their partner can handle. Geminis need to take time to get to know their spouse, and try to cultivate a genuine interest in their experiences and worldview. This will help both partners establish a strong, loving bond.
Planetary Compatibility
When assessing the compatibility of any two Zodiac signs, one of the first things to look at is the planetary friendships. Aries is ruled by Mars, a planet of youthful energy who loves competition, and Gemini is ruled by Mercury, a planet of wit, curiosity, and intellect.
Unfortunately, Mars and Mercury are unfriendly planets. They have different value systems, with Mars valuing practical action, and Mercury giving greater importance to the life of the mind. In spite of this incompatibility, however, there is still some common ground these two signs share.
Strengths of the Relationship
Aries and Gemini natives are both highly intelligent. You and your partner will be able to find a number of common interests, especially in the realm of literature, the arts, and anything related to learning and high culture. You are likely to find each other's company to be very intellectually stimulating, and this is one of the main attractive features about the relationship.
People born in the signs of Aries and Gemini are generally sociable, and they enjoy conversations and gatherings with friends. You will be able to find many things to talk about when you're together. You will want to hear one another's views on different topics, and share your opinions as well. This conversational compatibility is another strength of the Aries and Gemini couple.
Because you both like to learn, there is a good chance you and your partner will be able to find overlapping hobbies. This helps strengthen a relationship, because you will be able to spend time together doing things you both like, and you will be able to encourage one another and celebrate each other's achievements.
Challenges in the Relationship
Though there are a number of strengths in the Aries and Gemini relationship, there are also serious challenges that the couple will face. First, Aries is a fire sign, and Gemini is an air sign. This can lead to volatile arguments and conflicts. The Gemini partner should be careful to respect the passionate side of the Aries partner, and not try to stoke the flames of their anger unnecessarily. Similarly, the Aries partner should not expect to have the full attention of their Gemini spouse. This can be a struggle for both sides, as they learn to live with the various personality differences that exist between them.
One of the main areas of difference will be the overall approach to life. Aries natives tend to live with passion, investing themselves with great enthusiasm in whatever they do. Gemini natives, on the other hand, are more dispassionate, approaching life with an intellectual view. This produces a significant difference in values between the couple, and they will need to respect this difference without trying to change their partner or expect their partner to think and feel in a different way.
A practical example of this difference in mindset can be seen in the realm of decision-making. Aries likes to make decisions quickly. They want to take action and get things done. They often become impatient when decisions drag on too long, or when too many details and factors are considered in the decision-making process. Gemini, by contrast, hesitates to commit to any one decision. They may procrastinate on a decision for a long time, wanting to have all the facts and factors in hand first, so that they can make the best choice. This is one example of how tension can arise in the Aries–Gemini relationship.
The Sexes at a Glance
The Aries Man
Influential
Spirited
Physically strong
Passionate / romantic
Egotistical
Likely to change residence
The Aries Woman
Straightforward
Outgoing
Ambitious
Dominant in relationships
Harsh in speech
Self-centered
The Gemini Man
Scholarly and intellectual
Prefers an obliging spouse
Favors daughters
Needs a logical approach to spirituality
The Gemini Woman
Highly intelligent
Not a "typical housewife"
Has boyish features
Does many things at once
Romantic Compatibility
Another challenge that may arise in this relationship is in the area of romance. Aries individuals tend to be passionate and adventurous. They will be drawn to romantic outings with their partner, frequent dates, and so forth. However, for the Gemini native, these things may be less important. Their focus in life may be more in the realm of work, where they are able to fully engage their intellectual and creative talents. Their romantic relationship is unlikely to be the most important aspect of their life.
Both partners will need to understand one another's needs and wants, and try to find a way to support each other while simultaneously taking responsibility for their own personal fulfillment in life. In general, in order for an Aries–Gemini relationship to work well, there should be additional supporting factors in the birth charts of both partners
Things You Can Do Together
Both Aries and Gemini natives enjoy intellectually stimulating activities, such as word games, reading books, visiting museums or other sites of historical or cultural importance, and so on. They may also enjoy studying a new subject together, or learning a foreign language.
Both Ariens and Geminis love conversation and social engagements. You may like to plan events together, go out with friends, or just go see a movie. Art and music are additional areas where both partners may find mutual interest.
How Aries and Gemini Communicate
Aries is a friendly, fun-loving sign. They like to joke around. Gemini natives also have a playful approach to conversation. However, they tend to be more intellectual in their speech, and this may become a source of frustration for the Aries partner. Whereas Aries likes to get to the point of a conversation, Geminis tend to explore many tangential topics, without much concern for arriving at any solution or destination.
For each sign, there are different strengths and weaknesses. Rather than focusing on what you don't like about your partner, try to see their strengths. There will inevitably be differences in communication styles between you and your partner. The key is to find respectful ways you and your partner can express yourselves while still staying true to your core values.
Summary and Overall Score
On average Aries and Gemini natives score 65/100.  This makes Aries and Gemini slightly compatible signs. Their strengths may be able to help them overcome the numerous challenges they will face in a partnership.
No two people are perfectly compatible. Thus, there is no such thing as 100/100 compatibility. For Aries, the best score attainable is with a Leo partner, which scores 88/100. The idea is that every relationship requires self-sacrifice, respect, and mutual effort.
Note: Astrological compatibility is a highly nuanced science, and it is always a good idea to get a complete reading from a skilled astrologer to learn about the specifics of your personal chart and your romantic compatibility with your partner.
The 12 Signs of the Zodiac
Learn about each of the twelve signs of the zodiac.