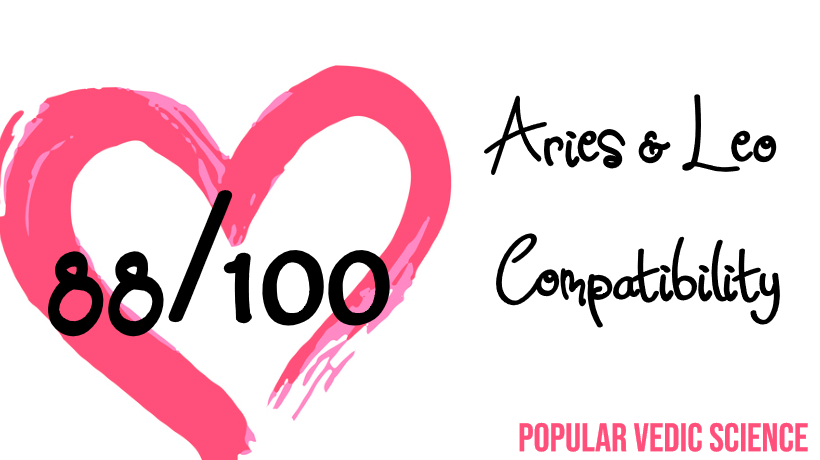 In this article we break down the astrological compatibility of Aries and Leo signs, in terms of strengths and challenges in the relationship, romantic compatibility, communication, and more. We give tons of practical insights on how to nourish your relationship and overcome obstacles you'll likely face.
Recommended: Learn more about yours and your partner's overall personality, check out our complete guides to Aries and Leo zodiac signs.
Aries Overview
Sign of the Ram. Aries natives are head-strong, and can be natural leaders. However, their competitive side might get them into trouble!
Ruled by Mars. Mars is the planet of war, explosions, sudden events, and land. Martian individuals are hard-working and self-confident.
A fire sign. Those with an Aries moon are temperamental, passionate, and energetic.
A movable sign. Persons born under this sign are fluid, spontaneous, and fond of change.
A masculine sign. This makes the native aggressive, bold, and thick-skinned.
Core Strengths
Natural born leaders
Ambitious and hard-working
Friendly and caring
Intelligent
Main Weaknesses
Overactive — may take on too much and leave things unfinished
Headstrong and reckless
Proud and boastful
Leo Overview
Sign of the Lion. Leo natives are noble and powerful. They may unknowingly intimidate others with their strong presence.
Ruled by the Sun. The Sun is the planet of the self, fatherhood, government, authority, status, and will-power. Solar individuals are bright and influential.
A fire sign. Those with a Leo moon are temperamental, passionate, and energetic.
A fixed sign. Persons born under this sign are steady, predictable, and slow to change.
A masculine sign. This makes the native aggressive, bold, and thick-skinned.
Core Strengths
Brave and heroic
Ambitious leaders
Straightforward and honest
Intelligent
Main Weaknesses
Proud and arrogant
Prone to excess
Lazy
How Aries Approaches Relationships
Aries natives make excellent romantic partners when they see eye-to-eye with their spouse and experience genuine love and trust in the relationship. In fact, they might even become overly submissive out of a desire to please their partner. Ariens should make sure to be honest and open about their personal feelings and needs so that their partner has a chance to properly reciprocate with all that they are putting into the relationship.
How Leo Approaches Relationships
Leos have a strong sex-drive, and if this isn't kept in check it can ruin relationships. More so than most other signs of the zodiac, Leos are at risk for marital distress, and even affairs. They need to learn to respect and appreciate their partners for their unique qualities and worldview, which may be very different from their own.
Planetary Compatibility
When assessing the compatibility of any two Zodiac signs, one of the first things to look at is the planetary friendships. Aries is ruled by Mars, a planet of youthful energy who loves competition, and Leo is ruled by the Sun, a planet of royalty, dignity, and leadership.
Thankfully, Mars and the Sun are fast friends. They have a similar value system, both prizing personal achievement and getting things done. They each bring energy to their work and enjoy taking on challenging projects.
Strengths of the Relationship
Aries and Leo partners will find many of their tastes overlap, and they will have an easy time coming to an agreement when choosing how to plan your life together, where to go on vacation, and other important decisions.
You and your partner naturally admire your unique strengths and abilities. You are likely to be attracted to each other both physically and mentally, and you can easily relate to one another's feelings, needs, and wants.
As dual fire signs, Aries and Leo will encourage and inspire one another, helping to bring out each other's best qualities. They both value physical health and fitness, and will likely find each other attractive and enjoyable to be around — key elements of a successful relationship.
Challenges in the Relationship
Have you ever heard of the phrase, "opposites attract?" Well, in this case, some of the common characteristics of Aries and Leo may cause friction, and in extreme cases, repulsion. As dual fire signs, both Aries and Leos can get pretty heated in tense situations. Each may have difficulty managing their anger if provoked.
As dual masculine signs, Aries and Leos may find they occasionally both want to take the lead, leading to confrontation over how things should be done. It's important to recognize that even though you are both similar in many respects, you still need to honor one another's perspective and unique point of view. Learning how to let go of control and compromise on areas that are important to your partner will be vital for the long-term success of your partnership.
For instance, Aries is a movable sign — Aries people like to change things up from time to time. They feel uncomfortable or bored when things get too predictable or routine. Leos on the other hand, are in a fixed sign. They thrive when there is order and regularity. For them, too much change feels stressful. Don't expect your partner to do things exactly like you. Learn to work harmoniously and give one another the space to allow each other to be themselves.
The Sexes at a Glance
The Aries Man
Influential
Spirited
Physically strong
Passionate / romantic
Egotistical
Likely to change residence
The Aries Woman
Straightforward
Outgoing
Ambitious
Dominant in relationships
Harsh in speech
Self-centered
The Leo Man
Courageous
Commanding
Magnanimous
Arrogant
Quick to take offense, but also to forgive
The Leo Woman
Attractive
Generous
Sensuous
Entitled
Can sacrifice for her family
Romantic Compatibility
As fire signs, both Aries and Leo are passionate. You both like romance and physical intimacy. This means there can be lots of fun and mutual chemistry in your relationship. However, the specific nuances of this will vary from person to person. Because both Aries and Leo are masculine signs, you may both be too aggressive or particular about your personal wants. You will need to learn to subdue your dominant side and really find out what your partner likes when it comes to expressing and receiving care and affection.
Things You Can Do Together
Both Aries and Leo natives enjoy physical activity and the outdoors. Hiking, biking, kayaking, swimming, and any other outdoor activities are great ideas for Aries and Leo couples. Outdoor chores, gardening, and the like are also wonderful things you can do together.
Both Ariens and Leos enjoy quiet time for focused work and reflection. You may enjoy visiting a cafe together and reading or working on separate projects. Both partners are also likely to enjoy challenging and adventurous activities, like foreign travel. And you both like to exercise your intellect, so learning a new language or skill could be another way to spend time together.
How Aries and Leo Communicate
Aries is a friendly, fun-loving sign. They like to joke around. Leos, on the other hand, tend to be more serious. They like to get things done. Ariens like to make others feel good about themselves. Leos value honesty. These differences in priorities can sometimes lead to communication problems. Leos like to "tell it like it is," whereas Aries people may prefer to avoid discussing controversial topics.
For each sign, there are different strengths and weaknesses. Rather than focusing on what you don't like about your partner, try to see their strengths. There will inevitably be differences in communication styles between you and your partner. The key is to find respectful ways you and your partner can express yourselves while still staying true to your core values.
Summary and Overall Score
On average Aries and Leo natives score 88/100.  This makes Aries and Leo highly compatible signs. Their strengths more than compensate for the several challenges they will face in a partnership.
No two people are perfectly compatible. Thus, there is no such thing as 100/100 compatibility. For Aries, the best score attainable is actually with a Leo partner. The idea is that every relationship requires self-sacrifice, respect, and mutual effort.
Note: Astrological compatibility is a highly nuanced science, and it is always a good idea to get a complete reading from a skilled astrologer to learn about the specifics of your personal chart and your romantic compatibility with your partner.
The 12 Signs of the Zodiac
Learn about each of the twelve signs of the zodiac.