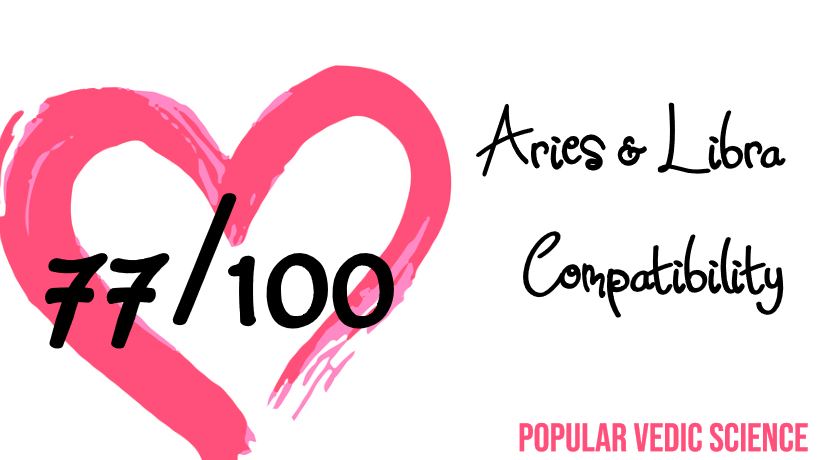 In this article we break down the astrological compatibility of Aries and Libra signs, in terms of strengths and challenges in the relationship, romantic compatibility, communication, and more. We give tons of practical insights on how to nourish your relationship and overcome obstacles you'll likely face.
Recommended: Learn more about yours and your partner's overall personality, check out our complete guides to Aries and Libra zodiac signs.
Aries Overview
Sign of the Ram. Aries natives are head-strong, and can be natural leaders. However, their competitive side might get them into trouble!
Ruled by Mars. Mars is the planet of war, explosions, sudden events, and land. Martian individuals are hard-working and self-confident.
A fire sign. Those with an Aries moon are temperamental, passionate, and energetic.
A movable sign. Persons born under this sign are fluid, spontaneous, and fond of change.
A masculine sign. This makes the native aggressive, bold, and thick-skinned.
Core Strengths
Natural born leaders
Ambitious and hard-working
Friendly and caring
Intelligent
Main Weaknesses
Overactive — may take on too much and leave things unfinished
Headstrong and reckless
Proud and boastful
Libra Overview
Sign of the Scales. Libra natives are balanced and judicious. However, they can be somewhat selfish.
Ruled by Venus. Venus is the planet of sensuality, fine food, the arts, and affairs of the home. Venetian individuals are fond of luxury and living the good life.
A movable sign. Persons born under this sign are fluid, spontaneous, and fond of change.
A dual sign.Persons born under this sign are adaptable and multi-talented.
A masculine sign. This makes the native aggressive, bold, and thick-skinned.
Core Strengths
Thoughtful and intelligent
Good taste
Optimistic
Ethical
Main Weaknesses
May be condescending
Prone to restlessness
Indecisive
How Aries Approaches Relationships
Aries natives make excellent romantic partners when they see eye-to-eye with their spouse and experience genuine love and trust in the relationship. In fact, they might even become overly submissive out of a desire to please their partner. Ariens should make sure to be honest and open about their personal feelings and needs so that their partner has a chance to properly reciprocate with all that they are putting into the relationship.
How Libra Approaches Relationships
Libra natives tend to have poorer luck in the realm of romance than those born under other signs. Relationships tend to spark quickly and start off with intense passion — but they may be short-lived or inconsistent. Librans should be sure to find a trustworthy and committed spouse. Otherwise, there is a risk of ending up heartbroken.
Planetary Compatibility
When assessing the compatibility of any two Zodiac signs, one of the first things to look at is the planetary friendships. Aries is ruled by Mars, a planet of youthful energy who loves competition, and Taurus is ruled by Venus, a planet of luxury, sensitivity, and the arts.
Mars and Venus are neutral planets. While they don't have many core values in common, they will nevertheless be able to appreciate and tolerate each other. In the case of Aries and Libra, their personality differences are more likely to complement each other than contribute to serious conflict in the relationship.
Strengths of the Relationship
Aries and Libra, despite being opposite in the zodiac, share several strengths that can form the basis of a strong relationship. One of the greatest strengths of this pairing is their mutual admiration for each other. Aries admires Libra's charm, diplomacy, and easygoing nature, while Libra is drawn to Aries' determination, courage, and vibrant energy. This mutual admiration can fuel a strong, passionate connection between the two signs.
Another strength of the Aries and Libra relationship is their shared love for social activities and interactions. Both signs are outgoing and enjoy being in the company of friends and loved ones. They both appreciate lively conversations and intellectually stimulating debates, which can make their social life very fulfilling. Additionally, both Aries and Libra enjoy personal growth and the pursuit of their individual goals, which can lead to a supportive and encouraging relationship dynamic.
Challenges in the Relationship
Despite the numerous strengths, the Aries and Libra relationship is not without its challenges. The primary challenge comes from their elemental nature — Aries is a fire sign, known for its impulsivity and passion, while Libra is an air sign, known for its balance and need for harmony. This can lead to conflicts, as Aries might find Libra indecisive, and Libra may view Aries as overly impulsive and aggressive.
Furthermore, Aries' tendency for directness and honesty can sometimes come across as harsh to Libra, who values harmony and diplomacy. On the other hand, Aries might become frustrated with Libra's tendency to avoid conflict and their propensity for sugar-coating unpleasant truths. Both signs will need to learn to appreciate and understand each other's communication styles and adapt accordingly.
The Sexes at a Glance
The Aries Man
Influential
Spirited
Physically strong
Passionate / romantic
Egotistical
Likely to change residence
The Aries Woman
Straightforward
Outgoing
Ambitious
Dominant in relationships
Harsh in speech
Self-centered
The Libra Man
Honest
Ethical
Well-liked
Prefers urban environments
Prefers to resolve problems indirectly rather than head-on
Follows the philosophy of "live and let live"
The Libra Woman
Magnetic
Neat
High-class
Peacekeeper
Good home-maker
Beautiful
Affectionate
Sincere
Secretive
Good with words
Romantic Compatibility
In terms of romantic compatibility, Aries and Libra can have a strong and passionate connection. Aries, being ruled by Mars, brings a fiery and passionate energy to the relationship. Libra, ruled by Venus, brings a gentle, romantic, and harmonious energy. This combination can result in a dynamic and balanced relationship filled with passion and romance.
However, for this relationship to flourish, both signs must be willing to compromise and adapt. Aries will need to learn to slow down and consider Libra's need for balance and harmony, while Libra will need to learn to appreciate Aries' direct and passionate nature. If both signs can achieve this balance, their relationship can be deeply rewarding and fulfilling.
Things You Can Do Together
Aries and Libra can find common ground in a variety of activities due to their shared love for social interaction and intellectual stimulation. They might enjoy hosting social gatherings or parties, as both signs love being surrounded by friends and loved ones. They could also engage in lively debates or intellectual discussions, which would satisfy both Aries' need for challenge and Libra's love for balanced communication.
Physical activities and adventures would also appeal to both Aries and Libra. Aries, with its energetic and adventurous spirit, and Libra, with its love for balance and learning, could enjoy activities like hiking, biking, or traveling to new places. These shared experiences can further strengthen their bond and deepen their connection.
How Aries and Libra Communicate
Aries and Libra have very different communication styles, which can both enrich and challenge their relationship. Aries is direct and straightforward, valuing honesty above all else. They are not afraid to say what's on their mind, which can sometimes come across as brash or impulsive. Libra, on the other hand, is more of a peace-keeper, often choosing their words carefully to avoid conflict.
Despite their differences, both signs can learn a lot from each other's communication styles. Aries can learn from Libra's diplomacy and ability to see different perspectives, which can help them to express themselves in a more balanced and considerate manner. On the other hand, Libra can learn from Aries' straightforwardness and honesty, which can encourage them to be more direct in expressing their thoughts and feelings.
Moreover, both signs value intellectual stimulation and engaging conversations, which can make their communication lively and interesting. As long as both Aries and Libra are willing to understand and adapt to each other's communication styles, they can have a fulfilling and balanced dialogue. Ultimately, successful communication between Aries and Libra will involve a blend of honesty, diplomacy, and fostering a relationship where both signs feel heard and understood.
For each sign, there are different strengths and weaknesses. Rather than focusing on what you don't like about your partner, try to see their strengths. There will inevitably be differences in communication styles between you and your partner. The key is to find respectful ways you and your partner can express yourselves while still staying true to your core values.
Summary and Overall Score
On average Aries and Libra natives score 77/100.  This makes Aries and Libra moderately compatible signs. Their strengths are likely to help them overcome the challenges they will face in a partnership.
No two people are perfectly compatible. Thus, there is no such thing as 100/100 compatibility. For Aries, the best score attainable is with a Leo partner, which scores 88/100. The idea is that every relationship requires self-sacrifice, respect, and mutual effort.
Note: Astrological compatibility is a highly nuanced science, and it is always a good idea to get a complete reading from a skilled astrologer to learn about the specifics of your personal chart and your romantic compatibility with your partner.
The 12 Signs of the Zodiac
Learn about each of the twelve signs of the zodiac.