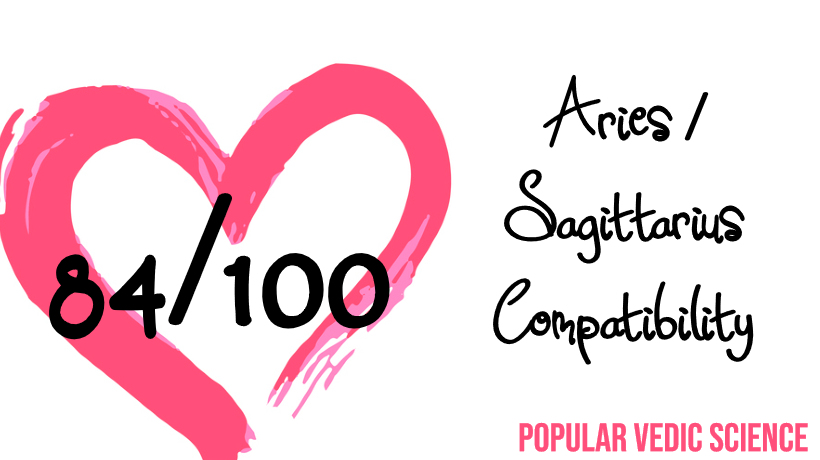 In this article we break down the astrological compatibility of Aries and Sagittarius signs, in terms of strengths and challenges in the relationship, romantic compatibility, communication, and more. We give tons of practical insights on how to nourish your relationship and overcome obstacles you'll likely face.
Recommended: Learn more about yours and your partner's overall personality, check out our complete guides to Aries and Sagittarius zodiac signs.
Aries Overview
Sign of the Ram. Aries natives are head-strong, and can be natural leaders. However, their competitive side might get them into trouble!
Ruled by Mars. Mars is the planet of war, explosions, sudden events, and land. Martian individuals are hard-working and self-confident.
A fire sign. Those with an Aries moon are temperamental, passionate, and energetic.
A movable sign. Persons born under this sign are fluid, spontaneous, and fond of change.
A masculine sign. This makes the native aggressive, bold, and thick-skinned.
Core Strengths
Natural born leaders
Ambitious and hard-working
Friendly and caring
Intelligent
Main Weaknesses
Overactive — may take on too much and leave things unfinished
Headstrong and reckless
Proud and boastful
Sagittarius Overview
Sign of the Archer. Sagittarians are fortunate and righteous individuals. However, their luck and good qualities can sometimes lead them to look down on others.
Ruled by Jupiter. Jupiter is the planet of wisdom, spirituality, wealth, and learning. Jupiterians are religious and warm-hearted.
A fire sign. Those with a Sagittarius moon are temperamental, passionate, and energetic.
A dual sign. Persons born under this sign are adaptable and multi-talented.
A masculine sign. This makes the native aggressive, bold, and thick-skinned.
Core Strengths
Virtuous
A high-achiever
Athletic
Fortunate
Main Weaknesses
Proud
Restless
May lead a pampered life
How Aries Approaches Relationships
Aries natives make excellent romantic partners when they see eye-to-eye with their spouse and experience genuine love and trust in the relationship. In fact, they might even become overly submissive out of a desire to please their partner. Ariens should make sure to be honest and open about their personal feelings and needs so that their partner has a chance to properly reciprocate with all that they are putting into the relationship.
How Sagittarius Approaches Relationships
Sagittarians are attracted to creative and intelligent people. They may have multiple loves in their life. However, if they find someone who shares their vision for doing good in the world, and who supports their spirituality, then the relationship is likely to succeed.
Planetary Compatibility
When assessing the compatibility of any two Zodiac signs, one of the first things to look at is the planetary friendships. Aries is ruled by Mars, a planet of youthful energy who loves competition, and Sagittarius is ruled by Jupiter, a planet of spirituality, virtue, and expansion.
Thankfully, these two planets are fast friends. They enjoy a naturally harmonious relationship. The fiery, dynamic energy of Mars blends well with Jupiter's expansive and adventurous spirit, resulting in a relationship that is full of enthusiasm, exploration, and zest for life. Mars gives Aries the drive and passion to initiate, while Jupiter provides Sagittarius with the optimism and broad-mindedness to embrace Aries' ideas, making this a very good combination.
Strengths of the Relationship
The relationship between Aries and Sagittarius is often characterized by mutual understanding, shared enthusiasm, and a love for adventure. Both signs are fire signs, which means they share a dynamic, passionate, and energetic approach to life. They understand each other's need for independence, freedom, and excitement, which can make their relationship harmonious and mutually supportive.
Furthermore, both Aries and Sagittarius are known for their optimism and positivity. They tend to see the brighter side of life, which can make their relationship uplifting and encouraging. Their shared enthusiasm can lead to many exciting adventures together, which will help nourish a deep bond based on mutual trust, respect and admiration.
Challenges in the Relationship
Despite the many strengths of the Aries and Sagittarius relationship, there are also challenges that this pairing might face. Both signs value their independence and freedom, which, if not handled carefully, can lead to a lack of commitment or problems in settling down. They may also struggle with impulsivity, as both Aries and Sagittarius are known for acting first and thinking later.
Aries, being the first sign of the zodiac, can be more self-centered and impatient, while Sagittarius, with their love for philosophical thoughts, can sometimes be tactless or overly frank, which could hurt Aries' feelings. These differences can lead to conflicts if not managed well. Therefore, mutual understanding and respect for each other's personalities are crucial in maintaining harmony in their relationship.
The Sexes at a Glance
The Aries Man
Influential
Spirited
Physically strong
Passionate / romantic
Egotistical
Likely to change residence
The Aries Woman
Straightforward
Outgoing
Ambitious
Dominant in relationships
Harsh in speech
Self-centered
The Sagittarius Man
Athletic
Handsome
Honest
Fond of challenges
Loyal
Quick to anger
Forgiving
Ideal family man
The Sagittarius Woman
Warm
Ideal friend
Kind
Forgiving
Religious
Cheerful
Smart
Popular
Romantic Compatibility
In terms of romantic compatibility, Aries and Sagittarius make an exciting and passionate pair. Their shared fire element leads to a strong physical attraction and a mutual understanding of each other's needs and desires. Aries' boldness and Sagittarius' adventurous nature can lead to a relationship full of spontaneity, excitement, and passion.
However, for this relationship to last, both Aries and Sagittarius will need to work on their commitment levels. Their shared love for freedom and adventure could make it difficult for them to fully commit to the relationship. But with patience, dialogue, and persistent effort, they can learn how to balance their individuality with the joint-project of building a successful relationship.
Things You Can Do Together
Aries and Sagittarius are both adventurous and active, and they love to be on the go. They will likely enjoy outdoor activities such as hiking, camping, or traveling. Their shared love for sports and physical activities could also see them engaging in competitive sports or fitness routines together.
Their shared interest in learning and exploring can also lead them to engage in intellectual pursuits together, such as attending workshops or classes, reading, or discussing philosophical topics. Regardless of the activity, the key is that it needs to feed their need for adventure, learning, and excitement.
How Aries and Sagittarius Communicate
Aries and Sagittarius both have direct and straightforward communication styles. Aries is bold and assertive in expressing their thoughts and feelings, while Sagittarius is honest and philosophical. This shared directness can make their communication open and honest, but it can also lead to instances of tactlessness or bluntness.
For each sign, there are different strengths and weaknesses. Rather than focusing on what you don't like about your partner, try to see their strengths. There will inevitably be differences in communication styles between you and your partner. The key is to find respectful ways you and your partner can express yourselves while still staying true to your core values.
Summary and Overall Score
On average Aries and Sagittarius natives score 84/100.  This makes Aries and Sagittarius highly compatible signs. Their strengths will more than compensate for any challenges they might face in a partnership.
No two people are perfectly compatible. Thus, there is no such thing as 100/100 compatibility. For Aries, the best score attainable is with a Leo partner, which scores 88/100. The idea is that every relationship requires self-sacrifice, respect, and mutual effort.
Note: Astrological compatibility is a highly nuanced science, and it is always a good idea to get a complete reading from a skilled astrologer to learn about the specifics of your personal chart and your romantic compatibility with your partner.
The 12 Signs of the Zodiac
Learn about each of the twelve signs of the zodiac.