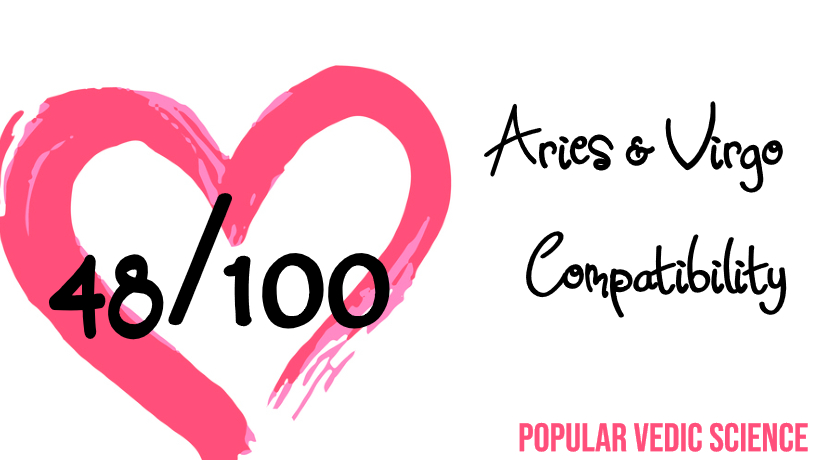 In this article we break down the astrological compatibility of Aries and Virgo signs, in terms of strengths and challenges in the relationship, romantic compatibility, communication, and more. We give tons of practical insights on how to nourish your relationship and overcome obstacles you'll likely face.
Recommended: Learn more about yours and your partner's overall personality, check out our complete guides to Aries and Virgo zodiac signs.
Aries Overview
Sign of the Ram. Aries natives are head-strong, and can be natural leaders. However, their competitive side might get them into trouble!
Ruled by Mars. Mars is the planet of war, explosions, sudden events, and land. Martian individuals are hard-working and self-confident.
A fire sign. Those with an Aries moon are temperamental, passionate, and energetic.
A movable sign. Persons born under this sign are fluid, spontaneous, and fond of change.
A masculine sign. This makes the native aggressive, bold, and thick-skinned.
Core Strengths
Natural born leaders
Ambitious and hard-working
Friendly and caring
Intelligent
Main Weaknesses
Overactive — may take on too much and leave things unfinished
Headstrong and reckless
Proud and boastful
Virgo Overview
Sign of the Virgo. Virgo natives are intelligent and resourceful. They may experience conflicting feelings and desires in life.
Ruled by Mercury. Mercury is the planet of thought, the nervous system, communication, and literature. Mercurial individuals are hard to predict. Their minds move so quickly that others have a hard time keeping up.
An earth sign. Those with a Virgo moon are dexterous, thoughtful, and practical.
A dual sign. Persons born under this sign are adaptable and multi-talented.
A feminine sign. This makes the native receptive, sensitive, and empathetic.
Core Strengths
Practical and down to earth
Straightforward
Dependable
Modest
Main Weaknesses
Self-critical
An over-active mind
Too calculating
How Aries Approaches Relationships
Aries natives make excellent romantic partners when they see eye-to-eye with their spouse and experience genuine love and trust in the relationship. In fact, they might even become overly submissive out of a desire to please their partner. Ariens should make sure to be honest and open about their personal feelings and needs so that their partner has a chance to properly reciprocate with all that they are putting into the relationship.
How Virgo Approaches Relationships
Virgos are faithful and committed partners. They can have more luck than other signs when it comes to romance, as they are likely to attract a loving and compatible spouse. However, there is a risk that a Virgo native will let their true love slip away. If you are a Virgo, make extra effort to attune yourself to your partner's feelings and needs so you can help them find fulfillment in the relationship.
Planetary Compatibility
When assessing the compatibility of any two Zodiac signs, one of the first things to look at is the planetary friendships. Aries is ruled by Mars, a planet of youthful energy who loves competition, and Virgo is ruled by Mercury, a planet of wit, curiosity, and intellect.
Unfortunately, Mars and Mercury are unfriendly planets. They have different value systems, with Mars valuing practical action, and Mercury giving greater importance to the life of the mind. In spite of this incompatibility, however, there is still some common ground these two planets share.
Strengths of the Relationship
Compared to other zodiac pairs, Aries and Virgo natives do not have many strengths supporting their relationship. However, if other aspects within the chart are supportive, then perhaps there will be a chance for having a fulfilling and successful relationship.
Both Aries and Virgo individuals like to work hard. When they find a cause they believe in, they will readily dedicate themselves to it, and they will happily sacrifice many personal comforts for the sake of others. You and your partner may be able to find a common project or field of work where you can focus your energies and work together, and this can serve as a foundation for the relationship.
Another potential asset in this relationship is that Aries and Virgo both have complementary strengths. If they are able to respect and appreciate one another's differences, then they may be able to make a very powerful team, with the Aries partner focusing on vision, big decision-making, and driving things forward, and the Virgo partner focusing on the details, organization, and other important work that takes place more "behind-the-scenes."
Because Aries is a natural leader, and Virgo a natural helper, there is a chance this pair can strike up a mutually satisfying dynamic. However, their mutually conflicting values and divergent worldviews may end up producing more argument than collaboration.
Challenges in the Relationship
Although sometimes it's true that "opposites attract," in the case of Aries and Virgo, there is a greater likelihood that their mutual differences will be a source of conflict, misunderstanding, and disappointment in the relationship. Virgo natives are calm, patient, and thoughtful. They like to take their time, and they are drawn to a simple lifestyle. They tend to be introverts. Aries natives, on the other hand, are very extroverted, and they prefer to live a fast-paced lifestyle. They like to be socially active, and they want to do something big with their lives.
For these reasons, as well as other value differences, the Aries–Virgo couple may have a very challenging time making basic decisions together, in terms of where to live, how to raise their children, and how to spend time together and develop the relationship.
The Virgo partner may become frustrated with their Aries counterpart, feeling that they make rash decisions, or that they are overly egotistical. The Aries partner, on the other hand, may feel bored with their Virgo spouse, thinking that they are unadventurous, and that they worry too much.
In terms of romantic compatibility, these two signs do not score well. However, you can always get a professional reading from an astrologer to see if there are mitigating factors in your and your partner's birth charts. Additionally, we always recommend looking at your nakshatra compatiblity, since it will give a more precise reading on various areas of the relationship.
The Sexes at a Glance
The Aries Man
Influential
Spirited
Physically strong
Passionate / romantic
Egotistical
Likely to change residence
The Aries Woman
Straightforward
Outgoing
Ambitious
Dominant in relationships
Harsh in speech
Self-centered
The Virgo Man
Dignified
Bashful
Persuasive
Logical
Skeptical
Prefers urban areas
The Virgo Woman
Studious
Attractive
Persuasive
Skilled speaker
Neat
Correcting
Romantic Compatibility
Aries and Virgo have distinct ways they approach romantic relationships. For Aries, they have a strong need for encouragement and emotional support from their partner. One of their primary love languages is words of affirmation. Virgos, however, take a much more practical approach to the relationship. They tend to value acts of service more than simple words of appreciation. So there is a chance that both partners will feel underappreciated in the relationship, due to different things being important to each of them.
Aries tends to be passionate and active, whereas Virgo is more grounded, calm, and thoughtful. Their idea of what constitutes a romantic date may be very different, and this can also be a source of turbulence in the relationship
Things You Can Do Together
In many respects, Aries and Virgo natives interests' are polar opposite. However, there are a few areas where they may be able to find common ground. For example, both Aries and Virgo individuals are likely to enjoy volunteering and giving their time in the service of others. An Aries-Virgo couple could spend time volunteering at a non-profit organization, or they could even start their own charitable initiative and develop it together.
Both Ariens and Virgos enjoy reading and writing. They may like to read a book together, or share personal writings with one another and offer words of encouragement and sensitive, constructive feedback. However, they are likely to be drawn to very different genres, or to approach the same genre in very different ways.
How Aries and Virgo Communicate
Aries is a playful, fun-loving sign. They like to joke around. Virgos are more serious, straightforward, and analytical. How each partner engages in conversation may be very different. In general, Aries natives are talkative and outgoing. They like to share their lives with others. Virgos, on the other hand, are much quieter and reserved. They prefer to keep to themselves. These differences may cause misunderstanding and conflict in the relationship, if both partners do not find a way to communicate effectively.
For each sign, there are different strengths and weaknesses. Rather than focusing on what you don't like about your partner, try to see their strengths. There will inevitably be differences in communication styles between you and your partner. The key is to find respectful ways you and your partner can express yourselves while still staying true to your core values.
Summary and Overall Score
On average Aries and Virgo natives score 48/100.  This makes Aries and Virgo incompatible signs. Their strengths are unlikely to compensate for the many challenges they will face in a partnership.
No two people are perfectly compatible. Thus, there is no such thing as 100/100 compatibility. For Aries, the best score attainable is with a Leo partner, which scores 88/100. The idea is that every relationship requires self-sacrifice, respect, and mutual effort.
Note: Astrological compatibility is a highly nuanced science, and it is always a good idea to get a complete reading from a skilled astrologer to learn about the specifics of your personal chart and your romantic compatibility with your partner.
The 12 Signs of the Zodiac
Learn about each of the twelve signs of the zodiac.