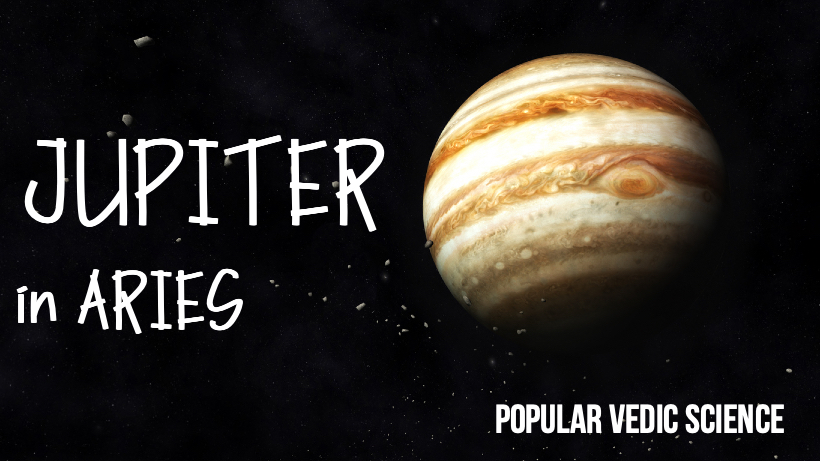 In this article we provide a detailed overview of Jupiter in Aries as well as its impact in each of the 12 houses of the zodiac. Do you have Jupiter in Aries in your horoscope? If so then this article is for you.
Jupiter: The Planet of Wisdom, Teachers, and Spirituality
In the royal court of the planets, Jupiter is the advisor and priest. In Vedic theology, Jupiter is known as Brhaspati, the guru of the gods. The Romans worshiped Jupiter as the king of the gods, seeking his blessings for good fortune and military victory. Their view seems to be an amalgamation of the original Puranic personalities of Brhaspati and Indra, the god of weather and king of the celestial realm.
Weekday
Jupiter's weekday is Thursday, known in Latin as Jovis, or the day of Jupiter. In Sanskrit, Thursday is known as Guruvar, or the day of Brhaspati, the guru of the gods.
Speed of Travel
One of the slower moving planets, Jupiter completes one round of the zodiac in approximately eleven years, ten months, and five days. Jupiter spends just under a year in each sign — eleven months and 26 days.
Areas of Influence
In an astrological chart, Jupiter governs the following:
Wisdom, devotion, and piety
Ministers, teachers, and gurus
The husband and children, especially sons
Worship, expansion, and liberation
Wealth, sacrifice, and self-control
Virtue, good manners, one's overall character
Reputation, position, education
Fruit, charity, and holy places
Initiation, spirituality, and one's worldview
Aries: The Sign of the Ram
Aries is the first sign of the zodiac. In Vedic astrology, Aries is known by the Sanskrit name mesha, or "the ram." The sign of Aries possesses a friendly, hard-working, and passionate nature. Aries is a sign of leadership. In an astrological chart, it indicates areas where you are pioneering and confident in your efforts.
Basic Traits
Ruled by Mars. Mars is known as the planet of vitality, courage, and competition. He brings a fiery and fearsome energy to the house he inhabits.
A fire sign. Aries is temperamental, passionate, and energetic.
A movable sign. Aries is fluid, spontaneous, and fond of change.
A masculine sign. Aries is aggressive, bold, and thick-skinned.
Areas of Influence
Aries influences its planetary lord in the following areas:
Leadership and purpose
Courage and self-confidence
Playfulness and sports
Friends and enemies
Determination
Traits of Jupiter in Aries
The influence of Jupiter in a birth chart will change depending on which house it is located in, its relative position in relation to other planets, as well as other factors. However, the following general traits are likely to be found in a native who has Jupiter in Aries:
You are intelligent. Ruled by Mars, the Aries psyche is bold and intelligent. You enjoy tackling big problems and convincing others of your point of view. You can easily apply your intellect to any subject matter you wish to learn.
You are well-educated. You enjoy learning and you strive to educate yourself on topics of importance to you. You always seek to better understand the world around you so that you can leverage the knowledge you acquire to improve your life and the lives of those you hold dear.
You are driven. When you set your mind on something, you work hard to achieve it. You are unafraid of challenges and you endeavor to overcome any obstacles that stand in your path.
You're argumentative. You have a head-strong nature and you stand by your ideals. As a result, you often find yourself caught up in arguments and striving to prove your point to verbal opponents. However, it is better to use your God-given wisdom to try to understand multiple sides of an issue and endeavor to reach harmonious conclusions with your peers, rather than always picking arguments and trying to make others see things your way.
You give easily to others. Although you are a fearsome opponent in debate, deep down you are a friendly and generous person who enjoys helping others. You have boundless energy, and you never hesitate to give your time to your friends and others in your environment when they are in need.
Jupiter in Aries in the 12 Houses
Every natal chart is unique. It is not possible to give a fully accurate reading without considering the various elements of the chart, including planetary combinations, aspects, friendships, directional strength, and more.
The traits below are general indications which will change depending on the influence of the factors listed above.
In the First House
The first house indicates physique and self-expression. You are a charismatic leader and a strong communicator. You are confident and fortunate in all aspects of life.
In the Second House
The second house indicates wealth and cultural traditions. You are influential in your family circle as well as in your social and professional spheres. You will likely carry on a family legacy. You will triumph over enemies without difficulty.
In the Third House
The third house indicates siblings, courage, and literary works. You are very creative and an excellent planner and organizer. You are a socialite and extrovert, and you enjoy networking with others and sharing your unique ideas.
In the Fourth House
The fourth house indicates one's mother, home, and basic beliefs. You are a noble and generous person. You lead a prosperous life, and you share your good fortune with those around you.
In the Fifth House
The fifth house indicates children, creative works, and overall success. You are a gifted teacher and are especially skilled in working with children. You can also succeed as an actor or entertainer.
In the Sixth House
The sixth house indicates debt, disease, and service. You are inclined to serve others, and you are known to regularly volunteer your time to support causes you believe in. However, you may have financial troubles throughout life.
In the Seventh House
The seventh house indicates the spouse, marital happiness, and sexual desire. This placement of Jupiter may lead the native to take up a career in the military or armed services. You can advance yourself professionally through ambitious and aggressive partnerships.
In the Eighth House
The eighth house indicates death, calamities, and interest in the occult. You are a hard worker and a loyal friend. You may inherit property or other tangible assets.
In the Ninth House
The ninth house indicates religion and morality. You will have good luck in foreign work and travel. In general, you will be more successful in the second half of life.
In the Tenth House
The tenth house indicates one's father, career, and reputation. This is a strong position for Jupiter. You will lead a fortunate life, and you may become famous or influential through your work.
In the Eleventh House
The eleventh house indicates gains, aspirations, and friendships. You are a visionary and an intellectual. You may accrue unexpected wealth through familial relations or other well-wishers.
In the Twelfth House
The twelfth house indicates losses, misfortune, and liberation. You can do well in business that requires foreign travel. You may marry someone from outside your native culture, and you may relocate abroad.
Famous People with Jupiter in Aries
Al Pacino
Zac Efron
Charlize Theron
Blake Lively
Russell Crowe
Che Guevara
Lionel Messi
Tom Felton
Steven Seagal
Martin Luther King Jr.
Vladimir Putin
John F. Kennedy
Mahatma Gandhi
Bruce Lee
Audrey Hepburn
Sandra Bullock
Pablo Picasso
Courtney Love
Colin Farrell
Joan Baez
Lenny Kravitz
Patrick Swayze
Learn More About Vedic Astrology
Expand your knowledge of astrology! Check out our guides to Vedic Astrology and the nine planets, known collectively in Sanskrit as the nava-graha. You can also learn about the differences between Western and Vedic astrology.
The Twelve Signs of the Zodiac
The 27 Nakshatras