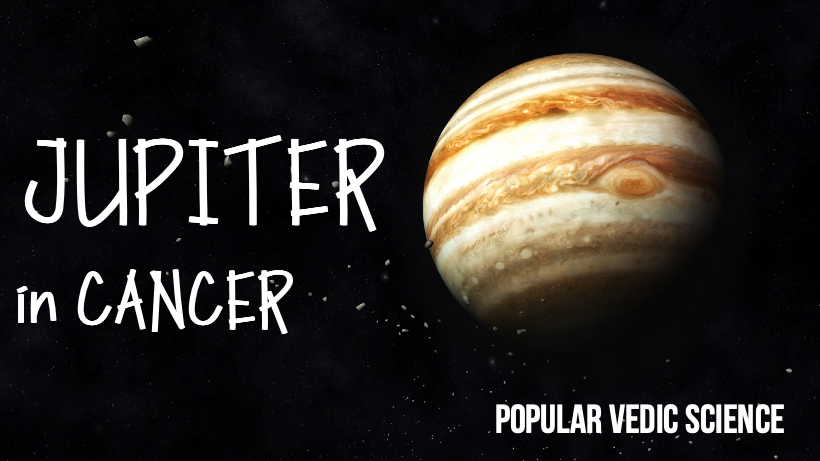 In this article we provide a detailed overview of Jupiter in Cancer as well as its impact in each of the 12 houses of the zodiac. Do you have Jupiter in Cancer in your horoscope? If so then this article is for you.
Jupiter: The Planet of Wisdom, Teachers, and Spirituality
In the royal court of the planets, Jupiter is the advisor and priest. In Vedic theology, Jupiter is known as Brhaspati, the guru of the gods. The Romans worshiped Jupiter as the king of the gods, seeking his blessings for good fortune and military victory. Their view seems to be an amalgamation of the original Puranic personalities of Brhaspati and Indra, the god of weather and king of the celestial realm.
Weekday
Jupiter's weekday is Thursday, known in Latin as Jovis, or the day of Jupiter. In Sanskrit, Thursday is known as Guruvar, or the day of Brhaspati, the guru of the gods.
Speed of Travel
One of the slower moving planets, Jupiter completes one round of the zodiac in approximately eleven years, ten months, and five days. Jupiter spends just under a year in each sign — eleven months and 26 days.
Areas of Influence
In an astrological chart, Jupiter governs the following:
Wisdom, devotion, and piety
Ministers, teachers, and gurus
The husband and children, especially sons
Worship, expansion, and liberation
Wealth, sacrifice, and self-control
Virtue, good manners, one's overall character
Reputation, position, education
Fruit, charity, and holy places
Initiation, spirituality, and one's worldview
Cancer: The Sign of the Crab
Cancer is the fourth sign of the zodiac. In Vedic astrology, Cancer is known by the Sanskrit name karkata, or "the crab." The sign of Cancer possesses a resilient, compassionate, and creative nature. Cancer is a sign of emotion. In an astrological chart, it indicates areas where you are sentimental and nurturing in your efforts.
Basic Traits
Ruled by the Moon. The moon is known as the planet of the mind, emotions, and creativity. He brings a sensitive and oscillating energy to the house he inhabits.
A water sign. Cancer is perceptive, artistic, and sentimental.
A movable sign. Capricorn is fluid, spontaneous, and fond of change.
A feminine sign. Capricorn is receptive, sensitive, and empathetic.
Areas of Influence
Cancer influences its planetary lord in the following areas:
Creativity and artistry
Emotional expression and mental health
Intuition and sensitivity
Compassion and maternal instincts
Adaptability
Traits of Jupiter in Cancer
The influence of Jupiter in a birth chart will change depending on which house it is located in, its relative position in relation to other planets, as well as other factors. However, the following general traits are likely to be found in a native who has Jupiter in Cancer:
You care deeply about others. Ruled by the Moon, Cancer is a sign of motherhood and nurturing. You have a high level of emotional intelligence, and you can easily sense what others are thinking and feeling. For these reasons, others find your presence comforting, and they often seek your counsel and advice.
You are sentimental. You feel your feelings more strongly than others. This is a beneficial trait for artistic expression, whether in written or visual form. However, you may be prone to mood swings, oscillating between alternating periods of optimistic highs and depressive lows. By keeping a regular journal you can track your thoughts and feelings and get some much needed relief.
You're well-known in your field. Jupiter is exalted in the sign of Cancer, and this brings significant positive energy and good fortune to your life. You will live a comfortable life and will win respect and admiration in your field of work.
Family is important to you. Your nurturing tendency is most expressed toward your immediate family — your parents, siblings, spouse, and children. You love and treasure your family, and you take great pleasure in the time you get to spend with them.
You are a person of virtue. You don't like to deceive or take advantage of others. It runs completely against your nature. You always strive to act according to your highest values and ideals.
Jupiter in Cancer in the 12 Houses
Every natal chart is unique. It is not possible to give a fully accurate reading without considering the various elements of the chart, including planetary combinations, aspects, friendships, directional strength, and more.
The traits below are general indications which will change depending on the influence of the factors listed above.
In the First House
The first house indicates physique and self-expression. You are blessed with exceptional vitality, a long life, and a promising career. You are handsome and well-liked by others. You are thoughtful and content.
In the Second House
The second house indicates wealth and cultural traditions. You are a persuasive speaker and you have a pleasant voice. You earn a good living and are charitable with your wealth.
In the Third House
The third house indicates siblings, courage, and literary works. You are likely to travel, and you have good relations with your siblings and cousins. You're a talented artist. You don't like to spend money.
In the Fourth House
The fourth house indicates one's mother, home, and basic beliefs. This is a very good position for Jupiter. You have a successful career and you enjoy many material comforts. You are happy and fulfilled at home and in your work and personal life as well. However, you may sometimes suffer due to envious people or others who wish to take advantage of your position.
In the Fifth House
The fifth house indicates children, creative works, and overall success. You are well-educated, and you can do well in a government role or some other position of public service. You may suffer on account of your children.
In the Sixth House
The sixth house indicates debt, disease, and service. You are resilient and not easily overpowered or intimidated. However, you may be a bit lethargic and overly attached to sleep. You have an interest in the paranormal.
In the Seventh House
The seventh house indicates the spouse, marital happiness, and sexual desire. You are blessed to have a higher position in life than that of your father. You have a good spouse and family. You are respected by your peers.
In the Eighth House
The eighth house indicates death, calamities, and interest in the occult. You work well on teams and have good health overall. You may find yourself frequently working on behalf of others.
In the Ninth House
The ninth house indicates religion and morality. You will be famous and may become a social or religious leader. You are wise, philosophical, and just.
In the Tenth House
The tenth house indicates one's father, career, and reputation. You are very ambitious and you will experience great success in all areas of life. You are very close with your parents.
In the Eleventh House
The eleventh house indicates gains, aspirations, and friendships. You will work hard and earn well throughout life. Many unsought opportunities will come to you.
In the Twelfth House
The twelfth house indicates losses, misfortune, and liberation. You are detached from life and inclined toward transcendental progress. You meet with regular frustrations in your worldly life, though you may have ample material resources.
Famous People with Jupiter in Cancer
Kurt Cobain
Heath Ledger
Jennifer Lawrence
Joe Biden
Kourtney Kardashian
Johnny Hallyday
Jimi Hendrix
Adam Levine
Kobe Bryant
Adam Sandler
Nicole Kidman
Pamela Anderson
Elizabeth Taylor
Sophie Marceau
Mick Jagger
Katie Holmes
Robert De Niro
Catherine Deneuve
Ed Sheeran
Rachel McAdams
Jennifer Love Hewitt
Vin Diesel
Emma Roberts
Rita Ora
Learn More About Vedic Astrology
Expand your knowledge of astrology! Check out our guides to Vedic Astrology and the nine planets, known collectively in Sanskrit as the nava-graha. You can also learn about the differences between Western and Vedic astrology.
The Twelve Signs of the Zodiac
The 27 Nakshatras