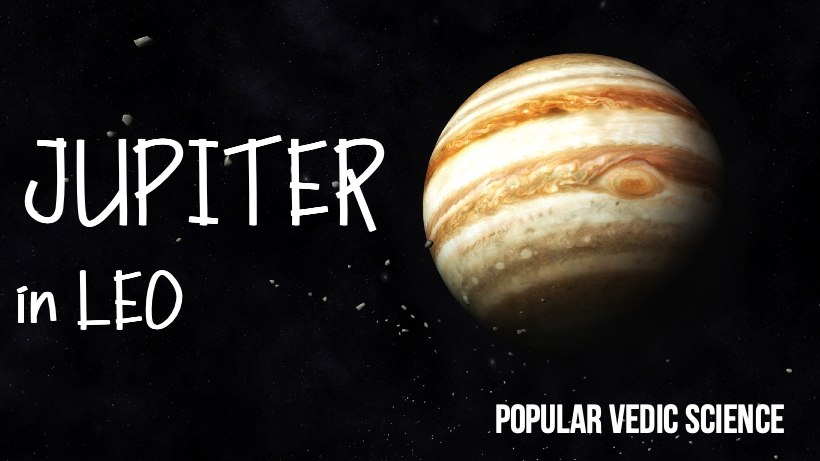 In this article we provide a detailed overview of Jupiter in Leo as well as its impact in each of the 12 houses of the zodiac. Do you have Jupiter in Leo in your horoscope? If so then this article is for you.
Jupiter: The Planet of Wisdom, Teachers, and Spirituality
In the royal court of the planets, Jupiter is the advisor and priest. In Vedic theology, Jupiter is known as Brhaspati, the guru of the gods. The Romans worshiped Jupiter as the king of the gods, seeking his blessings for good fortune and military victory. Their view seems to be an amalgamation of the original Puranic personalities of Brhaspati and Indra, the god of weather and king of the celestial realm.
Weekday
Jupiter's weekday is Thursday, known in Latin as Jovis, or the day of Jupiter. In Sanskrit, Thursday is known as Guruvar, or the day of Brhaspati, the guru of the gods.
Speed of Travel
One of the slower moving planets, Jupiter completes one round of the zodiac in approximately eleven years, ten months, and five days. Jupiter spends just under a year in each sign — eleven months and 26 days.
Areas of Influence
In an astrological chart, Jupiter governs the following:
Wisdom, devotion, and piety
Ministers, teachers, and gurus
The husband and children, especially sons
Worship, expansion, and liberation
Wealth, sacrifice, and self-control
Virtue, good manners, one's overall character
Reputation, position, education
Fruit, charity, and holy places
Initiation, spirituality, and one's worldview
Leo: The Sign of the Lion
Leo is the fifth sign of the zodiac. In Vedic astrology, Leo is known by the Sanskrit name simha, or "the lion." The sign of Leo possesses a noble, powerful, and intimidating nature. Leo is a sign of authority. In an astrological chart, it indicates areas where you are ambitious and righteous in your efforts.
Basic Traits
Ruled by the Sun. The Sun is known as the planet of the self, status, and will-power. He brings an influential and imposing energy to the house he inhabits.
A fire sign. Leo is temperamental, passionate, and energetic.
A fixed sign. Leo is steady, predictable, and slow to change.
A masculine sign. Leo is aggressive, bold, and charismatic.
Areas of Influence
Leo influences its planetary lord in the following areas:
Power and ambition
Authority and governance
Dignity and nobility
Status and self-worth
Will-power
Traits of Jupiter in Leo
The influence of Jupiter in a birth chart will change depending on which house it is located in, its relative position in relation to other planets, as well as other factors. However, the following general traits are likely to be found in a native who has Jupiter in Leo:
You have a good heart. Ruled by the Sun, Leo is one of the noblest signs of the zodiac. You are attracted to virtue and strive to always do good for others and for the world. The impact you have in life matters deeply to you. For this reason, it is especially important that you find good role models and mentors who can help you grow and develop into the kind of person you long to be.
You love the outdoors. More than others, you are attracted to outdoor spaces, and you are rejuvenated by time spent in the wilderness. Walks in the woods, swimming in rivers or ponds, camping, hiking, and so on are all wonderful activities for you. Regular time spent in these kinds of recreational activities will be very good for your mental and physical health.
You're extra sensitive. Your reputation matters to you. This is a strength when it inspires you to live up to your highest potential in order to win the admiration of the people you care about. However, it can also be a weakness, particularly when you are overly sensitive to criticism or when you let your self-consciousness inhibit you from taking any action at all. Remember that failure isn't something to be feared. It is an important and necessary step on the path to success.
You're an optimist. You tend to see the bright side of life, and for this reason, you are not easily defeated. You appear to others to have a boundless confidence — both in your personal capabilities and in the likelihood of a positive outcome in your efforts.
You're fond of drama. Leos are known for their passionate approach to life, and this means they sometimes get a bit carried away with themselves. Your emotional outbursts can be intimidating and frustrating for others, even if you cool down quickly. Be careful not to take yourself too seriously!
Jupiter in Leo in the 12 Houses
Every natal chart is unique. It is not possible to give a fully accurate reading without considering the various elements of the chart, including planetary combinations, aspects, friendships, directional strength, and more.
The traits below are general indications which will change depending on the influence of the factors listed above.
In the First House
The first house indicates physique and self-expression. You are strong, intelligent, and physically attractive. Others look up to you for your wisdom and leadership.
In the Second House
The second house indicates wealth and cultural traditions. You are a ravenous eater. You can succeed as a CEO or business executive. You are a powerful speaker.
In the Third House
The third house indicates siblings, courage, and literary works. You are something of a romantic, and may take excess interest in the opposite sex. You are a gifted writer. You're quite reserved when it comes to spending money.
In the Fourth House
The fourth house indicates one's mother, home, and basic beliefs. You have an extravagant and pleasurable lifestyle, and you make a good living. You are loved by your family. You are likely to have more daughters than sons.
In the Fifth House
The fifth house indicates children, creative works, and overall success. You may succeed as an actor, entertainer, or politician. You can rise to a high social status, and you will have many friends and admirers.
In the Sixth House
The sixth house indicates debt, disease, and service. You are very charming. However, you may be somewhat lazy and prone to excess.
In the Seventh House
The seventh house indicates the spouse, marital happiness, and sexual desire. You have a good reputation in both your professional and personal life. You will have ample money throughout life. However, you have an above-average sex drive and may be drawn into illicit affairs.
In the Eighth House
The eighth house indicates death, calamities, and interest in the occult. You may have a strained marriage. You live a simple life and your professional success comes in short-lived bursts. You are likely to have a long life. You should actively cultivate your natural interest in spirituality and self-realization. This will be the greatest source of fulfillment for you.
In the Ninth House
The ninth house indicates religion and morality. You will gain much happiness through your children. You are drawn to religious and spiritual work. You can become a well-known leader or activist in your local community.
In the Tenth House
The tenth house indicates one's father, career, and reputation. You are smart, wealthy, and successful in practically everything you do. You are likely to have a position of leadership in your place of work.
In the Eleventh House
The eleventh house indicates gains, aspirations, and friendships. You are ambitious and hard-working. Though you may not be highly educated, you are nonetheless able to earn well.
In the Twelfth House
The twelfth house indicates losses, misfortune, and liberation. You may put on a show of spirituality and give trouble to others. You are likely to travel. Much depends on the position of the Sun in the natal chart. If the Sun is in a strong position, then the negative qualities will be significantly diminished.
Famous People with Jupiter in Leo
Bill Gates
Jim Morrison
Celine Dion
Kylie Minogue
Lucy Lawless
Daniel Craig
Victor Hugo
Keith Richards
Jimmy Page
Anthony Bourdain
Eva Joly
Julia Roberts
Will Smith
Marie Le Pen
Tom Hanks
Mel Gibson
Jacques Chirac
Hugh Jackman
Jessica Simpson
Eva Green
Yoko Ono
Michael Douglas
Thom Yorke
Daniel Day-Lewise
Anna Nicole Smith
Sylvia Plath
Learn More About Vedic Astrology
Expand your knowledge of astrology! Check out our guides to Vedic Astrology and the nine planets, known collectively in Sanskrit as the nava-graha. You can also learn about the differences between Western and Vedic astrology.
The Twelve Signs of the Zodiac
The 27 Nakshatras