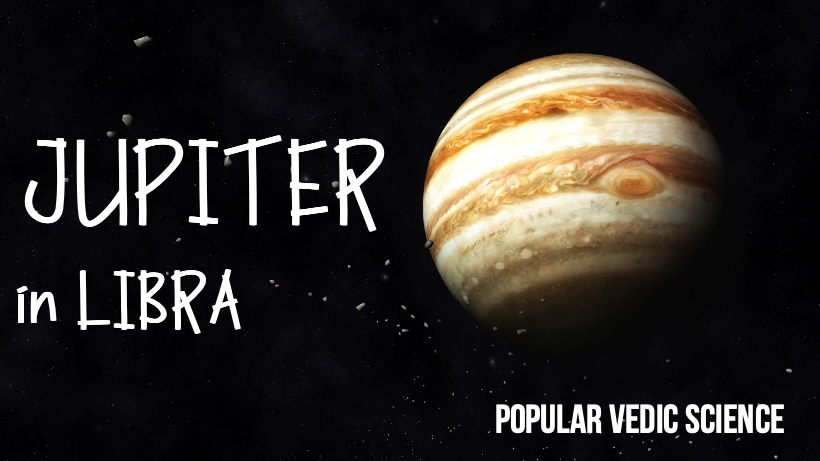 In this article we provide a detailed overview of Jupiter in Libra as well as its impact in each of the 12 houses of the zodiac. Do you have Jupiter in Libra in your horoscope? If so then this article is for you.
Jupiter: The Planet of Wisdom, Teachers, and Spirituality
In the royal court of the planets, Jupiter is the advisor and priest. In Vedic theology, Jupiter is known as Brhaspati, the guru of the gods. The Romans worshiped Jupiter as the king of the gods, seeking his blessings for good fortune and military victory. Their view seems to be an amalgamation of the original Puranic personalities of Brhaspati and Indra, the god of weather and king of the celestial realm.
Weekday
Jupiter's weekday is Thursday, known in Latin as Jovis, or the day of Jupiter. In Sanskrit, Thursday is known as Guruvar, or the day of Brhaspati, the guru of the gods.
Speed of Travel
One of the slower moving planets, Jupiter completes one round of the zodiac in approximately eleven years, ten months, and five days. Jupiter spends just under a year in each sign — eleven months and 26 days.
Areas of Influence
In an astrological chart, Jupiter governs the following:
Wisdom, devotion, and piety
Ministers, teachers, and gurus
The husband and children, especially sons
Worship, expansion, and liberation
Wealth, sacrifice, and self-control
Virtue, good manners, one's overall character
Reputation, position, education
Fruit, charity, and holy places
Initiation, spirituality, and one's worldview
Libra: The Sign of the Scales
Libra is the seventh sign of the zodiac. In Vedic astrology, Libra is known by the Sanskrit name tula, or "the measuring scale." The sign of Libra possesses a balanced, tasteful, and calculating nature. Libra is a sign of justice. In an astrological chart, it indicates areas where you are judicious and thoughtful in your efforts.
Basic Traits
Ruled by Venus. Venus is known as the planet of music, fine food, and the arts. He brings a sensual and indulgent energy to the house he inhabits.
An air sign. Libra is imaginative, logical, and curious.
A moveable sign. Libra is fluid, spontaneous, and fond of change.
A masculine sign. Libra is aggressive, bold, and thick-skinned.
Areas of Influence
Libra influences its planetary lord in the following areas:
Aesthetics and taste
Morality and justice
Optimism and fine living
Learning and scholarship
Balance
Traits of Jupiter in Libra
The influence of Jupiter in a birth chart will change depending on which house it is located in, its relative position in relation to other planets, as well as other factors. However, the following general traits are likely to be found in a native who has Jupiter in Libra:
You stand up for others. As the sign of the scales, Libra's influence is one of justice and equality. You don't like seeing others oppressed or put down, and you are likely to be found campaigning for human rights, animal rights, and other causes.
You are an intellectual. You are learned and wise, and you also have a sharp wit. Others find your company edifying. You possess many books and you enjoy reading, learning, and sharing your knowledge with others.
You're an entertainer. You like to make people smile and laugh. You have a wonderful sense of humor. You may make a living as an entertainer, actor, comedian, storyteller, or director.
You are diplomatic. You are skilled at seeing multiple sides of an issue and reconciling opposing views. You like to please people, and so you may sometimes compromise your personal views in order to keep peace in your professional or personal spheres.
You have many friends. You are pious, hospitable, and fashionable. Due to your all-around pleasing nature, you attract many friends and admirers to your side. This may include influential business people and politicians, as well as ordinary blue collar workers you encounter in the course of your day-to-day life.
Jupiter in Libra in the 12 Houses
Every natal chart is unique. It is not possible to give a fully accurate reading without considering the various elements of the chart, including planetary combinations, aspects, friendships, directional strength, and more.
The traits below are general indications which will change depending on the influence of the factors listed above.
In the First House
The first house indicates physique and self-expression. You are fearless, mature, and full of life. You are intelligent and wise. You will earn well throughout life and live happily surrounded by family and friends.
In the Second House
The second house indicates wealth and cultural traditions. You are fond of eating and of living the good life. You enjoy sharing your wealth with others. You have beautiful features. You can make a good living running your own business.
In the Third House
The third house indicates siblings, courage, and literary works. You are well-educated and a skilled writer. You may make a living writing. You don't have much money to your name and you spend frugally. You do not receive as much respect as you would like.
In the Fourth House
The fourth house indicates one's mother, home, and basic beliefs. You will have a long life and a prosperous career. You have a doting mother and a loving wife. You enjoy much happiness from your life at home with your family.
In the Fifth House
The fifth house indicates children, creative works, and overall success. You may have an influential career. You are lucky and may do well in investing. You may not get much happiness from your children.
In the Sixth House
The sixth house indicates debt, disease, and service. You will become famous, and will also earn fame through your spouse. However, you are of frail health and may suffer various illnesses throughout life.
In the Seventh House
The seventh house indicates the spouse, marital happiness, and sexual desire. You are a talented speaker and hold a high position in society or in your place of work. You may become rich and famous. However, you are inclined to have numerous love affairs.
In the Eighth House
The eighth house indicates death, calamities, and interest in the occult. You are attracted to mysticism and spiritual practices. You may frequent sacred places of pilgrimage. You work well with others, though you may not have much professional success.
In the Ninth House
The ninth house indicates religion and morality. You engage in religious sacrifices and austerities. You can become a minister, preacher, or spiritual leader. You are very scholarly and you live comfortably.
In the Tenth House
The tenth house indicates one's father, career, and reputation. This is a very good position for Jupiter. You will have an influential career and will make a lot of money. You may hold a high post at a university or in the government. Your actions are all commendable and virtuous.
In the Eleventh House
The eleventh house indicates gains, aspirations, and friendships. You are an excellent networker and will gain much from friends and acquaintances. You have good health. You pursue your goals with focus and determination.
In the Twelfth House
The twelfth house indicates losses, misfortune, and liberation. You may cause trouble to others. Your actions may be ignoble and unbecoming. You are likely to travel. Beware of religious or spiritual hypocrisy.
Famous People with Jupiter in Libra
Madonna
Michael Jackson
Freddie Mercury
Brigitte Bardot
Naomi Campbell
Michelle Pfeiffer
Sophia Loren
Alan Rickman
Justin Bieber
Brittany Spears
Elvis Presley
David Bowie
Sharon Stone
Uma Thurman
Prince William
Ted Bundy
The Dalai Lama (14th)
Arnold Schwarzenegger
Charles Manson
Ellen DeGeneres
Anne Hathaway
Matt Damon
Jessica Biel
Melania Trump
Stephen King
Priyanka Chopra
Steven Spielberg
Learn More About Vedic Astrology
Expand your knowledge of astrology! Check out our guides to Vedic Astrology and the nine planets, known collectively in Sanskrit as the nava-graha. You can also learn about the differences between Western and Vedic astrology.
The Twelve Signs of the Zodiac
The 27 Nakshatras