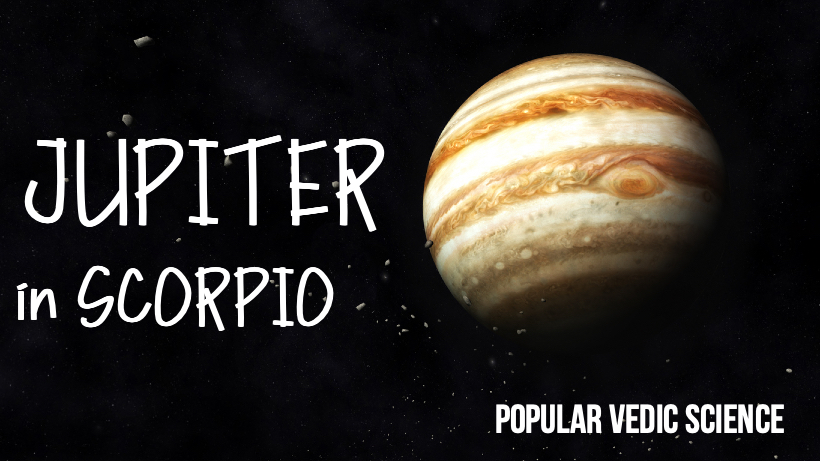 In this article we provide a detailed overview of Jupiter in Scorpio as well as its impact in each of the 12 houses of the zodiac. Do you have Jupiter in Scorpio in your horoscope? If so then this article is for you.
Jupiter: The Planet of Wisdom, Teachers, and Spirituality
In the royal court of the planets, Jupiter is the advisor and priest. In Vedic theology, Jupiter is known as Brhaspati, the guru of the gods. The Romans worshiped Jupiter as the king of the gods, seeking his blessings for good fortune and military victory. Their view seems to be an amalgamation of the original Puranic personalities of Brhaspati and Indra, the god of weather and king of the celestial realm.
Weekday
Jupiter's weekday is Thursday, known in Latin as Jovis, or the day of Jupiter. In Sanskrit, Thursday is known as Guruvar, or the day of Brhaspati, the guru of the gods.
Speed of Travel
One of the slower moving planets, Jupiter completes one round of the zodiac in approximately eleven years, ten months, and five days. Jupiter spends just under a year in each sign — eleven months and 26 days.
Areas of Influence
In an astrological chart, Jupiter governs the following:
Wisdom, devotion, and piety
Ministers, teachers, and gurus
The husband and children, especially sons
Worship, expansion, and liberation
Wealth, sacrifice, and self-control
Virtue, good manners, one's overall character
Reputation, position, education
Fruit, charity, and holy places
Initiation, spirituality, and one's worldview
Scorpio: The Sign of the Scorpion
Scorpio is the eighth sign of the zodiac. In Vedic astrology, Scorpio is known by the Sanskrit name vrishcika, or "the scorpion." The sign of Scorpio possesses a piercing, intense, and mysterious nature. Scorpio is a sign of hidden power. In an astrological chart, it indicates areas where you are harsh and secretive in your efforts.
Basic Traits
Ruled by Mars. Mars is known as the planet of vitality, courage, and competition. He brings a fiery and fearsome energy to the house he inhabits.
A water sign. Scorpio is perceptive, artistic, and sentimental.
A fixed sign. Scorpio is steady, predictable, and slow to change.
A feminine sign. Scorpio is receptive, sensitive, and empathetic.
Areas of Influence
Scorpio influences its planetary lord in the following areas:
Energy and power
Mysteries and secrets
Brooding and mood swings
Criticism and harshness
Transformation
Traits of Jupiter in Scorpio
The influence of Jupiter in a birth chart will change depending on which house it is located in, its relative position in relation to other planets, as well as other factors. However, the following general traits are likely to be found in a native who has Jupiter in Scorpio:
You're an intense person. You have a powerful and memorable personality. Scorpio is a sign of force and purpose. You don't do things casually. You put your whole heart into whatever project or task you take up.
You're forgiving. Although you may frequently clash with those who don't take well to your overbearing personality, you don't hold grudges. You readily follow the advice of "forgive and forget."
You work hard. You apply yourself with energy to whatever you do. Your stamina and enthusiasm greatly impresses others. However, you may tend to overwork yourself and fall ill as a result.
You may have bad habits. You don't think highly of social mores, and as a result you may take on certain bad habits that are looked down on in the general society, such as smoking, drinking, and so on.
You are generous. You are overall a happy person and you share what you have with others. However, this may partly be because you like to show off your charitable nature to others. Still, giving gifts to worthy persons is a virtuous act, even if the motive is not completely pure.
Jupiter in Scorpio in the 12 Houses
Every natal chart is unique. It is not possible to give a fully accurate reading without considering the various elements of the chart, including planetary combinations, aspects, friendships, directional strength, and more.
The traits below are general indications which will change depending on the influence of the factors listed above.
In the First House
The first house indicates physique and self-expression. Your physical appearance is striking. You will lead a respectable and virtuous life. You have a piercing intellect and a sharp wit. You also possess above-average strength, and could succeed as an athlete or physical trainer.
In the Second House
The second house indicates wealth and cultural traditions. You have a deep and commanding voice. You are fond of good food, music, and singing. You are well-educated and somewhat aristocratic in your lifestyle and disposition.
In the Third House
The third house indicates siblings, courage, and literary works. You have strong relations with your siblings, and you may engage in collaborative undertakings with them. However, you may be inclined toward unwholesome acts.
In the Fourth House
The fourth house indicates one's mother, home, and basic beliefs. You enjoy a happy and fulfilling life. You have close relationships with your family, especially your mother. You have a successful and lucrative career.
In the Fifth House
The fifth house indicates children, creative works, and overall success. You are successful in business ventures of all sorts. You experience intense mood swings, and may be perceived as dramatic by those who know you. You are very intelligent and you are likely to receive a good education.
In the Sixth House
The sixth house indicates debt, disease, and service. You will easily defeat your enemies. You can become famous, particularly through marriage. For example, your spouse may be an influential or important person. You are prone to excess.
In the Seventh House
The seventh house indicates the spouse, marital happiness, and sexual desire. You are blessed to have a good marriage and loyal friends, as well as a successful career and all-around happy life. You may become famous. However, you need to watch out for becoming entangled in illicit affairs.
In the Eighth House
The eighth house indicates death, calamities, and interest in the occult. You have an active interest in paranormal research and spirituality. You have an average career, and you may find yourself often carrying out the work of others.
In the Ninth House
The ninth house indicates religion and morality. You are spiritually inclined, and may take up the life of a monastic. You enjoy learning and teaching others also. You do not show much interest in money.
In the Tenth House
The tenth house indicates one's father, career, and reputation. This is an excellent position for Jupiter. You are powerful and influential. You may have an important position such as a judge, politician, or thought-leader. This is a good position for happiness from wealth, family, and home.
In the Eleventh House
The eleventh house indicates gains, aspirations, and friendships. You are fearless, healthy, and robust. You work relentlessly to realize your ambitions and goals. You can get many good opportunities for personal and professional advancement through friends and relatives.
In the Twelfth House
The twelfth house indicates losses, misfortune, and liberation. This is an unfavorable position for Jupiter in the horoscope. You may be of low character and are likely to be drawn into immoral or criminal acts. You are lazy and not very ambitious. You are likely to travel. However, these characteristics may be offset by more favorable planetary positions in the chart.
Famous People with Jupiter in Scorpio
Nicki Minaj
Elon Musk
Tupac Shakur
Alain Delon
Elton John
Mark Wahlberg
Hillary Clinton
Amy Winehouse
Marlon Brando
Winona Ryder
Henry Cavill
Jared Leto
Robert Redford
Jada Pinkett Smith
Snoop Dogg
Sean Penn
Woody Allen
Antonio Banderas
Miranda Kerr
Ewan McGregor
Simon Cowell
Adam Driver
Robert Plant
Nicholas Copernicus
Learn More About Vedic Astrology
Expand your knowledge of astrology! Check out our guides to Vedic Astrology and the nine planets, known collectively in Sanskrit as the nava-graha. You can also learn about the differences between Western and Vedic astrology.
The Twelve Signs of the Zodiac
The 27 Nakshatras