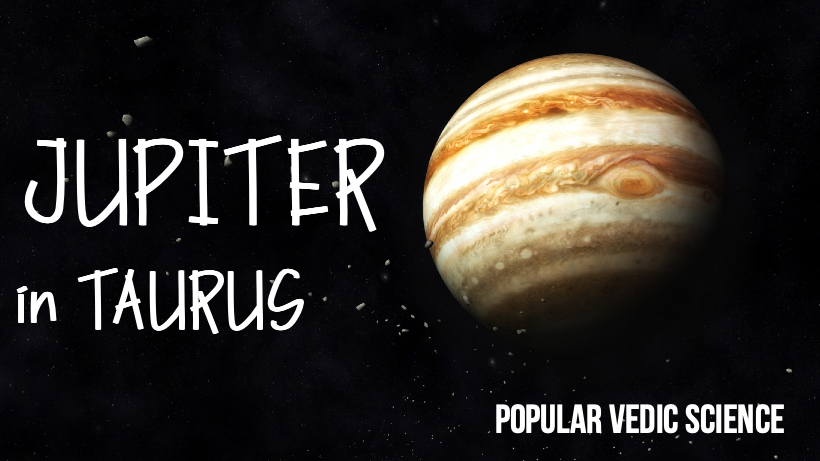 In this article we provide a detailed overview of Jupiter in Taurus as well as its impact in each of the 12 houses of the zodiac. Do you have Jupiter in Taurus in your horoscope? If so then this article is for you.
Jupiter: The Planet of Wisdom, Teachers, and Spirituality
In the royal court of the planets, Jupiter is the advisor and priest. In Vedic theology, Jupiter is known as Brhaspati, the guru of the gods. The Romans worshiped Jupiter as the king of the gods, seeking his blessings for good fortune and military victory. Their view seems to be an amalgamation of the original Puranic personalities of Brhaspati and Indra, the god of weather and king of the celestial realm.
Weekday
Jupiter's weekday is Thursday, known in Latin as Jovis, or the day of Jupiter. In Sanskrit, Thursday is known as Guruvar, or the day of Brhaspati, the guru of the gods.
Speed of Travel
One of the slower moving planets, Jupiter completes one round of the zodiac in approximately eleven years, ten months, and five days. Jupiter spends just under a year in each sign — eleven months and 26 days.
Areas of Influence
In an astrological chart, Jupiter governs the following:
Wisdom, devotion, and piety
Ministers, teachers, and gurus
The husband and children, especially sons
Worship, expansion, and liberation
Wealth, sacrifice, and self-control
Virtue, good manners, one's overall character
Reputation, position, education
Fruit, charity, and holy places
Initiation, spirituality, and one's worldview
Taurus: The Sign of the Bull
Taurus is the second sign of the zodiac. In Vedic astrology, Taurus is known by the Sanskrit name vrishabha, or "the bull." The sign of Taurus possesses a loyal, thoughtful, and artistic nature. Taurus is a sign of sensuality. In an astrological chart, it indicates areas where you are lavish and methodical in your efforts.
Basic Traits
Ruled by Venus. Venus is known as the planet of music, fine food, and the arts. He brings a sensual and indulgent energy to the house he inhabits.
An earth sign. Taurus is grounded, thoughtful, and practical.
A fixed sign. Taurus is steady, predictable, and slow to change.
A feminine sign. Taurus is receptive, sensitive, and empathetic.
Areas of Influence
Taurus influences its planetary lord in the following areas:
Loyalty and determination
Thoughtfulness and hesitation
Sensuality and the arts
Music and creativity
Indulgence
Traits of Jupiter in Taurus
The influence of Jupiter in a birth chart will change depending on which house it is located in, its relative position in relation to other planets, as well as other factors. However, the following general traits are likely to be found in a native who has Jupiter in Taurus:
You are physically attractive. Ruled by Venus, Taurus is a sensual sign that often blesses the native with good looks and an astute fashion sense. You enjoy beauty in all things, and you are particularly fond of romance and sexual pursuits.
You are discerning. You have a balanced and informed outlook on life. You are careful to weigh your diverse experiences before taking new steps forward. You do not like to waste resources, and you are careful to invest your hard-earned money wisely.
You're a loyal friend. You stand by your friends and family even in times of great difficulty. You enjoy giving to others, and your charitable nature wins you many admirers.
You live the good life. You are a sensualist in every sense of the term. You are a fashionable dresser, and your home is nicely decorated. You enjoy good food and the company of intelligent, artistic, and influential people.
You are sometimes lazy. You may shy away from challenges, and you may not give much effort to self-improvement. You prefer to follow the path of least resistance. However, this may lead to frustration later in life, as well as a sense of jealousy of those who are better off than you.
Jupiter in Taurus in the 12 Houses
Every natal chart is unique. It is not possible to give a fully accurate reading without considering the various elements of the chart, including planetary combinations, aspects, friendships, directional strength, and more.
The traits below are general indications which will change depending on the influence of the factors listed above.
In the First House
The first house indicates physique and self-expression. You will have a fortunate life. You are physically attractive, successful in your professional life, and financially well-off. You have a good reputation in your social circle.
In the Second House
The second house indicates wealth and cultural traditions. You have a deep, soothing voice, and you are a talented singer. You are better off financially than your peers.
In the Third House
The third house indicates siblings, courage, and literary works. You are a skilled writer and poet. You have a knack for rhetoric and you are able to easily win others to your point of view.
In the Fourth House
The fourth house indicates one's mother, home, and basic beliefs. This is a very good position for Jupiter. Overall you are happy and fulfilled, though you may be a bit too materialistic in your approach to life. You are fortunate in family affairs, including marriage. You are likely to possess above-average wealth.
In the Fifth House
The fifth house indicates children, creative works, and overall success. You are likely to have a male child. You may gain wealth from investments and other long-term business ventures.
In the Sixth House
The sixth house indicates debt, disease, and service. You can do well in a wide variety of occupations. You may struggle financially, and you may suffer from addiction.
In the Seventh House
The seventh house indicates the spouse, marital happiness, and sexual desire. You are generous with friends, family, and loved ones. You will earn good money throughout life, and you are overall quite fortunate. You get along well with others.
In the Eighth House
The eighth house indicates death, calamities, and interest in the occult. You may keep many secrets, and you may nurture hidden desires or aspirations. You may gain from your spouse or partner. You have an active interest in spirituality and paranormal phenomena.
In the Ninth House
The ninth house indicates religion and morality. You excel in the performing arts and other creative pursuits. You are a virtuous person and you strive to give back to society with your work.
In the Tenth House
The tenth house indicates one's father, career, and reputation. You are professionally successful and may be a leader in your field. You may lead a public life and be a person of social or political importance.
In the Eleventh House
The eleventh house indicates gains, aspirations, and friendships. You may benefit from elder siblings, relatives, or friends. You are highly intelligent, but you may look down on others.
In the Twelfth House
The twelfth house indicates losses, misfortune, and liberation. You are attracted to transcendental values. However, you may struggle with an internal conflict between your morality and your selfish desires.
Famous People with Jupiter in Taurus
Keanu Reeves
Monica Belluci
Robert Downey Jr.
Bob Dylan
Chris Martin
Sarah Jessica Parker
Audrey Tautou
Natalie Dessay
Nina Dobrev
Conor McGregor
Kanye West
Oprah Winfrey
Emma Stone
J.K. Rowling
Muhammad Ali
Cindy Crawford
Bernie Sanders
John Travolta
Stephen Hawking
Pierce Brosnan
Willow Smith
Learn More About Vedic Astrology
Expand your knowledge of astrology! Check out our guides to Vedic Astrology and the nine planets, known collectively in Sanskrit as the nava-graha. You can also learn about the differences between Western and Vedic astrology.
The Twelve Signs of the Zodiac
The 27 Nakshatras