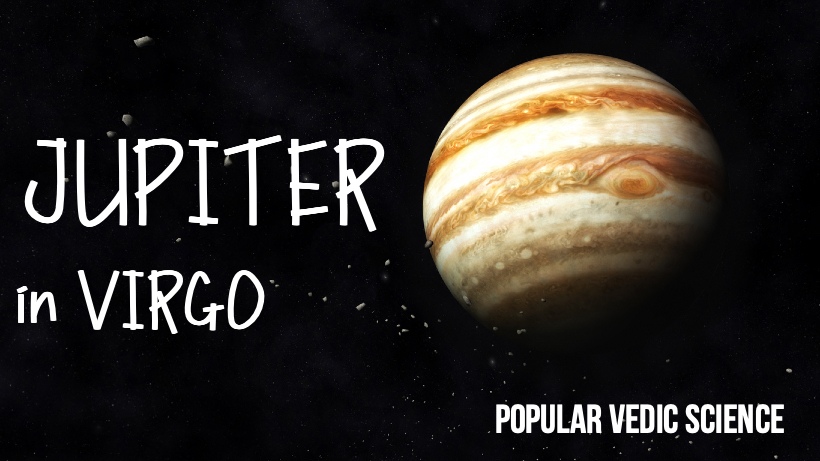 In this article we provide a detailed overview of Jupiter in Virgo as well as its impact in each of the 12 houses of the zodiac. Do you have Jupiter in Virgo in your horoscope? If so then this article is for you.
Jupiter: The Planet of Wisdom, Teachers, and Spirituality
In the royal court of the planets, Jupiter is the advisor and priest. In Vedic theology, Jupiter is known as Brhaspati, the guru of the gods. The Romans worshiped Jupiter as the king of the gods, seeking his blessings for good fortune and military victory. Their view seems to be an amalgamation of the original Puranic personalities of Brhaspati and Indra, the god of weather and king of the celestial realm.
Weekday
Jupiter's weekday is Thursday, known in Latin as Jovis, or the day of Jupiter. In Sanskrit, Thursday is known as Guruvar, or the day of Brhaspati, the guru of the gods.
Speed of Travel
One of the slower moving planets, Jupiter completes one round of the zodiac in approximately eleven years, ten months, and five days. Jupiter spends just under a year in each sign — eleven months and 26 days.
Areas of Influence
In an astrological chart, Jupiter governs the following:
Wisdom, devotion, and piety
Ministers, teachers, and gurus
The husband and children, especially sons
Worship, expansion, and liberation
Wealth, sacrifice, and self-control
Virtue, good manners, one's overall character
Reputation, position, education
Fruit, charity, and holy places
Initiation, spirituality, and one's worldview
Virgo: The Sign of the Virgin
Virgo is the sixth sign of the Zodiac. In Vedic astrology, Virgo is known by the Sanskrit name kanya, or "the maiden." The sign of Virgo possesses a clever, sensible, and dependable nature. Virgo is a sign of service. In an astrological chart, it indicates areas where you are dutiful and meticulous in your efforts.
Basic Traits
Ruled by Mercury. Mercury brings a logical, playful, and somewhat dispassionate energy to the house he inhabits.
An earth sign. Virgo is dexterous, thoughtful, and practical.
A dual sign. Virgo is flexible; neither too spontaneous nor too rigid.
A feminine sign. Virgo is receptive, sensitive, and empathic.
Chief Domains
Virgo influences its planetary lord in the following areas:
Service and dedication.
Routines and daily habits.
Physical and mental health.
Humility and bashfulness.
Practicality, logic, and problem-solving.
Traits of Jupiter in Virgo
The influence of Jupiter in a birth chart will change depending on which house it is located in, its relative position in relation to other planets, as well as other factors. However, the following general traits are likely to be found in a native who has Jupiter in Virgo:
You are humble. Virgo is a simple-hearted sign. This is a good quality for those desiring to make spiritual growth in life. You don't mind working behind the scenes and supporting other people's success, since you recognize that being in the limelight is often more of a headache than it is worth.
You give good counsel. You have a gentle wisdom about you that people find attractive. You are also trustworthy. For these reasons, people frequently confide in you and seek your input and guidance on important matters.
You're a natural entrepreneur. Though you don't mind working for others, you also have the knowhow and intelligence to make it as a business owner. You could make good money working for yourself as an artisan, counselor, financial planner, stylist, or any number of other occupations suited to your nature.
You can be judgmental. You have a refined taste and an above-average intellect. The downside is that you may find yourself judging and looking down on others who see life differently than you do. Be careful not to be cruel or callous in your dealings with others. You may also struggle with excessive self-criticism as well. Loving-kindness meditation is a useful practice to boost compassion and cultivate a more compassionate regard for oneself and others.
You have a good memory. You are intelligent and are able to easily remember what you hear and read. This makes you a gifted scholar and an invaluable counselor. As one Greek playwright once wrote, "Memory is the mother of all wisdom."
Jupiter in Virgo in the 12 Houses
Every natal chart is unique. It is not possible to give a fully accurate reading without considering the various elements of the chart, including planetary combinations, aspects, friendships, directional strength, and more.
The traits below are general indications which may change depending on the influence of the factors listed above.
In the First House
The first house indicates physique and self-expression. You are very bright and you make decisions only after thorough deliberation. You are content, happy, and fortunate in all respects.
In the Second House
The second house indicates wealth and cultural traditions. You are well educated, eloquent, and an influential speaker. You will have a good income throughout life, and you like to give in charity.
In the Third House
The third house indicates siblings, courage, and literary works. You are very artistic. You can make a living as an artisan, craftsman, potter / ceramist, baker, or other creative profession. You live simply and are a frugal person.
In the Fourth House
The fourth house indicates one's mother, home, and basic beliefs. This is a very good position for Jupiter. You live a comfortable and happy life. You are the pillar of your family. You may suffer some on account of those who view you as a threat to their professional success or personal ambitions.
In the Fifth House
The fifth house indicates children, creative works, and overall success. You will be well-educated and can make a good living as an investor, banker, or financial planner. You may suffer on account of your children. You may also have stomach-related issues.
In the Sixth House
The sixth house indicates debt, disease, and service. You can easily overcome any enemies or opponents. You are a hard worker and are not easily defeated by obstacles, nor do you give up in challenging circumstances.
In the Seventh House
The seventh house indicates the spouse, marital happiness, and sexual desire. Almost everyone finds you charming and attractive. You have a good marriage and are likely to hold an important position in society or in your workplace.
In the Eighth House
The eighth house indicates death, calamities, and interest in the occult. You are humble and you are a great team-player. However, you may frequently find yourself taking on the work of others. You may not be fully satisfied in your marriage.
In the Ninth House
The ninth house indicates religion and morality. You are inclined toward philosophy and learning, and you could do well as a teacher or professor. You are attracted to spirituality and religious life. You may become famous.
In the Tenth House
The tenth house indicates one's father, career, and reputation. This is a strong position for Jupiter. You are just, open-minded, and a good leader. You live a noble, commendable life.
In the Eleventh House
The eleventh house indicates gains, aspirations, and friendships. You have steadfast friends and others who support and encourage you. You are blessed with good health. You can do well as a project manager, administrator, or entrepreneur.
In the Twelfth House
The twelfth house indicates losses, misfortune, and liberation. This is a difficult position for Jupiter. You are self-critical and also highly critical of others. You struggle in romantic pursuits and in interpersonal relationships. This makes you a bit of an outsider.
Famous People with Jupiter in Virgo
Kim Kardashian
Renee Zellweger
Bob Marley
Alexander the Great
Cate Blanchett
Roman Polanski
Paul Rudd
Donald Trump
Beyonce Knowles
Jennifer Lopez
Miley Cyrus
Jennifer Aniston
Kristina Aguilera
Chris Evans
Mariah Carey
Natalie Portman
Zayne Malik
Justin Timberlake
Paris Hilton
Mother Theresa
Ryan Gosling
Mozart
Carl Jung
Bill Clinton
Marilyn Manson
Gwen Stefani
Alicia Keys
Sylvester Stallone
George W. Bush
Cher
Edward Norton
Learn More About Vedic Astrology
Expand your knowledge of astrology! Check out our guides to Vedic Astrology and the nine planets, known collectively in Sanskrit as the nava-graha. You can also learn about the differences between Western and Vedic astrology.
The Twelve Signs of the Zodiac
The 27 Nakshatras