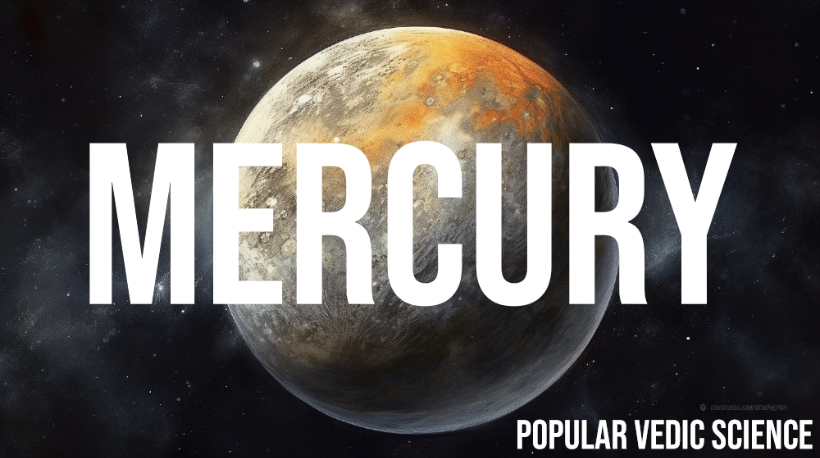 In the celestial realm of Vedic Astrology, Mercury holds an intriguing and essential position. Often envisioned as the precocious prince of the planetary family, Mercury is as intelligent as it is unpredictable. The Romans revered Mercury as the god of communication and commerce, encapsulating its intellectual and transactional attributes. The term "mercurial," signifying someone spontaneous and unpredictable, mirrors Mercury's inherent nature. In Sanskrit, Mercury is known as Budha, translating to one who is clever or intelligent.
Mercury's Day: Wednesday
In the planetary structure of Vedic astrology, Mercury rules over Wednesday, known in Latin as "Mercurii." Coinciding with this, Wednesday is termed Budhavar in Indian cultures, symbolizing the day of Budha or Mercury. This connection serves to highlight the importance of Mercury's energy every Wednesday, impacting communication, commerce, and intellectual endeavors.
Mercury's Astronomical Journey
From an astronomical perspective, Mercury traverses through the twelve signs of the zodiac within 88 days, spending approximately seven days and eight hours in each sign. This swift transit reflects Mercury's quick-witted and changeable nature, allowing for varying influences on individuals depending on its position at any given time.
Mercury's Areas of Influence
When examining an astrological chart, Mercury's influence stretches across multiple areas of human life. Let's break down these various areas to better understand the essence of Mercury in Vedic Astrology.
Language, Speech, and Intellect
Mercury governs language, speech, and intellect, profoundly influencing an individual's communication style, linguistic capabilities, and cognitive abilities. It can provide insights into how one expresses oneself, their intellectual prowess, and their aptitude for learning.
Friends, Companions, and Couples
In terms of relationships, Mercury oversees friendships, companionships, and romantic partnerships. The planet's placement in one's chart can give a nuanced understanding of their relationship dynamics, the nature of their friendships, and their romantic inclinations.
Maternal Relatives
Mercury also extends its influence to one's maternal relatives, including the mother's siblings, nephews, and nieces. This can indicate the kind of relationships an individual might have with these relatives.
Learning Capacity and Rhetoric
With its control over intellect, Mercury also directs an individual's capacity for learning and rhetoric. It can provide insights into their learning abilities, their prowess in debate and discussion, and their overall approach to acquiring knowledge.
Logic, Literature, and Writing
Mercury's dominion also extends to logic, literature, and writing, influencing an individual's logical reasoning capabilities, their affinity for literature, and their writing skills.
Medicine, Music, and Mathematics
Mercury's intellectual domain expands to medicine, music, and mathematics as well. The planet's position can suggest an individual's aptitude or interest in these fields.
Commerce, Astrology, and Charms
In keeping with its historical association, Mercury governs commerce, astrology, and charms. It can highlight an individual's business acumen, their interest or proficiency in astrology, and their propensity for charm or persuasion.
Artistic Expression, Comedy, and Expertise
Mercury also rules artistic expression, comedy, and expertise, reflecting its diverse influences. It can shape a person's artistic inclinations, their sense of humor, and their level of mastery in their chosen fields.
Birds, Sculpture, and Repetition
Lastly, Mercury oversees the unusual realms of birds, sculpture, and repetition. Its influence might extend to an individual's relationships with birds, their skill or interest in sculpture, and their patterns of repetition in behavior or thought.
Conclusion
Mercury, often known as the planet of language, intellect, and commerce, indeed has an impressive range of influence according to Vedic astrology. Its domain stretches from speech and intellectual abilities to personal relationships, artistic inclinations, and professional skills.
Through its rapid transit across the zodiac signs, Mercury constantly brings varying influences into our lives. Whether it's enhancing our communication skills or prompting shifts in our commercial interests, Mercury's impact is as mercurial as its nature.
Understanding Mercury's influence in your astrological chart can offer profound insights into your personality, relationships, skills, and tendencies. It empowers you to tap into your inherent potentials, navigate challenges, and harness your strengths for personal growth. Remember, every celestial body, including Mercury, is a crucial piece of the grand cosmic puzzle, contributing to the unique narrative of your life.
Mercury in the Twelve Signs of the Zodiac
Learn more about Mercury's influence in your birth chart by checking out our guides on Mercury in each of the twelve signs of the Zodiac.