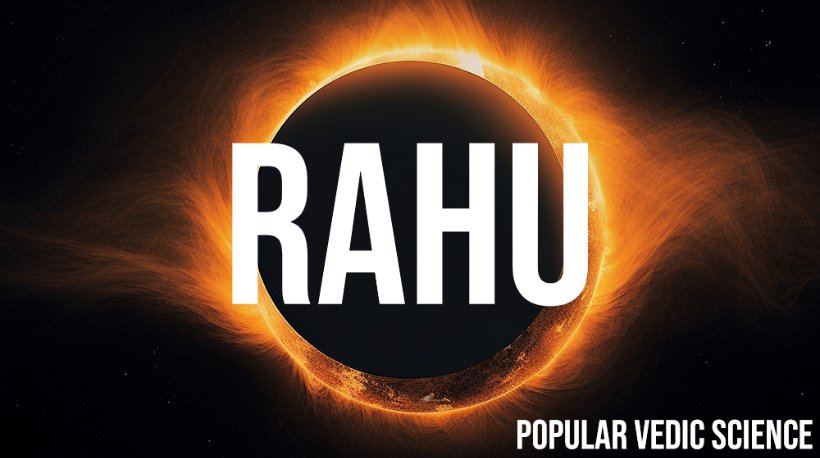 Rahu, an enigmatic and powerful force in Vedic astrology, is revered as the planet of disruption, downfalls, and rebellion. Unlike many other celestial entities, Rahu doesn't have a Western astrology counterpart, making it a unique entity in astrological studies. Astronomically, Rahu is recognized as the North Node of the moon, or the point of intersection between the moon's northward path and Earth's ecliptic plane. In global eclipse lore, Rahu's alignment with the sun, moon, and earth, especially during a full moon or dark moon, is associated with significant celestial disruption. This article offers an in-depth understanding of Rahu's mythology, its astronomical journey, and the key life aspects it influences.
Rahu: Mythology and Global Eclipse Lore
Throughout history and across cultures, an eclipse is seen as a disruptive celestial event, often involving a malevolent entity attempting to swallow the sun. In ancient Chinese culture, a sky dragon was believed to cause eclipses by trying to engulf the sun. Similarly, in Vietnamese culture, a giant toad was blamed; in certain Native American cultures, a colossal bear; in Egypt, a celestial serpent; and in Norse mythology, a pair of wolves chasing the sun and moon would cause an eclipse upon catching either.
These diverse narratives share a common root in Vedic Puranas, where the demon Rahu is depicted as a disembodied head that periodically swallows the sun and moon. However, due to the hole at the base of Rahu's neck, the sun and moon quickly escape, creating the phenomenon of an eclipse.
Rahu: The Astronomical Journey
Rahu, often regarded as an outcaste among planetary bodies, does not have its designated weekday, highlighting its disruptive nature. As the second-slowest planet, Rahu completes its zodiacal cycle in approximately 18 years, seven months, and nine days. Consequently, Rahu remains in each individual sign for about one year and six months, plus 18 days. This slow movement is significant as it allows Rahu's influence to be deeply felt in each zodiac sign it transits.
Rahu's Areas of Influence
Rahu's influence extends to numerous aspects of life, and its position in an astrological chart can offer valuable insights into an individual's life experiences and character traits.
Obsession, Logic, and Recklessness
Rahu is closely linked with obsession, false logic, and recklessness. It can reveal a person's obsessions, decision-making abilities, and propensity for reckless behavior.
Financial Stability and Mental Health
Rahu's domain includes debt, gambling, and madness. Hence, its position can offer insights into an individual's financial health, potential risks, and mental stability.
Social Outcasts and Afflictions
The planet rules over widows, foreigners, and outcasts, representing those marginalized in society. Furthermore, Rahu governs disease, accidents, and afflictions, possibly signifying potential health concerns.
Ethics and Personal Character
Rahu also presides over cheating, corruption, and bad character, reflecting an individual's ethical code, integrity, and general disposition.
Risk-Taking and Pretension
Rahu is associated with risk, poison, and pretension, indicating one's risk tolerance, potential dangers, and pretentious tendencies.
Power Dynamics and Fear
Rahu signifies immense power, fear, and violence, reflecting an individual's relationship with power, inner fears, and potential for violent tendencies.
Disillusionment and Radical Change
The celestial body of disruption also governs disillusionment and radical change, signifying one's capacity for accepting change and dealing with major life transformations.
Eccentricity and Tradition
Lastly, Rahu rules over eccentricity and tradition, highlighting the contrast between unconventional behavior and adherence to societal norms. Its placement in an astrological chart can reveal an individual's inclination towards nonconformity or their attachment to established customs.
Conclusion
Rahu, the enigmatic planet of disruption and rebellion, holds a significant place in Vedic astrology. With its mythological origins and astronomical journey as the North Node of the moon, Rahu brings a unique perspective to astrological studies. Associated with celestial disruption during eclipses, Rahu's influence extends to various aspects of life, including obsession, logic, recklessness, financial stability, mental health, social outcasts, ethics, risk-taking, power dynamics, disillusionment, radical change, eccentricity, and tradition.
Understanding Rahu's influence in an astrological chart can provide valuable insights into an individual's character traits, life experiences, and potential challenges. By recognizing the themes and energies associated with Rahu, individuals can navigate their lives with a deeper understanding of their own tendencies and make informed choices.
While Rahu's disruptive nature may initially seem daunting, it is essential to remember that it also offers opportunities for growth and transformation. By embracing the lessons and challenges presented by Rahu, individuals can harness its power to effect positive change in their lives.
Astrology, including the study of celestial bodies like Rahu, provides a framework for self-reflection, personal growth, and understanding the interconnectedness of the universe. While it is not a definitive predictor of events, astrology offers insights and guidance that can assist individuals in making conscious choices and navigating the complexities of life.
In conclusion, Rahu's presence in Vedic astrology adds depth and nuance to the study of celestial influences on human existence. By embracing its energies and understanding its influence, individuals can unlock hidden aspects of their own being and embark on a path of self-discovery and personal transformation.
Rahu in the Twelve Signs of the Zodiac
Learn more about Rahu's influence in your birth chart by checking out our guides on Rahu in each of the twelve signs of the Zodiac.