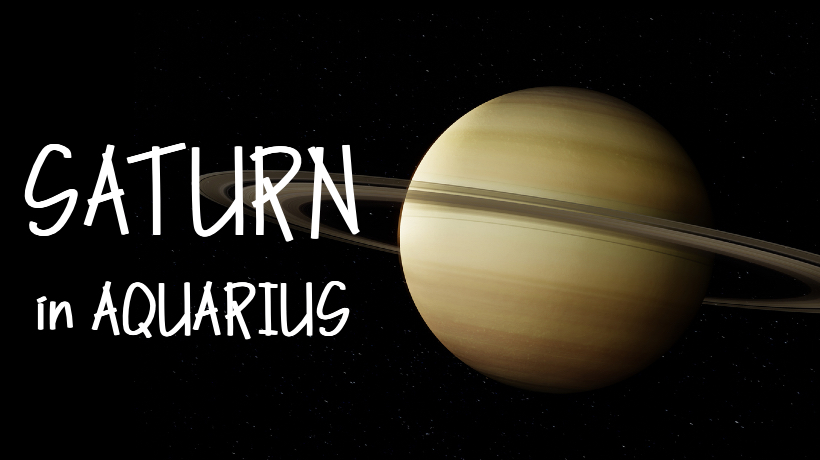 In this article we provide a detailed overview of Saturn in Aquarius as well as its impact in each of the 12 houses of the zodiac. Do you have Saturn in Aquarius in your horoscope? If so then this article is for you.
Saturn
If the sun is the king of the planets, then Saturn is the commoner. In Roman culture, Saturn was worshiped as the god of dissolution, renewal, and the passage of time. During the annual festival of Saturnalia, slaves would exchange roles with their masters. Commoners would dine like nobility, and they would freely voice any criticism or complaints they had from the previous year. In Vedic theology, Saturn, or Shani, is feared as the bestower of karmic reaction, the good or bad results of one's past activities.
Saturn's day of the week is — you guessed it — Saturday. Known in Latin as Saturni, and in Sanskrit as Shanivar.
Saturn is also known as Manda, or the slow one. As the slowest-moving of the planets, he travels through the zodiac only once every 29-and-a-half years. Saturn spends almost two-and-a-half years in each sign.
Note: Saturn's movement through the zodiac creates a period known as "sade sati," or Saturn's Grind. This occurs whenever Saturn passes over a person's birth sign, as well as the signs before and after it.
In an astrological reading, Saturn represents the following:
Duty, discipline, and philosophy
Laborers, prisoners, and the law
Elders, ancestors, and family traditions
Obstacles, punishment, and bondage
Sorrow, sin, laziness, and illness
Debt, fear, and poverty
Wickedness, infamy, and filth
Humility, steadiness, and one's lifespan
Renunciation, hard work, and death
LEARN MORE: The Puranas provide an advanced understanding of our universe, including descriptions of life on other planets. Check out our guide to Vedic Cosmology.
Aquarius: The Sign of the Water Bearer
Aquarius is the eleventh sign of the zodiac. In Vedic astrology, Aquarius is known by the Sanskrit name kumbha, or "the water pot." The sign of Aquarius possesses a intellectual, humanitarian, and goal-oriented nature. Aquarius is a sign of idealism. In an astrological chart, it indicates areas where you are philosophical and pragmatic in your efforts.
Basic Traits
Ruled by Saturn. Saturn is known as the planet of karma, austerity, and mysticism. He brings a sober and mysterious energy to the house he inhabits.
An air sign. Aquarius is imaginative, logical, and curious.
A fixed sign. Aquarius is steady, predictable, and slow to change.
A masculine sign. Aquarius is aggressive, bold, and thick-skinned.
Areas of Influence
Aquarius influences its planetary lord in the following areas:
Altruism and self-sacrifice
Social justice and humanitarian work
Patience and determination
Renunciation and asceticism
Idealism
Traits of Saturn in Aquarius
The influence of Saturn in a birth chart will change depending on which house it is located in, its relative position in relation to other planets, as well as other factors. However, the following general traits are likely to be found in a native who has Saturn in Aquarius:
You possess exceptional strength. Aquarius is a fixed sign and here Saturn exhibits particular strength and fortitude. Your body is well-built and above average in strength and endurance. You are likely to be an athletic person.
You are interested in religion and spirituality. Another feature of Aquarius is an interest in humanitarianism and philosophy. You are drawn to such topics as religion, spirituality, and ethics. However, you may only show an external interest in such things, without actually practicing anything yourself.
You may deceive others. Due to your detached and aloof way of dealing with others, you may sometimes lie or deceive people in your life when it suits your interests. Be careful not to take your friendships and other relationships for granted.
You are likely to hold multiple jobs. You are a multi-talented person who can succeed in many different careers. You are likely to have multiple sources of income and work a variety of jobs in life.
You can earn good money throughout life. Saturn is the lord of the sign of Aquarius, and so this is a favorable placement for him. You can gradually accrue wealth throughout your life and you are likely to have a comfortable retirement.
Saturn in Aquarius in the 12 Houses
Every natal chart is unique. It is not possible to give a fully accurate reading without considering the various elements of the chart, including planetary combinations, aspects, friendships, directional strength, and more.
The traits below are general indications which will change depending on the influence of the factors listed above.
In the First House
The first house symbolizes physique and self-expression. You are physically attractive and a natural leader of others. You lead a steady life and you can accumulate great wealth by the time of your retirement.
In the Second House
The second house symbolizes wealth and cultural traditions. You can make good money, but you may suffer from a disease of the mouth or the face. You have a good relationship with your mother, but you may have strained relations with your siblings.
In the Third House
The third house symbolizes siblings, courage, and literary works. You are intelligent and courageous. You make good money, and you enjoy giving in charity. You have a good relationship with your spouse, but you may suffer on account of your children.
In the Fourth House
The fourth house symbolizes one's mother, home, and basic beliefs. You lead a prosperous and peaceful life. Although you meet with various obstacles, you are able to overcome them by careful deliberation.
In the Fifth House
The fifth house symbolizes children, creative works, and overall success. You are a humble person. You are not particularly ambitious, and you are able to find satisfaction in the simple things in life..
In the Sixth House
The sixth house symbolizes debt, disease, and service. You know how to achieve your goals, and you can make good money in life. You are able to triumph over your enemies.
In the Seventh House
The seventh house symbolizes the spouse, marital happiness, and sexual desire. You are restless and somewhat irritable. You have difficulty getting along with the opposite sex, and long-term partnerships are a challenge for you. You are likely to travel often, and your income is sporadic.
In the Eighth House
The eighth house symbolizes death, calamities, and interest in the occult. You are happy in your early life, but as you age you may face many obstacles to happiness. You do not readily take up initiative to pursue your own goals and projects. For this reason, you are likely to pursue an occupation in service to others.
In the Ninth House
The ninth house symbolizes religion and morality. You possess courage. You have a philosophical outlook, and you can attain wealth and happiness in life. You will be proud of your children.
In the Tenth House
The tenth house symbolizes one's father, career, and reputation. You are intelligent, famous, and can rise to a high position in life. You can gain wealth through land, agriculture, and other business ventures. You are likely to live somewhere other than your place of birth.
In the Eleventh House
The eleventh house symbolizes gains, aspirations, and friendships. You can make good money, and you will have good health throughout life, except perhaps some illness in your childhood. You can make a successful career in trade, commerce, or artisanry.
In the Twelfth House
The twelfth house symbolizes losses, misfortune, and liberation. You are likely to incur debts, and you may suffer some damage to your reputation. You meet repeated difficulties in your professional life. This is not a strong position for Saturn.
Learn More About Vedic Astrology
Expand your knowledge of astrology! Check out our guides to Vedic Astrology and the nine planets, known collectively in Sanskrit as the nava-graha. You can also learn about the differences between Western and Vedic astrology.
The Twelve Signs of the Zodiac
The 27 Nakshatras