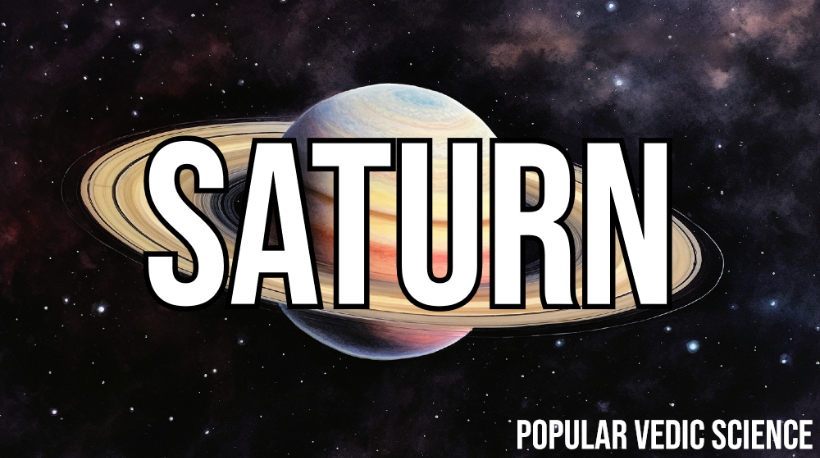 Among the celestial bodies influential in Vedic astrology, Saturn or Shani is a particularly compelling force. Often associated with karma, poverty, and mysticism, Saturn represents the commoner, in stark contrast to the Sun's regal connotations. The Romans saw Saturn as the god of dissolution, renewal, and time's passage, and their annual Saturnalia festival symbolized the planet's egalitarian spirit. Similarly, in Vedic theology, Saturn is respected and sometimes feared as the harbinger of karmic reactions—results of one's past deeds. This exploration of Saturn in Vedic astrology aims to delve into its etymology, weekly significance, celestial journey, and broad areas of influence.
Saturn: Etymology and Roman Interpretation
The term 'Saturn' in Roman culture was associated with the cyclical processes of dissolution and renewal and the inexorable passage of time. During Saturnalia, an annual festival in honor of Saturn, roles were temporarily reversed—slaves became masters, and commoners indulged like nobility. This temporary disruption in the social order signified Saturn's overarching dominion over time and life's transitory nature.
Saturn's Day: Saturday
In keeping with the tradition of associating celestial bodies with specific weekdays, Saturday, known as 'Saturni' in Latin and 'Shanivar' in Sanskrit, is ruled by Saturn. This association symbolizes Saturn's profound influence on the day's events, underlining the importance of being in tune with Saturn's energy on this day.
Saturn's Astronomical Journey
In Vedic astrology, Saturn is often referred to as 'Manda', the slow one, aptly named for its sluggish celestial movement. As the slowest of the planets, Saturn takes approximately 29-and-a-half years to complete a zodiac cycle, dwelling in each sign for about two-and-a-half years. The movement of Saturn gives rise to the period known as 'sade sati' or Saturn's Grind, which occurs when Saturn passes over a person's birth sign and the preceding and following signs. This transit is of significant astrological interest, often associated with substantial life changes.
Saturn's Areas of Influence
As a formidable force in Vedic astrology, Saturn governs various life aspects. Each domain provides a unique perspective on how Saturn's energy manifests in our lives.
Duty, Discipline, and Philosophy
Saturn symbolizes duty, discipline, and philosophy. Its position can indicate a person's sense of responsibility, discipline levels, and philosophical inclinations.
Social Hierarchy and Law
The planet extends its influence to laborers, prisoners, and legal matters, offering insights into one's relationship with societal hierarchy, justice, and law.
Ancestry and Traditions
Saturn also governs elders, ancestors, and family traditions. Thus, it can reflect familial ties, the significance of traditions, and ancestral influences.
Obstacles and Challenges
Saturn represents obstacles, punishment, and bondage. Its placement can suggest the types and intensity of challenges one might face and the consequences of past actions.
Emotional Dispositions
Sorrow, sin, laziness, and illness fall under Saturn's domain, shedding light on a person's emotional states, moral choices, work ethics, and health conditions.
Financial and Emotional Struggles
Saturn's rule extends to debt, fear, and poverty. Therefore, it can provide clues about financial stability, fear factors, and the likelihood of facing poverty.
Negative Traits and Life Duration
The planet of karma also presides over wickedness, infamy, and filth. Moreover, humility, steadiness, and one's lifespan are associated with Saturn, highlighting negative tendencies, personality traits, and life expectancy.
Renunciation, Hard Work, and Mortality
Lastly, Saturn oversees renunciation, hard work, and death, indicating one's ability to let go, work ethic, and mortality.
Concluding Thoughts
Saturn, the slow-moving celestial body, exerts a profound influence over various life facets in Vedic astrology. Its significance ranges from personal traits and social hierarchy to health and philosophy. Understanding Saturn's role can provide deep insights into our character, life path, and karmic journey.
However, remember that interpreting Saturn's influence is complex, requiring other elements in an individual's astrological chart to be taken into account. A comprehensive understanding of these celestial influences enables a profound appreciation of Vedic astrology's depth and complexity.
Whether an experienced astrologer or a beginner, exploring Saturn's role in Vedic astrology is a fascinating journey into understanding how the cosmos influences our lives. May Saturn's enduring wisdom guide you on this path.
Saturn in the Twelve Signs of the Zodiac
Learn more about Saturn's influence in your birth chart by checking out our guides on Saturn in each of the twelve signs of the Zodiac.