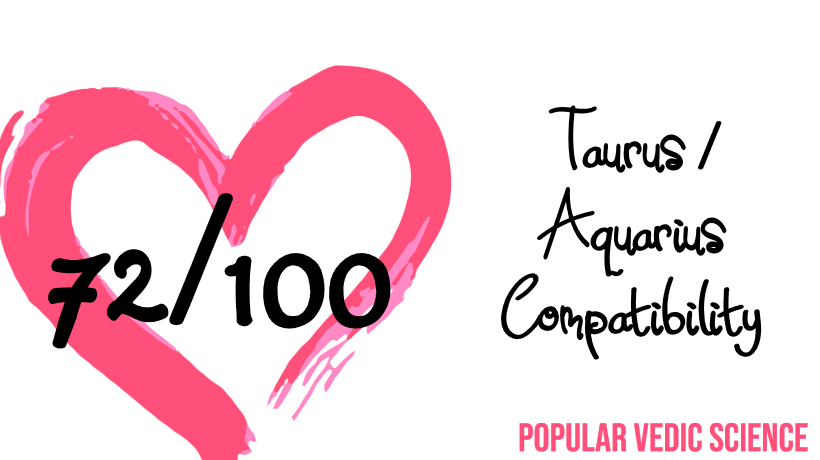 In this article we break down the astrological compatibility of Taurus and Aquarius signs, in terms of strengths and challenges in the relationship, romantic compatibility, communication, and more. We give tons of practical insights on how to nourish your relationship and overcome obstacles you'll likely face.
Recommended: Learn more about yours and your partner's overall personality, check out our complete guides to Taurus and Aquarius zodiac signs.
Taurus Overview
Sign of the Bull. Taurus natives are hard-working, determined, and have a big heart. However, they tend to show partiality to their own group, and can be callous toward outsiders.
Ruled by Venus. Venus is the planet of sensuality, fine food, the arts, and affairs of the home. Venetian individuals are fond of luxury and living the good life.
An earth sign. Those with a Taurus moon are grounded, thoughtful, and calm.
A fixed sign. Persons born under this sign are steady, predictable, and slow to change.
A feminine sign. This makes the native receptive, sensitive, and empathetic.
Core Strengths
Dutiful and hard-working
Easy-going
Thoughtful and contemplative
Caring and charitable
Main Weaknesses
Stubborn
Gullible and overly trusting
Sensual, prone to addictions
Aquarius Overview
Sign of the water bearer. Aquarius natives are altruistic and lofty thinkers. However, they may be susceptible to frequent mood swings.
Ruled by Saturn. Saturn is the planet of karma, poverty, disease, austerity, and mysticism. Saturnine individuals are somber and mysterious.
An air sign. Those with an Aquarius moon are imaginative, logical, and curious.
A fixed sign.Persons born under this sign are steady, predictable, and slow to change.
A masculine sign. This makes the native aggressive, bold, and thick-skinned.
Core Strengths
Highly intelligent
Philosophically-inclined
Pragmatic
Simple and honest
Main Weaknesses
Too analytical
Emotionally distant
Can become obsessive
How Taurus Approaches Relationships
Taurus natives are loyal and committed partners, and their relationships tend to epitomize the saying "opposites attract." They just need to keep their stubbornness in check so that it doesn't come between them and their spouse. They should endeavor to find common values and interests that bring them and their partner together.
How Aquarius Approaches Relationships
Aquarians are drawn to attractive, ambitious, and intelligent partners. They tend to butt heads with their partner from time to time, and they need a lot of love and respect in order to feel valued and wanted in the relationship. They are sacrificing partners who genuinely want to see others thrive
Planetary Compatibility
When assessing the compatibility of any two Zodiac signs, one of the first things to look at is the planetary friendships. Taurus is ruled by Venus, the planet of love and beauty, while Aquarius is ruled by both Saturn, signifying discipline and maturity, and Rahu, known for its energy of rebellion and innovation. Thankfully, Venus and Saturn are friendly planets, and their combination generates synergy of energies. Venus's influence endows Taurus with a sense of loyalty and a longing for emotional security. This stands in contrast to the energy of Rahu, which prompts Aquarius to pursue freedom and continuous novelty.
Saturn's influence on Aquarius promotes a sense of responsibility and ambition, while Venus motivates Taurus to indulge in the sensual pleasures of life. This dynamic has the potential to result in captivating, though occasionally challenging, interactions between the two. Taurus has the capacity to guide Aquarius in discovering beauty and joy in the present moment, while Aquarius can spur Taurus to venture beyond their comfort zone and explore novel experiences.
Strengths of the Relationship
A significant strength in a Taurus and Aquarius relationship is rooted in the harmony they find in their diverse characteristics. Aquarius, with their inherent love for novelty and change, can invigorate Taurus' life, helping them break away from their usual routines. This presents Taurus with opportunities for new experiences that can enrich their worldview.
Conversely, the steady and reliable nature of Taurus can provide Aquarius with the stability they might otherwise lack. Taurus' down-to-earth persona can serve as an anchoring force amidst the whirlwind of ideas that often surrounds an Aquarius.
Honesty and integrity are shared values between these two signs, establishing a foundation of transparency and trust within their relationship. Taurus, known for their unwavering loyalty, and Aquarius, prized for their independent spirit, can make a great couple. They have the potential to achieve an equilibrium between emotional intimacy and individual space, a balance that is often sought-after in relationships.
Moreover, the unique combination of Aquarius' innovative thought processes and Taurus' practical sensibilities can pave the way for effective collaborations. This applies not only to personal projects they might embark upon together, but also to their professional endeavors. The union of innovative ideas and pragmatic execution can be a powerful force, resulting in mutually enriching experiences for both partners.
Challenges in the Relationship
Despite these strengths, there are certain challenges Taurus and Aquarius must overcome in order to make the relationship successful. One of the most significant obstacles is their differing views on stability and change. Taurus craves routine and predictability, while Aquarius loves change and unpredictability. This divergence can lead to misunderstandings and conflict if not effectively managed.
For example, Aquarius's need for freedom can sometimes be perceived as emotional detachment by Taurus, who values emotional closeness. Conversely, Taurus's need for security can come across as clinginess to an independent Aquarius. Both signs must understand and respect their partner's unique needs and expectations to maintain harmony in their relationship.
The Sexes at a Glance
The Taurus Man
Steady
Moral
Responsible
Thrifty
Stubborn
May be overweight
The Taurus Woman
Positive
Respectful
Motherly
Pleasure-loving
Sexy
Worldly
The Aquarius Man
Very organized
Methodical
Brave
Peaceful
Not dogmatic
The Aquarius Woman
Quiet
Charming
Wise
Attractive
Unusual and mysterious
Taurus and Aquarius Romantic Compatibility
When it comes to romance, Taurus and Aquarius possess different approaches. Taurus, as an earth sign, is sensual and seeks emotional intimacy. They are deeply affectionate, expressing love through touch, romantic gestures, and nurturing actions. Aquarius, an air sign, often expresses love through intellectual conversations and shared experiences that stimulate the mind.
This difference can either create a well-rounded relationship, wherein both partners offer something unique to the other, or it can lead to disconnect if not understood and appreciated. With patience and compromise, Taurus and Aquarius can harmoniously blend their love languages and enjoy a unique romantic connection.
Things You Can Do Together
There are many activities Taurus and Aquarius can engage in to strengthen their bond. Taurus can introduce Aquarius to activities like gardening or cooking, offering a grounding experience that can be therapeutic for the typically high-strung Aquarius. On the other hand, Aquarius can invite Taurus to social events or trips to new places, exposing them to exciting experiences outside of their routine.
Shared hobbies, such as hiking or attending music concerts, can also offer opportunities for these signs to enjoy each other's company. Additionally, engaging in team efforts like volunteering or working on a joint project can allow both Taurus and Aquarius to appreciate their distinct strengths.
How Taurus and Aquarius Communicate
Communication between Taurus and Aquarius can be highly effective due to their shared appreciation for honesty. Taurus values straightforward and simple conversations, while Aquarius, being an air sign, excels in articulate and intellectually stimulating dialogues. This combination results in open and truthful communication that is rich and stimulating.
However, Taurus needs to be mindful of Aquarius's tendency towards abstract thinking, which can sometimes seem detached or overly theoretical to a down-to-earth Taurus. In turn, Aquarius should understand Taurus's need for emotional resonance in their exchanges, as well as practically implementable suggestions rather than high-minded philosophy. On a positive note, their differing communication styles can offer a stimulating exchange of ideas. Aquarius can bring in a refreshing wave of innovative thoughts, while Taurus can ground these ideas with practical and feasible plans. This can make their communication enriching both on a personal level as well as for the relationship overall.
For each sign, there are different strengths and weaknesses. Rather than focusing on what you don't like about your partner, try to see their strengths. There will inevitably be differences in communication styles between you and your partner. The key is to find respectful ways you and your partner can express yourselves while still staying true to your core values.
Summary and Overall Score
On average Taurus and Aquarius natives score 72/100.  This makes Taurus and Aquarius moderately compatible signs. Their strengths are likely to help them overcome the challenges they will face in a partnership.
No two people are perfectly compatible. Thus, there is no such thing as 100/100 compatibility. For Taurus, the best score attainable is with a Virgo partner, which scores 84/100. The idea is that every relationship requires self-sacrifice, respect, and mutual effort.
Note: Astrological compatibility is a highly nuanced science, and it is always a good idea to get a complete reading from a skilled astrologer to learn about the specifics of your personal chart and your romantic compatibility with your partner.
The 12 Signs of the Zodiac
Learn about each of the twelve signs of the zodiac.