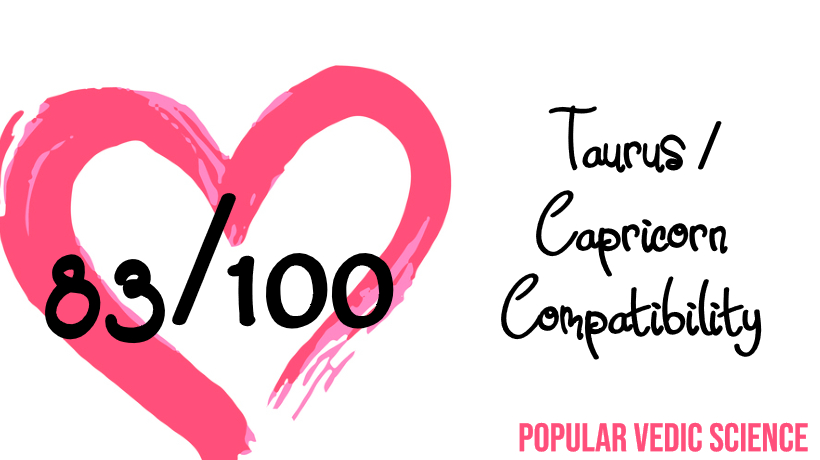 In this article we break down the astrological compatibility of Taurus and Capricorn signs, in terms of strengths and challenges in the relationship, romantic compatibility, communication, and more. We give tons of practical insights on how to nourish your relationship and overcome obstacles you'll likely face.
Recommended: Learn more about yours and your partner's overall personality, check out our complete guides to Taurus and Capricorn zodiac signs.
Taurus Overview
Sign of the Bull. Taurus natives are hard-working, determined, and have a big heart. However, they tend to show partiality to their own group, and can be callous toward outsiders.
Ruled by Venus. Venus is the planet of sensuality, fine food, the arts, and affairs of the home. Venetian individuals are fond of luxury and living the good life.
An earth sign. Those with a Taurus moon are grounded, thoughtful, and calm.
A fixed sign. Persons born under this sign are steady, predictable, and slow to change.
A feminine sign. This makes the native receptive, sensitive, and empathetic.
Core Strengths
Dutiful and hard-working
Easy-going
Thoughtful and contemplative
Caring and charitable
Main Weaknesses
Stubborn
Gullible and overly trusting
Sensual, prone to addictions
Capricorn Overview
Sign of the Makara. Capricorn natives are peculiar and powerful. They are very intelligent, but they often have a mean streak.
Ruled by Saturn. Saturn is the planet of karma, poverty, disease, austerity, and mysticism. Saturnine individuals are somber and mysterious.
An earth sign. Those with a Capricorn moon are grounded, thoughtful, and practical.
A movable sign. Persons born under this sign are fluid, spontaneous, and fond of change.
A feminine sign. This makes the native receptive, sensitive, and empathetic.
Core Strengths
Deliberate and thoughtful
Philosophical
Disciplined
Focused
Main Weaknesses
Cold or intolerant
Somewhat shameless
Calculating
Slow to trust others
How Taurus Approaches Relationships
Taurus natives are loyal and committed partners, and their relationships tend to epitomize the saying "opposites attract." They just need to keep their stubbornness in check so that it doesn't come between them and their spouse. They should endeavor to find common values and interests that bring them and their partner together.
How Capricorn Approaches Relationships
Capricorns prefer to keep a relatively private life. They are attracted to creative and loving individuals who have a maternal quality about them. They seek caring partners with whom they can connect on a deep, emotional level.
Planetary Compatibility
When assessing the compatibility of any two Zodiac signs, one of the first things to look at is the planetary friendships. Taurus, ruled by Venus, and Capricorn, ruled by Saturn, share an intriguing planetary compatibility. Venus represents love, beauty, and wealth, while Saturn signifies discipline, responsibility, and practicality.
In Vedic astrology, Venus and Saturn are fast friends. Due to their mutually compatible temperaments, these planets complement each other, as Venus's affectionate nature is well balanced by Saturn's grounded energy. This combination suggests a relationship that appreciates security, structure, and enjoying the finer things in life.
Further strengthening their planetary compatibility, Taurus and Capricorn are both Earth signs. This shared element means they have a common practicality, realism, and a preference for material comfort. They are drawn to the tangible aspects of life and will enjoy building a peaceful life together.
Strengths of the Relationship
One of the most significant strengths of a Taurus-Capricorn relationship is their mutual respect for stability and security. Both signs value a comfortable lifestyle and are willing to work hard to achieve it. This shared sense of ambition and discipline is likely to create a strong foundation for their relationship.
Another strength lies in their mutual appreciation for the simple pleasures of life. Taurus, influenced by Venus, loves beauty and sensuality, while Capricorn has a soft spot for traditional comforts and luxuries. They find common ground in their shared appreciation for quality and luxury, whether it's a well-prepared meal, a beautiful piece of art, or a comfortable home environment.
Challenges in the Relationship
Despite their many similarities, Taurus and Capricorn can face challenges in their relationship. For one, Taurus may see Capricorn as too serious or rigid at times. Capricorn's focus on work and responsibility may come off as neglect for Taurus, who craves affection and attention.
Similarly, Capricorn might view Taurus's laid-back nature as laziness. Taurus enjoys relaxing, taking frequent vacations, and having ample idle time, which may conflict with Capricorn's constant drive to achieve and progress. For the relationship to thrive, Capricorn will need to learn to unwind, and Taurus should embrace a more active role. Both partners should feel they are contributing equally to the relationship.
The Sexes at a Glance
The Taurus Man
Steady
Moral
Responsible
Thrifty
Stubborn
May be overweight
The Taurus Woman
Positive
Respectful
Motherly
Pleasure-loving
Sexy
Worldly
The Capricorn Man
Detail-oriented
Dutiful
Long-lived
Family-man
Secular
Cold
The Capricorn Woman
Smart
Confident
Honest
Frugal
Lover of music
Rigid
Taurus and Capricorn Romantic Compatibility
Romantically, Taurus and Capricorn can be quite compatible. Both signs take a slow and steady approach to love, and they value loyalty and security in a partner. They are not usually impulsive, preferring to build their relationship on a firm, practical foundation before diving into deeper emotional waters.
Taurus brings warmth and sensuality to the relationship, helping Capricorn loosen up and enjoy the present moment. Capricorn, in return, can offer Taurus the security they crave. The romantic bond between them is often filled with deep respect, mutual admiration, and shared values.
Things You Can Do Together
Taurus and Capricorn are homebodies at heart, so they will enjoy low-key activities such as cooking meals together, gardening, and building a comfortable home. Capricorn's practical nature combined with Taurus's eye for beauty can make them an excellent team for any home improvement projects.
Outdoor activities that involve interaction with nature, such as hiking or bird watching, can be a good fit for these Earth signs. Both appreciate the natural world and the sense of calm it brings. Furthermore, visiting art galleries, antique shops, or gourmet restaurants will appeal to their shared love for beautiful and high-quality items.
How Taurus and Capricorn Communicate
Communication between Taurus and Capricorn tends to be practical and straightforward. Both appreciate honesty and are not inclined towards unnecessary embellishment or drama. Taurus's straightforwardness paired with Capricorn's no-nonsense attitude makes for clear and effective communication. However, their conversations might lack in spontaneity and liveliness due to their slow, earthy natures.
In conflicts, their shared stubbornness can pose a challenge. Neither Taurus nor Capricorn gives in easily, which can lead to protracted disagreements. However, their mutual respect and understanding can often help them reach a compromise. It is essential for both to keep an open mind and be willing to see the other's perspective for effective conflict resolution.
Understanding and appreciating each other's communication styles is crucial in this relationship. Taurus values consistency, reassurance, and displays of affection, while Capricorn leans more towards a practical, solution-oriented approach. By valuing their differences and leveraging their strengths, Taurus and Capricorn can communicate effectively and foster a deep understanding.
Overall, Taurus and Capricorn's communication style, while direct and grounded, needs a conscious effort to incorporate flexibility and emotional expression. By doing so, they can enhance their bond and grow as a couple.
For each sign, there are different strengths and weaknesses. Rather than focusing on what you don't like about your partner, try to see their strengths. There will inevitably be differences in communication styles between you and your partner. The key is to find respectful ways you and your partner can express yourselves while still staying true to your core values.
Summary and Overall Score
On average Taurus and Capricorn natives score 83/100.  This makes Taurus and Capricorn very compatible signs. Their strengths should be more than enough to help them overcome whatever challenges they may face in the partnership
No two people are perfectly compatible. Thus, there is no such thing as 100/100 compatibility. For Taurus, the best score attainable is with a Virgo partner, which scores 84/100. The idea is that every relationship requires self-sacrifice, respect, and mutual effort.
Note: Astrological compatibility is a highly nuanced science, and it is always a good idea to get a complete reading from a skilled astrologer to learn about the specifics of your personal chart and your romantic compatibility with your partner.
The 12 Signs of the Zodiac
Learn about each of the twelve signs of the zodiac.