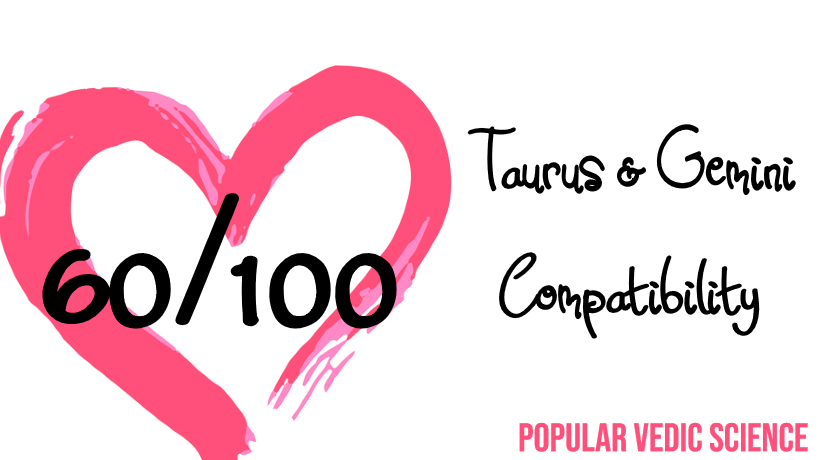 In this article we break down the astrological compatibility of Taurus and Gemini signs, in terms of strengths and challenges in the relationship, romantic compatibility, communication, and more. We give tons of practical insights on how to nourish your relationship and overcome obstacles you'll likely face.
Recommended: Learn more about yours and your partner's overall personality, check out our complete guides to Taurus and Gemini zodiac signs.
Taurus Overview
Sign of the Bull. Taurus natives are hard-working, determined, and have a big heart. However, they tend to show partiality to their own group, and can be callous toward outsiders.
Ruled by Venus. Venus is the planet of sensuality, fine food, the arts, and affairs of the home. Venetian individuals are fond of luxury and living the good life.
An earth sign. Those with a Taurus moon are grounded, thoughtful, and calm.
A fixed sign. Persons born under this sign are steady, predictable, and slow to change.
A feminine sign. This makes the native receptive, sensitive, and empathetic.
Core Strengths
Dutiful and hard-working
Easy-going
Thoughtful and contemplative
Caring and charitable
Main Weaknesses
Stubborn
Gullible and overly trusting
Sensual, prone to addictions
Gemini Overview
Sign of the Twins. Gemini natives are charming and talkative. However, they may sometimes display a "know-it-all" attitude.
Ruled by Mercury. Mercury is the planet of thought, the nervous system, communication, and literature. Mercurial individuals are hard to predict. Their minds move so quickly that others have a hard time keeping up.
An air sign. Those with a Gemini moon are imaginative, logical, and curious.
A dual sign.Persons born under this sign are adaptable and multi-talented.
A masculine sign. This makes the native aggressive, bold, and thick-skinned.
Core Strengths
Clever and intelligent
Charming and funny
Scholarly
Analytical
Main Weaknesses
Arrogant, "know-it-all" types
May be emotionally immature
Manipulative
How Taurus Approaches Relationships
Taurus natives are loyal and committed partners, and their relationships tend to epitomize the saying "opposites attract." They just need to keep their stubbornness in check so that it doesn't come between them and their spouse. They should endeavor to find common values and interests that bring them and their partner together.
How Gemini Approaches Relationships
Geminis seek to discover more about themselves through their significant other. For this reason, they tend to approach romantic relationships with immense energy, and at times it may be more than their partner can handle. Geminis need to take time to get to know their spouse, and try to cultivate a genuine interest in their experiences and worldview. This will help both partners establish a strong, loving bond.
Planetary Compatibility
When assessing the compatibility of any two Zodiac signs, one of the first things to look at is the planetary friendships. Taurus is ruled by Venus, the planet of love, beauty, and luxury, while Gemini is ruled by Mercury, the planet of communication, intellect, and agility. In Vedic astrology, these two planets are good friends.
The Venus–Mercury combination creates an interesting dynamic where the earthy Taurus and airy Gemini can bring varied perspectives into the relationship. Venus' influence brings a love for aesthetics, comfort, and stability in Taurus, whereas Mercury endows Gemini with a lively intellect, adaptability, and a love for variety and change.
The energies of Venus and Mercury can complement each other well. Venus' charm and sensuality can captivate the Mercury-ruled Gemini, providing a sense of grounding that Gemini can sometimes lack. Conversely, Gemini's intellectual curiosity and conversational prowess can keep Venus-ruled Taurus engaged, introducing elements of change and excitement that can break Taurus's routine. However, these planetary energies can also conflict due to their contrasting natures, which might lead to misunderstandings if not managed well.
Strengths of the Relationship
Despite their differences, Taurus and Gemini can find several strengths in their relationship. The stability of Taurus can offer Gemini a secure base, while the Gemini's flexibility can bring a breath of fresh air into the Taurus's life. This can result in a balanced partnership where both learn and grow from each other.
The Taurus partner's loyalty and commitment can be very reassuring for their Gemini counterpart, who often fears being constrained in a relationship. Taurus's steadfastness can help Gemini feel secure and grounded, while Gemini's adaptability can help Taurus break free from their routine, adding spontaneity to their life. This unique combination can result in a dynamic relationship full of personal growth and mutual understanding, provided they both embrace their individual natures and learn to appreciate their partner's unique strengths and perspective.
Challenges in the Relationship
The main challenge that a Taurus and Gemini couple might face comes from their different paces and approaches to life. Taurus, an Earth sign, seeks stability and routine, whereas Gemini, an Air sign, thrives on change and variety. Taurus might perceive Gemini's restlessness as instability, while Gemini may find Taurus's predictability somewhat dull.
Communication can also be a challenge in this relationship. Taurus prefers direct, clear communication, and may be thrown off by Gemini's tendency to change topics swiftly. On the other hand, Gemini might find Taurus's reluctance to engage in intellectual debates a bit limiting.
Lastly, Taurus's possessive nature might conflict with Gemini's need for personal space and freedom. Gemini might feel stifled by Taurus's desire for closeness, while Taurus may feel insecure due to Gemini's need for independence, as well as their tendency to focus on personal projects as opposed to their interpersonal relationships.
The Sexes at a Glance
The Taurus Man
Steady
Moral
Responsible
Thrifty
Stubborn
May be overweight
The Taurus Woman
Positive
Respectful
Motherly
Pleasure-loving
Sexy
Worldly
The Gemini Man
Scholarly and intellectual
Prefers an obliging spouse
Favors daughters
Needs a logical approach to spirituality
The Gemini Woman
Highly intelligent
Not a "typical housewife"
Has boyish features
Does many things at once
Romantic Compatibility
In terms of romantic compatibility, Taurus and Gemini can create a unique bond if they learn to appreciate their differences. Taurus's sensuality and romantic nature can help to ground Gemini's fluttering tendencies, creating a stable and loving environment. Gemini, in turn, can introduce an element of novelty and intellectual stimulation, keeping the relationship exciting for Taurus.
However, their divergent needs can cause friction. Taurus seeks a deep, sensual connection, while Gemini looks for a mental one. Taurus's desire for a consistent routine might clash with Gemini's need for variety. If they are to create a fulfilling romantic relationship, it's essential for both Taurus and Gemini to find a middle ground between these two extremes.
Things You Can Do Together
Although their interests differ in many respects, there are several activities that Taurus and Gemini can enjoy together. They might find common ground in pursuits that blend Taurus's love for comfort with Gemini's love for socializing, such as hosting dinner parties or attending social events.
Travel could also be a shared interest, with Taurus appreciating the luxury aspect of it, while Gemini enjoys the intellectual stimulation of new experiences and cultures. Short trips and weekend getaways can offer a perfect blend of both these elements. Taurus would appreciate the relaxation and comfort, while Gemini would be thrilled by the new sights and sounds.
Exploring the arts could be another shared activity. Taurus would appreciate the aesthetic beauty, while Gemini would be intrigued by the stories and ideas behind the art. Visiting art exhibitions, museums, or even attending theater performances can provide a balance of intellectual and sensory enjoyment.
Finally, engaging in learning activities, like attending lectures or workshops, could be enjoyable for both. Gemini would appreciate the intellectual stimulation, while Taurus would value the practical skills or knowledge gained.
How Taurus and Gemini Communicate
Communication between Taurus and Gemini can be both a strength and a challenge in their relationship. Gemini, ruled by Mercury, the planet of communication, is a natural conversationalist. They enjoy discussing a wide array of topics and love intellectual stimulation. Taurus, on the other hand, is more practical and straightforward in their communication. They prefer sticking to the point and are likely to become annoyed with unnecessary, intellectual meandering.
This difference can lead to fascinating exchanges, where Taurus provides grounding and practical perspectives, while Gemini brings in new ideas and intellectual curiosity. However, it can also lead to misunderstandings if both partners aren't careful. Taurus might find Gemini's rapid topic shifts to be superficial or confusing, while Gemini might find Taurus's communication style to be too plain or rigid.
To make their communication more effective, both Taurus and Gemini need to respect each other's styles and be willing to adapt. Taurus can try to be more open to Gemini's intellectual explorations, while Gemini can learn to be more focused and attentive to Taurus's practical concerns. With patience and understanding, their communication can become a source of strength in their relationship.
For each sign, there are different strengths and weaknesses. Rather than focusing on what you don't like about your partner, try to see their strengths. There will inevitably be differences in communication styles between you and your partner. The key is to find respectful ways you and your partner can express yourselves while still staying true to your core values.
Summary and Overall Score
On average Taurus and Gemini natives score 60/100.  This makes Taurus and Gemini slightly compatible signs. Their strengths may be able to help them overcome the numerous challenges they will face in a partnership.
No two people are perfectly compatible. Thus, there is no such thing as 100/100 compatibility. For Taurus, the best score attainable is with a Virgo partner, which scores 84/100. The idea is that every relationship requires self-sacrifice, respect, and mutual effort.
Note: Astrological compatibility is a highly nuanced science, and it is always a good idea to get a complete reading from a skilled astrologer to learn about the specifics of your personal chart and your romantic compatibility with your partner.
The 12 Signs of the Zodiac
Learn about each of the twelve signs of the zodiac.