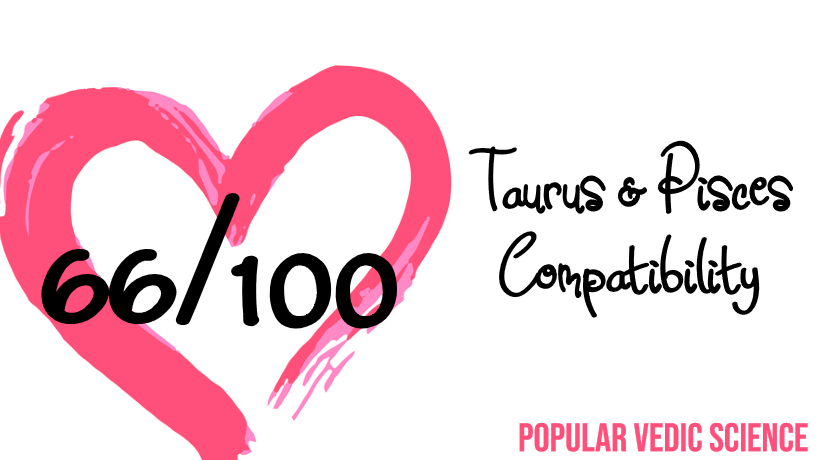 In this article we break down the astrological compatibility of Taurus and Pisces signs, in terms of strengths and challenges in the relationship, romantic compatibility, communication, and more. We give tons of practical insights on how to nourish your relationship and overcome obstacles you'll likely face.
Recommended: Learn more about yours and your partner's overall personality, check out our complete guides to Taurus and Pisces zodiac signs.
Taurus Overview
Sign of the Bull. Taurus natives are hard-working, determined, and have a big heart. However, they tend to show partiality to their own group, and can be callous toward outsiders.
Ruled by Venus. Venus is the planet of sensuality, fine food, the arts, and affairs of the home. Venetian individuals are fond of luxury and living the good life.
An earth sign. Those with a Taurus moon are grounded, thoughtful, and calm.
A fixed sign. Persons born under this sign are steady, predictable, and slow to change.
A feminine sign. This makes the native receptive, sensitive, and empathetic.
Core Strengths
Dutiful and hard-working
Easy-going
Thoughtful and contemplative
Caring and charitable
Main Weaknesses
Stubborn
Gullible and overly trusting
Sensual, prone to addictions
Pisces Overview
Sign of the Fishes. Pisces natives are shy and soft-hearted. They can often be found encircled by loving friends.
Ruled by Jupiter. Jupiter is the planet of wisdom, spirituality, wealth, and learning. Jupiterians are religious and warm-hearted.
A water sign. Those with a Pisces moon are perceptive, artistic, and sentimental.
A dual sign.Persons born under this sign are adaptable and multi-talented.
A feminine sign. This makes the native receptive, sensitive, and empathetic.
Core Strengths
Sincere
Spiritual
Popular
Creative
Main Weaknesses
No clear direction in life
Vulnerable to flattery
Passive-aggressive
How Taurus Approaches Relationships
Taurus natives are loyal and committed partners, and their relationships tend to epitomize the saying "opposites attract." They just need to keep their stubbornness in check so that it doesn't come between them and their spouse. They should endeavor to find common values and interests that bring them and their partner together.
How Pisces Approaches Relationships
Pisceans may have different ways of viewing the world from their partner. Their partner is likely to be more logical and rational about life, giving more importance to practical details, whereas the Pisces native prefers to focus on the big picture and leave certain things up to fate. This is not necessarily a sign of incompatibility — it just means that both partners need to work to appreciate one another's perspectives, and learn to leverage their individual strengths to work collaboratively as a single unit.
Planetary Compatibility
When assessing the compatibility of any two Zodiac signs, one of the first things to look at is the planetary friendships. Taurus, ruled by Venus, the planet of love and beauty, finds a decent match in Pisces, which is ruled by expansive Jupiter. Venus brings about a calming, romantic influence that stabilizes the Taurus's earthy nature, favoring love, luxury, and pleasure. On the other hand, Jupiter blesses Pisces with an expansive, philosophical outlook on life and a deep-seated love for humanity. It encourages wisdom, growth, and prosperity.
Though these two planets are not considered very friendly toward one another, they nonetheless have several areas of compatibility. The earthy stability of Taurus complements the water sign Pisces, as earth shapes water and gives it a form, while water nourishes the earth. Jupiter's influence gives Pisces a spiritual and empathic character, which complements the practical and sensual nature of Taurus, creating a unique combination of the earthly and the divine.
Strengths of the Relationship
The combination of Taurus and Pisces creates a relationship that is both grounded and imaginative. Taurus, the reliable and pragmatic earth sign, provides stability and security to the relationship. Meanwhile, the imaginative and dreamy Pisces brings a sense of mystery and charm that tantalizes Taurus' pragmatic sensibilities. Both signs value peace and harmony, which often results in a serene and balanced relationship.
The nurturing nature of Taurus helps Pisces feel loved and protected, while the compassionate and selfless love of Pisces appeals to the Taurus' need for affection and validation. This mutual give-and-take makes their bond stronger, as they understand and meet each other's emotional needs effectively.
Challenges in the Relationship
Despite these positive points in the relationship, several challenges may arise which could cause significant turbulence. The primary issue often lies in their different approaches to life. Taurus, being an earth sign, has a more practical and grounded perspective, which can clash with Pisces' idealistic and dreamy disposition.
Moreover, Taurus' stubbornness can frustrate the adaptable and changeable Pisces. On the other hand, the elusive nature of Pisces can bewilder and exasperate the straightforward Taurus. Taurus may view Pisces as too emotional or unrealistic, while Pisces might find Taurus too materialistic or mundane.
The Sexes at a Glance
The Taurus Man
Steady
Moral
Responsible
Thrifty
Stubborn
May be overweight
The Taurus Woman
Positive
Respectful
Motherly
Pleasure-loving
Sexy
Worldly
The Pisces Man
Kind-hearted
Peaceful
Humble
Compassionate
Devout
Good memory
Overcommitted / no time for himself
The Pisces Woman
Selfless
Artistic
Satisfied
Humanitarian
Devout
Prefers to stay in the background
Taurus and Pisces Romantic Compatibility
In matters of the heart, Taurus and Pisces make for a deeply affectionate and romantic pairing. Taurus' need for physical touch and comfort aligns with Pisces' desire for emotional intimacy and connection. Taurus brings a sensual touch to the relationship, while Pisces brings depth and emotional bonding, making their romantic encounters a blend of passion and profound emotional connection.
The strong emotional bond between the two signs allows them to connect on a deeply intuitive level. Taurus appreciates Pisces' gentleness and sensitivity, while Pisces values Taurus' reliability and honesty. Despite their differences, their mutual understanding and respect can create a strong romantic relationship built on trust, respect, and mutual affection.
Things You Can Do Together
Taurus and Pisces share a mutual love for beauty, comfort, and luxury, which can result in enjoyable shared activities. They might indulge in art, music, and fine dining, as well as more tranquil pursuits like stargazing or simply relaxing at home in each other's company. Their shared interests make it easy for them to find common activities that they both enjoy.
A peaceful nature walk, visiting an art exhibit, or a quiet evening of listening to soothing music are all activities that can bring these two closer. They also enjoy building a comfortable and aesthetically pleasing home environment together, finding great satisfaction in decorating their shared space.
How Taurus and Pisces Communicate
Communication between Taurus and Pisces tends to be harmonious and peaceful. They both value honesty, trust, and open communication. Taurus, being straightforward and practical, has a grounded way of communicating, while Pisces, being imaginative and sensitive, often communicates in a more abstract, emotional way.
Taurus can provide a solid foundation for Pisces' lofty dreams and ideas, giving them practical advice and guidance. In return, Pisces can help Taurus expand their perspective and see things from different angles. The Pisces' empathy allows them to intuitively understand Taurus' needs and desires, while Taurus appreciates Pisces' willingness to listen and understand.
However, their different communication styles can also lead to misunderstandings. Taurus' straightforwardness can sometimes be too harsh for sensitive Pisces, while Pisces' indirect way of expressing feelings can confuse Taurus. It is important for both of them to learn and adapt to each other's communication styles and show patience and understanding in their interactions.
Overall, with empathy and understanding, Taurus and Pisces can build a strong, open line of communication that strengthens their relationship and helps them overcome any challenges that may arise.
For each sign, there are different strengths and weaknesses. Rather than focusing on what you don't like about your partner, try to see their strengths. There will inevitably be differences in communication styles between you and your partner. The key is to find respectful ways you and your partner can express yourselves while still staying true to your core values.
Summary and Overall Score
On average Taurus and Pisces natives score 66/100.  This makes Taurus and Pisces moderately compatible signs. Their strengths are likely to be able to compensate for the challenges they will face in a partnership.
No two people are perfectly compatible. Thus, there is no such thing as 100/100 compatibility. For Taurus, the best score attainable is with a Virgo partner, which scores 84/100. The idea is that every relationship requires self-sacrifice, respect, and mutual effort.
Note: Astrological compatibility is a highly nuanced science, and it is always a good idea to get a complete reading from a skilled astrologer to learn about the specifics of your personal chart and your romantic compatibility with your partner.
The 12 Signs of the Zodiac
Learn about each of the twelve signs of the zodiac.