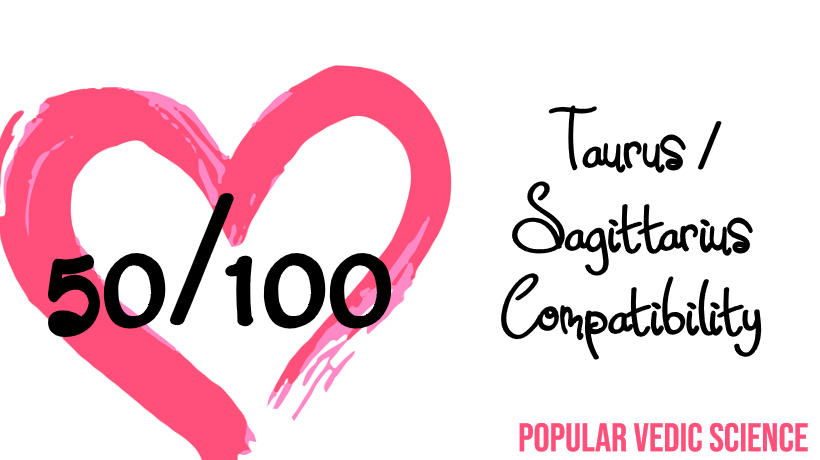 In this article we break down the astrological compatibility of Taurus and Sagittarius signs, in terms of strengths and challenges in the relationship, romantic compatibility, communication, and more. We give tons of practical insights on how to nourish your relationship and overcome obstacles you'll likely face.
Recommended: Learn more about yours and your partner's overall personality, check out our complete guides to Taurus and Sagittarius zodiac signs.
Taurus Overview
Sign of the Bull. Taurus natives are hard-working, determined, and have a big heart. However, they tend to show partiality to their own group, and can be callous toward outsiders.
Ruled by Venus. Venus is the planet of sensuality, fine food, the arts, and affairs of the home. Venetian individuals are fond of luxury and living the good life.
An earth sign. Those with a Taurus moon are grounded, thoughtful, and calm.
A fixed sign. Persons born under this sign are steady, predictable, and slow to change.
A feminine sign. This makes the native receptive, sensitive, and empathetic.
Core Strengths
Dutiful and hard-working
Easy-going
Thoughtful and contemplative
Caring and charitable
Main Weaknesses
Stubborn
Gullible and overly trusting
Sensual, prone to addictions
Sagittarius Overview
Sign of the Archer. Sagittarians are fortunate and righteous individuals. However, their luck and good qualities can sometimes lead them to look down on others.
Ruled by Jupiter. Jupiter is the planet of wisdom, spirituality, wealth, and learning. Jupiterians are religious and warm-hearted.
A fire sign. Those with a Sagittarius moon are temperamental, passionate, and energetic.
A dual sign. Persons born under this sign are adaptable and multi-talented.
A masculine sign. This makes the native aggressive, bold, and thick-skinned.
Core Strengths
Virtuous
A high-achiever
Athletic
Fortunate
Main Weaknesses
Proud
Restless
May lead a pampered life
How Taurus Approaches Relationships
Taurus natives are loyal and committed partners, and their relationships tend to epitomize the saying "opposites attract." They just need to keep their stubbornness in check so that it doesn't come between them and their spouse. They should endeavor to find common values and interests that bring them and their partner together.
How Sagittarius Approaches Relationships
Sagittarians are attracted to creative and intelligent people. They may have multiple loves in their life. However, if they find someone who shares their vision for doing good in the world, and who supports their spirituality, then the relationship is likely to succeed.
Taurus and Sagittarius Planetary Compatibility
When assessing the compatibility of any two Zodiac signs, one of the first things to look at is the planetary friendships. Taurus and Sagittarius come under the rulership of Venus and Jupiter respectively, making their astrological connection an intriguing blend of earth and fire elements. Unfortunately, Venus and Jupiter are not friendly planets. Due to their different temperaments, they are likely to experience frequent conflict.
Venus is the planet of love, beauty, and luxury, influencing Taurus's preference for stability and pleasure. Jupiter, on the other hand, represents expansion, adventure, and wisdom, pushing Sagittarius towards freedom and exploration. The stark differences in planetary influences result in a challenging match between Taurus and Sagittarius, primarily due to conflicting values and approaches to life.
Strengths of the Relationship
Although Taurus and Sagittarius have significant differences, they also have some potential for growth and adaptation. One of the main strengths in their relationship is the balance between Taurus's groundedness and Sagittarius's adventurous spirit. Taurus can provide a solid foundation and emotional stability for the relationship, which can be a comforting counterpoint to Sagittarius's constant pursuit of novelty and excitement.
In turn, Sagittarius can help their Taurus partner learn to sometimes be more adventurous and to step out of their comfort zone. Both signs value honesty, and their straightforwardness can pave the way for clear and open communication, provided they respect each other's viewpoints. Their shared love for knowledge and learning can also serve as common ground, allowing for engaging and enlightening discussions.
Challenges in the Relationship
The union of Taurus and Sagittarius brings forth quite a few challenges due to their inherently different natures. Taurus seeks security, stability, and routine, which contrasts sharply with Sagittarius's need for freedom, adventure, and constant change. The Sagittarian's restless nature may make Taurus feel insecure and unappreciated, while Taurus's resistance to change can frustrate the adaptable Archer.
Financial disagreements might be common as well. Taurus's inclination towards material possessions and a comfortable lifestyle can seem excessive to the less materialistic Sagittarius. Similarly, Sagittarius's love for spontaneity and indulgence in experiences may appear imprudent to the more frugal Taurus.
The Sexes at a Glance
The Taurus Man
Steady
Moral
Responsible
Thrifty
Stubborn
May be overweight
The Taurus Woman
Positive
Respectful
Motherly
Pleasure-loving
Sexy
Worldly
The Sagittarius Man
Athletic
Handsome
Honest
Fond of challenges
Loyal
Quick to anger
Forgiving
Ideal family man
The Sagittarius Woman
Warm
Ideal friend
Kind
Forgiving
Religious
Cheerful
Smart
Popular
Taurus and Sagittarius Romantic Compatibility
Romantically, Taurus and Sagittarius might struggle to find a balance. Taurus's sensual nature and preference for physical expressions of love might not be fully met by Sagittarius, who seeks intellectual stimulation and generally is not one to dote over their partner. For Taurus, Sagittarius's need for constant movement can be misconstrued as emotional detachment, leading to feelings of insecurity.
Moreover, Taurus's tendency towards possessiveness can create issues as it might feel restrictive to the freedom-loving Sagittarius. Therefore, understanding and significant adjustments would be needed from both sides to create a balanced and fulfilling romantic relationship.
Things You Can Do Together
Finding shared activities that cater to both Taurus and Sagittarius's interests can be a challenge, but not an impossible one. You and your partner might find common ground in outdoor activities that offer a mix of adventure and tranquility, like hiking in serene locations or camping. Sagittarius's love for travel and Taurus's appreciation of natural beauty can make these experiences enjoyable for both.
Culinary explorations can be another shared activity. Trying out exotic cuisines aligns with Sagittarius's adventurous spirit, and the pleasure derived from food resonates with Taurus's Venusian influences. Shared learning experiences, such as attending a lecture or a workshop, can also engage them both due to their common love for gaining knowledge.
How Aries and Sagittarius Communicate
Communication between Taurus and Sagittarius can be tricky, with the potential for misunderstandings. Sagittarius's blunt honesty might come off as harsh to the more sensitive Taurus, while Taurus's stubbornness may be off-putting to the freedom-loving Sagittarius. Therefore, patience and understanding are necessary for both to communicate effectively.
Sagittarius, ruled by Jupiter, thrives on intellectual stimulation and the exchange of grand ideas. They may, at times, gloss over the details, something that detail-oriented Taurus may find frustrating. Taurus prefers consistency and predictability, including in conversations. They tend to express themselves in a more measured and methodical manner, something that can occasionally conflict with Sagittarius' tendency for more emotional and spontaneous dialogue.
However, this difference can also be a strength if approached with an open mind. Taurus can ground Sagittarius's expansive ideas with their practical approach, and in turn, Sagittarius can push Taurus to think outside their comfort zone. The key is to respect each other's viewpoints and use their differences to stimulate, rather than frustrate, each other.
Moreover, the typically cheerful and optimistic nature of Sagittarius can lighten up the more serious and practical Taurus, bringing a balance in their communication style. On the other hand, Taurus's reliable nature can give Sagittarius a sense of stability and a dependable sounding board for their ideas
For each sign, there are different strengths and weaknesses. Rather than focusing on what you don't like about your partner, try to see their strengths. There will inevitably be differences in communication styles between you and your partner. The key is to find respectful ways you and your partner can express yourselves while still staying true to your core values.
Summary and Overall Score
On average Taurus and Sagittarius natives score 50/100.  This makes Taurus and Sagittarius incompatible signs. Their strengths are unlikely to compensate for the many challenges they will face in a partnership.
No two people are perfectly compatible. Thus, there is no such thing as 100/100 compatibility. For Taurus, the best score attainable is with a Virgo partner, which scores 84/100. The idea is that every relationship requires self-sacrifice, respect, and mutual effort.
Note: Astrological compatibility is a highly nuanced science, and it is always a good idea to get a complete reading from a skilled astrologer to learn about the specifics of your personal chart and your romantic compatibility with your partner.
The 12 Signs of the Zodiac
Learn about each of the twelve signs of the zodiac.