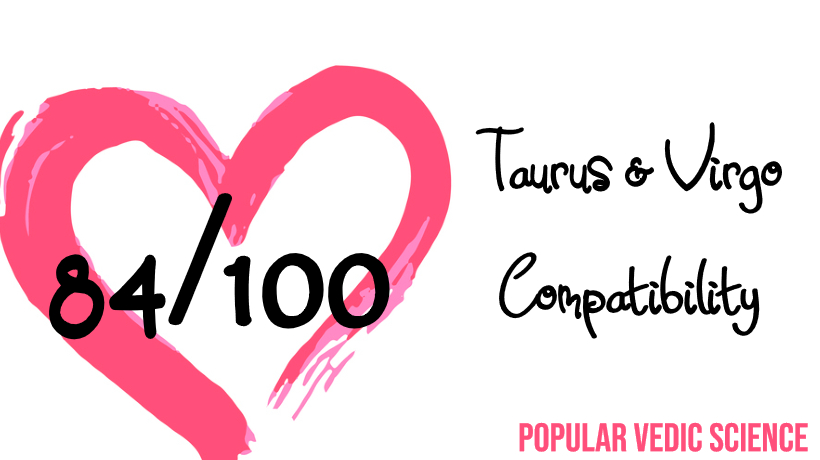 In this article we break down the astrological compatibility of Taurus and Virgo signs, in terms of strengths and challenges in the relationship, romantic compatibility, communication, and more. We give tons of practical insights on how to nourish your relationship and overcome obstacles you'll likely face.
Recommended: Learn more about yours and your partner's overall personality, check out our complete guides to Taurus and Virgo zodiac signs.
Taurus Overview
Sign of the Bull. Taurus natives are hard-working, determined, and have a big heart. However, they tend to show partiality to their own group, and can be callous toward outsiders.
Ruled by Venus. Venus is the planet of sensuality, fine food, the arts, and affairs of the home. Venetian individuals are fond of luxury and living the good life.
An earth sign. Those with a Taurus moon are grounded, thoughtful, and calm.
A fixed sign. Persons born under this sign are steady, predictable, and slow to change.
A feminine sign. This makes the native receptive, sensitive, and empathetic.
Core Strengths
Dutiful and hard-working
Easy-going
Thoughtful and contemplative
Caring and charitable
Main Weaknesses
Stubborn
Gullible and overly trusting
Sensual, prone to addictions
Virgo Overview
Sign of the Virgo. Virgo natives are intelligent and resourceful. They may experience conflicting feelings and desires in life.
Ruled by Mercury. Mercury is the planet of thought, the nervous system, communication, and literature. Mercurial individuals are hard to predict. Their minds move so quickly that others have a hard time keeping up.
An earth sign. Those with a Virgo moon are dexterous, thoughtful, and practical.
A dual sign. Persons born under this sign are adaptable and multi-talented.
A feminine sign. This makes the native receptive, sensitive, and empathetic.
Core Strengths
Practical and down to earth
Straightforward
Dependable
Modest
Main Weaknesses
Self-critical
An over-active mind
Too calculating
How Taurus Approaches Relationships
Taurus natives are loyal and committed partners, and their relationships tend to epitomize the saying "opposites attract." They just need to keep their stubbornness in check so that it doesn't come between them and their spouse. They should endeavor to find common values and interests that bring them and their partner together.
How Virgo Approaches Relationships
Virgos are faithful and committed partners. They can have more luck than other signs when it comes to romance, as they are likely to attract a loving and compatible spouse. However, there is a risk that a Virgo native will let their true love slip away. If you are a Virgo, make extra effort to attune yourself to your partner's feelings and needs so you can help them find fulfillment in the relationship.
Planetary Compatibility
When assessing the compatibility of any two Zodiac signs, one of the first things to look at is the planetary friendships. Taurus is ruled by Venus, the planet of beauty, luxury, and love, which compliments Virgo's pragmatic approach towards life under Mercury's rulership, the planet of communication and intellect. Thankfully, Venus and Mercury are both fast friends. With Venus's sensuality softening Mercury's practicality, the relationship is likely to a high-functioning partnership enhanced by mutual romantic appeal.
Strengths of the Relationship
One of the key strengths of a Taurus-Virgo relationship lies in their shared practical and dependable natures. Both signs appreciate stability and routine, fostering a consistent and reliable partnership. The Taurean's calm demeanor tends to soothe the Virgo's occasional anxieties, while Virgo's attention to detail complements Taurus's appreciation for a well-planned life.
Taurus' and Virgo's mutual desire for security also helps bring the two together. Taurus, with their love for luxury and comfort, finds in Virgo a partner who can contribute a practical approach towards achieving a comfortable, stable, and fulfilling life. Furthermore, Taurus's sensuality and Virgo's precision can lead to a satisfying and balanced romantic relationship.
Challenges in the Relationship
While Taurus and Virgo can enjoy a generally harmonious relationship, they may face a few challenges. Taurus's steadfast nature can sometimes clash with Virgo's tendency for flexibility and change. Virgo's need for perfection and their critical nature might also be a cause for friction, as Taurus, being sensitive, usually does not take criticism well.
Financial matters can be another point of disagreement. Taurus's love for luxury might seem impractical to the budget-conscious Virgo. Yet, these differences are often balanced out by their shared practical nature and close feelings of friendship and affection.
The Sexes at a Glance
The Taurus Man
Steady
Moral
Responsible
Thrifty
Stubborn
May be overweight
The Taurus Woman
Positive
Respectful
Motherly
Pleasure-loving
Sexy
Worldly
The Virgo Man
Dignified
Bashful
Persuasive
Logical
Skeptical
Prefers urban areas
The Virgo Woman
Studious
Attractive
Persuasive
Skilled speaker
Neat
Correcting
Romantic Compatibility
In terms of romance, Taurus and Virgo have high potential. Taurus, ruled by Venus, is deeply sensual and appreciates physical expressions of love. This aligns well with Virgo's desire to please and serve their partner. The gentle and patient nature of Taurus can help bring out Virgo's more tender side, creating a passionate and caring romantic relationship.
Moreover, their shared values of commitment, loyalty, and the need for security create a solid foundation for their relationship. The strong emotional bond that forms between them further enhances their romantic compatibility. Their shared earth element encourages a slow, steady build in the relationship that can stand the test of time.
Things You Can Do Together
Taurus and Virgo find joy in shared experiences that involve both physical and intellectual engagement. They enjoy exploring nature, gardening, or going on outdoor adventures, appreciating the beauty of the Earth element they both embody. Long hikes followed by cozy picnics would be an ideal outing for this pair.
They also enjoy activities that involve critical thinking or problem-solving, such as puzzles, board games, or intellectual discussions. Similarly, they appreciate arts and culture, so museum visits or art shows could be frequent items on their itinerary. Cooking together and trying out new recipes can be another enjoyable shared activity, combining Taurus's love for flavors and Virgo's attention to detail.
How Taurus and Virgo Communicate
Communication between Taurus and Virgo is generally effective due to their shared practical nature. Virgo, ruled by Mercury, is an excellent communicator and can express their thoughts clearly. Taurus, on the other hand, might not be the most expressive, but they are great listeners, providing Virgo with the attentive audience they need.
Their conversations are often constructive, revolving around practical matters, future plans, or intellectual discussions. They value honesty and are not afraid to voice their opinions, which adds to the openness and transparency in their relationship. However, Virgo should be mindful of their critical nature, and Taurus should try to be more expressive to maintain effective communication. Overall, Taurus and Virgo's communication complements their relationship well, fostering mutual understanding and closeness.
For each sign, there are different strengths and weaknesses. Rather than focusing on what you don't like about your partner, try to see their strengths. There will inevitably be differences in communication styles between you and your partner. The key is to find respectful ways you and your partner can express yourselves while still staying true to your core values.
Summary and Overall Score
On average Taurus and Virgo natives score 84/100.  This makes Aries and Virgo very compatible signs. Their strengths are more than enough to compensate for whatever challenges they may face in the relationship.
No two people are perfectly compatible. Thus, there is no such thing as 100/100 compatibility. For Taurus, the best score attainable is actually with a Virgo partner. The idea is that every relationship requires self-sacrifice, respect, and mutual effort.
Note: Astrological compatibility is a highly nuanced science, and it is always a good idea to get a complete reading from a skilled astrologer to learn about the specifics of your personal chart and your romantic compatibility with your partner.
The 12 Signs of the Zodiac
Learn about each of the twelve signs of the zodiac.