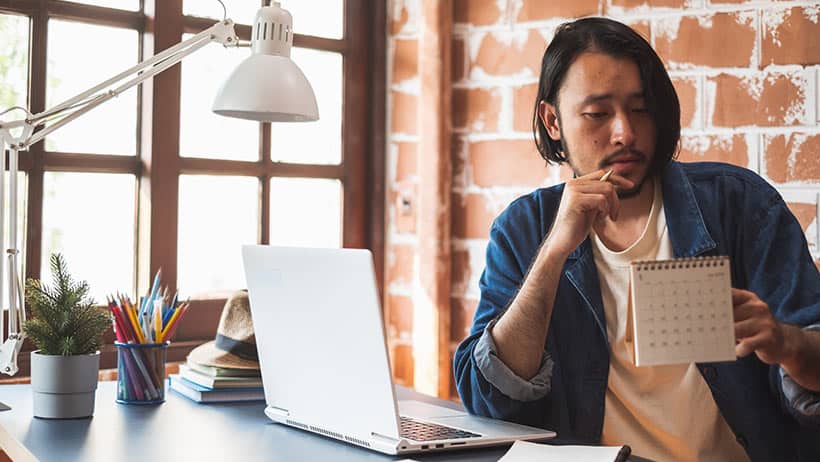 Developing a daily routine appropriate to your unique constitution is one of the most effective ways of optimizing your health. Routine regulates the internal clock. This encourages the smooth functioning of the internal systems, reduces the production of stress hormones, and benefits sleeping patterns.
Having structured daily practices helps us keep our doshas in balance, cultivate self-discipline and efficiency, maintain a healthy self-esteem, and improve our overall sense of contentment and happiness.
What is Dinacharya?
Dinacharya means daily routine. Ayurveda teaches that humans run on a biological clock dictated by the activities of the sun and the moon. We can all recognize that our energy is different at different times of the day. Ayurveda states that this is certainly not a random occurrence, but something that we should examine in order to establish daily lifestyle practices that are best suited to our individual constitution. Dinacharya includes daily activities of self-care that align with the internal rhythm of the body and mind to optimize wellness.
Why is it Important to Establish Dinacharya?
Most of us are striving to achieve good health and happiness. This requires the restoration of a harmonious internal balance. More specifically, it involves pacifying aggravated doshas and relieving symptoms of imbalance. While diet is a very important aspect of health, lifestyle is a key factor. There is no use eating a perfect diet if you are leading an otherwise unhealthy lifestyle. The two must work hand in hand to help us establish congruence and internal stability.
Doshas and Routine
As each of the doshas relate to different seasons and times in our lives, they also peak at different hours throughout the day. With the goal of optimizing our health, happiness and productivity, we should aim to structure our daily routine with the doshas in mind.
Vata dosha is dominant during the early hours of the morning, 2am – 6am, and in the afternoon between 2pm – 6pm. Vata, composed of the elements air and ether, is by nature very light, creative, and introspective. It governs the transition periods of the day and allows expansive thinking to reach its peak.
In the early morning, vata offers us a period of receptivity, to turn our attention inwards and connect more deeply with our spiritual practices. Rising early in the morning has a number of health benefits, both physically and spiritually. This is the ideal time of day to rise, while everything is quiet, so you can peacefully prepare for the day ahead.
Kapha dosha is dominant between 6am – 10am and in the evening from 6pm – 10pm. Kapha is composed of the water and earth elements and has the qualities of being slow, heavy, and stable. It is recommended we wake before the transition into kapha time of day at 6am in order to avoid a heavy, groggy feeling upon rising.
Kapha is very grounded and affects the manner in which we show up in the world. Therefore, the early hours of kapha are an optimal time to do more focused work. The evening hours of kapha are ideal for winding down in preparation for a good night's sleep. Meals eaten during the kapha hours of day should be light and easy to digest.
Pitta dosha is dominant between 10am – 2pm and again from 10pm – 2am. Pitta is composed of fire and water and is known for its power of transformation. During the late morning hours of pitta, the sun reaches its peak in the sky. This is reflected in pitta's fiery nature. Pitta is therefore an optimal time to be highly productive and strive towards goals. These are also the hours when the digestive fire is at its maximum strength, so we would do well to consume the largest meal of the day during this period.
The pitta hours of the night are when the internal organs do most of their vigorous cleansing and regenerating. Ideally we should be resting during these hours, as this gives our body a chance to restore itself.
The following chart outlines how we can structure our day in accordance with the cycle of the sun and moon, and the natural rhythms of the doshas.
| Time of Day | Dominant Dosha | Beneficial Activities |
| --- | --- | --- |
| 2 a.m. – 6 a.m. | Vata | Wake up; self-care/cleansing rituals; meditation or prayer; journalling; centering for the day ahead |
| 6 a.m. – 10 a.m. | Kapha | Movement practice/exercise; breakfast; focused work and concentration |
| 10 a.m. – 2 p.m. | Pitta | High productivity; lunch (main meal of the day) in a quiet and calm environment; gentle walk |
| 2 p.m. – 6 p.m. | Vata | Focused work (will require fuel from a nourishing lunch); creative activities |
| 6 p.m. – 10 p.m. | Kapha | Gentle movement practice; unwinding and relaxing; reading; light dinner; taking rest |
| 10 p.m. – 2 a.m. | Pitta | Sleep |
Practices to Include in Your Dinacharya
How you begin the day has a significant impact on how the rest of your day plays out. Ayurveda recommends a series of self-care practices to be done in the morning to set yourself up for the best day possible.
1. Rising early
Rising before the sun is greatly encouraged in Ayurveda. As stated above, it is ideal to rise during the vata period of the early morning, between 2 a.m. and 6 a.m. while the mind is clear and receptive. Once the kapha hours set in the atmosphere becomes much more sluggish. Watching the sunrise is also beneficial for stress-levels, for hormonal balance, and for promoting healthier sleep at night by resetting the circadian rhythm within the body.
2. Intention setting
Upon waking, before immediately jumping up and busying yourself, it is deeply grounding to take a moment to centre and set an intention for your day, perhaps sealing it with a prayer. If we start from a place of peace and gratitude, we are more likely to have a much more productive and happier day.
3. Evacuating
During the night, while the mind has been at rest, the body has been busily digesting, assimilating, cleansing and restoring the deep tissues. It is therefore recommended to empty the bowels first thing in the morning. This removes any stagnation and waste from the system before you put more food into the body. After some time the body will adjust to the routine of passing stool early in the morning, but at first it may require a little time and patience. If you are able to squat this will encourage smooth passage.
4. Cleansing the sensory organs
Now it is time to remove any toxins that have accumulated overnight:
To start, splash your face with cold water and use your fingertips to gently remove any debris from around the eyes.
Gently pat your face dry with a soft towel.
Rinse out the mouth with water before scraping the tongue. Tongue-scraping is a traditional Ayurvedic practice that stimulates the internal organs, aids in digestion, and removes dead bacteria.
Scrape your tongue back to front approximately 8 times, rinsing the scraper in between each time. Copper or stainless steel tongue scrapers can be found in most health food stores or online, otherwise just be sure to brush the tongue with a firm-bristled toothbrush.
Brush your teeth using a soft toothbrush and an astringent, pungent and bitter natural toothpaste. Neem and licorice are both very powerful herbs for oral health. You can find neem or licorice based toothpastes in most health-food stores.
5. Oil Pulling
After the mouth has been cleansed, swish a tablespoon of oil around the mouth for between 10 – 20 minutes (you can be getting on with your abhyanga and bathing while you oil pull to save time).
Oil pulling is a very nourishing practice for the mouth and gums. It draws out harmful bacteria that may have accumulated overnight, promotes strong and healthy teeth, and also fights infection. The best oils to use are unrefined (and preferably organic) sesame or coconut. Coconut is more of a cooling oil so is better used during the summer months or by those with a strong pitta disposition.
6. Abhyanga
Abhyanga is a warm oil self-massage that is both invigorating and deeply soothing and nourishing for the mind and body. As well as moisturising the skin, abhyanga increases circulation, lymphatic drainage, and immunity, amongst many other things.
7. Bathing
After abhyanga it's time to shower or have a bath. Rather than washing all of the oil off, simply allow the excess to drain and avoid using soap (unless it's needed in a few strategic areas). Pat yourself dry rather than scrubbing.
8. Hydration
Ayurveda states that a warm (or at least room temperature) glass of water should be the first thing you consume each day. Not only does this serve to rehydrate you after a good night's sleep, but it is also a cleansing act in itself, as it flushes through any residual toxins or stagnation leftover from sleep. It washes the GI tract, stimulates the kidneys and starts the metabolism. I like to add lemon to my water in the morning for the fresh and invigorating taste as well as its alkalizing properties.
9. Movement Practice
Regular exercise is hugely beneficial for the body and mind. Increasing endurance, stamina, strength, and flexibility, moving the body should be a part of everyone's dinacharya. Whether it is yoga, hiking, or weight-lifting, daily exercise helps the mind to relax, supports the digestive system and aids in healthy elimination.
The morning is an ideal time to practice some form of gentle to moderate physical movement. This helps to open up and ground the body and mind in preparation for the day ahead.
10. Pranayama
Just as we cleanse the body of physical stagnation in the morning, it is important to spend some time connecting with the breath, inviting in fresh, clean prana into the lungs. We often forget how important it is to breath properly and how nourishing the breath is. It is easy to go about our day holding the breath or taking very shallow sips of air. Dedicating a few minutes every morning to breathwork is balancing for the doshas and promotes calmness and clarity of mind.
11. Meditation
Meditation invites balance and peace into your day. By beginning the morning with 15 minutes of meditation, you set yourself up for a more focused day. Meditation can help you reduce stress, become more grounded, and increase your sense of well-being. Ideally, you could end your day with another 15 minutes of meditation to re-center before sleep.
Conclusion
Your daily routine may change from season to season, adding or exchanging practices to take environmental factors into consideration. It is always important to keep your current state in mind when designing the optimal daily routine — factoring in any dosha aggravation, stress levels, travel plans, etc.