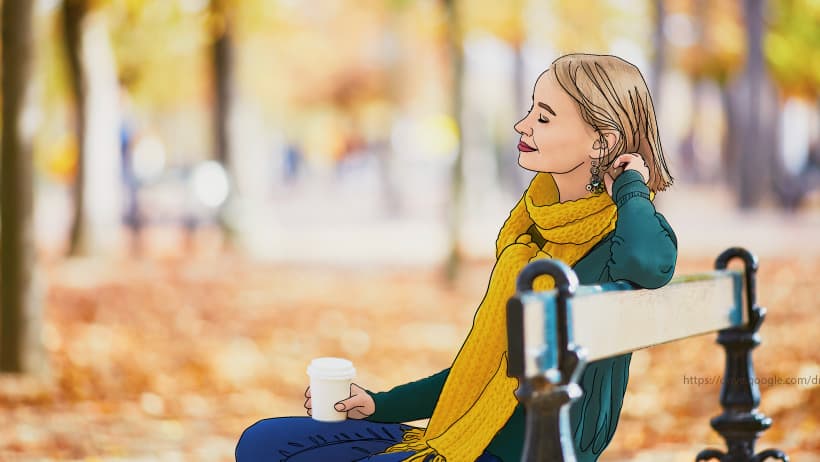 We live in a fast-paced society. Many of us find ourselves spending much of our days commuting, and sitting in air-conditioned buildings, constantly bombarded by sensory input from our devices.
All of this stimulus is highly aggravating to vata dosha, whether or not we have a vata predominant constitution. Therefore, it is in all of our interest to have a good understanding of this dosha and how best to support its healthy functioning within body and mind.
What is Vata Dosha?
Everything physical within our universe is composed of the five elements (ether, air, fire, water, and earth). The ratio and composition will naturally vary from thing to thing; however, nothing can come into existence without the presence of all five of the elements to a greater or lesser degree.
Ayurveda pairs up the elements to form three "doshas" within the body and mind. Everyone has all three doshas within them, but in different quantities. The dosha that predominates within our individual constitution informs us how to optimise our health through diet and lifestyle.
Vata dosha comprises of the air and ether elements and consists of the qualities of dry, light, cold, subtle, mobile, and rough. Therefore, if you have a vata dominant constitution, these qualities will likely show up generously within your physical and emotional being.
Signs of healthy vata:
Quick minded, creative, full of new ideas
Intuitive, emotionally or energetically sensitive
Adventurous, spontaneous
Enthusiastic, impulsive
Energetic, alert, good 'morning person'
Well-developed sense of spirituality / attraction to spiritual or philosophical subject matter
Indications of vata imbalance:
Fear, anxiety, overwhelm, panic, nervousness, over thinking
Loneliness or feelings of isolation
Dry or cracked skin
Weight loss
Constipation, gas, bloating, hard stools
Sensitivity to the cold and wind
Brittle hair, nails, or bones
Twitches, muscle spasms
Creaking or cracking joints
Light-headedness, dizziness, feeling spaced out, ungrounded
Light or interrupted sleep
What causes vata to go out of balance?
Anything, be it diet, mind-set or activity, that increases the qualities of dryness, lightness, rigidity, or coolness will aggravate vata and will disturb the internal elemental balance.
Lifestyle Tips for Balancing Vata Dosha:
1. Diet
Diet is one of the most fundamental ways of supporting the body in restoring and maintaining a natural balance. With a vata diet we are looking to maintain the internal reserves of moisture, stimulate heat, and promote grounding. Try to eat at the same time each day in a peaceful environment.
Favour:
Freshly cooked meals served warm
Substantive, oily, nourishing foods that are high in protein and natural fats (such as well-cooked and spiced mung dal, tofu, tempeh, or warm soy milk with cinnamon and nutmeg)
Warming, stimulating spices such as cinnamon, ginger, black pepper, and cumin
Foods that are predominantly sweet, sour, and salty
Plenty of warm or room temperature drinks
High quality oils or organic ghee
Avoid:
Foods that are bitter, astringent, or pungent
Foods that are cooling, both in temperature and energetically
Light and dry foods (such as rice cakes or popcorn)
Raw foods – especially at night and during colder seasons
Processed foods or left overs
Fried food
Caffeinated or carbonated beverages
Any refined sugars
2. Herbs
Ashwagandha is a rejuvenative herb for vata and kapha doshas promoting vitality and strength. It is one of the most highly-regarded adaptogens within Ayurveda for stress relief, assisting in calming the mind and supporting restful sleep. Ashwagandha also helps the adrenal glands to function properly as well as nourishes the body tissues, particularly muscle and bone.
Triphala consists of a combination of three fruits native to India: amalaki, haritaki, and bibhitaki. This balancing formula is a rejuvenative, and it supports detoxification of the internal tissues. This blend also helps the body maintain gentle regularity, supporting the digestive system and healthy absorption of vitamins and minerals. Triphala readily removes excess vata, pitta, and kapha from the system, making it an ideal remedy for restoring balance.
*IMPORTANT NOTE*
Ayurveda uses many herbal remedies to support the healthy functioning of the doshas. However, it is very important that you take great care when incorporating a new herb into your diet. Therefore, it is always a good idea to consult a doctor or Ayurvedic practitioner beforehand, especially if you are dealing with any symptomology.
3. Routine
It is so often the case that we are attracted by the things that will cause us to fall out of balance. Vata types often like to live in a very fluid and spontaneous manner, however this will only exacerbate vata further. Vata disposition really thrives off a structured daily routine. In addition to the mental and emotional benefits of a regular lifestyle, you'll also get the physical benefits of supported hormone production and enhanced digestive fire. Aim to keep regular times for eating, sleeping, working etc. In this way the body establishes a rhythm and can begin to self-regulate, easing the sporadic tendencies of vata.
4. Abhyanga (self-massage with oil)
Abhyanga is the anointing of the entire body with warm sesame oil before bathing. Often the oil is infused with medicinal herbs. However, plain oil is still very beneficial for maintaining health and is safe to be incorporated into almost any daily routine (the only contraindications being menstruation, pregnancy, broken or infected skin, or acute illness). Massaging the oil into the skin stimulates the lymphatic and circulatory systems, which can initiate the release of ama (toxins) from the deep tissues.
The massage should last anywhere between 10–30 minutes, followed by a bath or shower in hot water (without using any soap). This allows the oil to penetrate deeper into the skin, and any excess will run off. When you're done, pat dry gently (you may want to use an old towel that you don't mind getting a little oily).
Benefits of abhyanga include:
Softens and nourishes the body
Calms the mind
Decreases the effects of aging
Benefits sleep patterns
Tones and invigorates bodily tissues
Pacifies pitta and vata doshas
5. Gentle exercise
As vata is light and mobile in quality, we should look to balance these qualities in our preferred modes of exercise. Try to find grounding and steadying activities that balance the body and mind. This means choosing a movement practice that is gentle and calming, with lots of stretching for the muscles and lubrication of the joints. Both of these areas can become rigid with excessive vata.
Yoga is the sister science to Ayurveda and a natural part of the ayurvedic daily routine. Of course, different styles of yoga will suit different dosha types. For vata dosha, a slow and gentle form of yoga is an excellent choice for harmonising the body and mind and restoring natural rhythm within your system.
6. Meditation and Pranayama
The busy mind of vata really benefits when you take time to slow down and experience the present moment. Focusing on deep, extended breaths is calming and grounding, particularly for the breathless vata. Committing to short periods of seated, silent meditation and deep breathing every day, even just for five minutes in the morning and evening, can have a dramatic effect on your mental well-being. This quiets the chatter of the mind and improves self-awareness, something that can easily be lost in the chaos of our busy days.
Avoid stimulating, or 'lightening' pranayama practices such as breath of fire. Instead, focus on grounding and balancing practices such as alternate nostril breathing.
7. Sleep
Good restful sleep is essential to health regardless of dosha type, but vatas tend to have more difficulty with insomnia or just poor sleep levels. There are many ways to encourage healthy sleep including:
No screens for at least an hour prior to sleeping
Allowing enough time in the evening to properly wind down — perhaps read a book or take a bath, while avoiding bright lighting and anything
overly stimulating
Herbs (such as ashwagandha, see above) and essential oils (lavender in particular)
Night-time herbal teas or milk with turmeric and other spices
8. Media Detox
Staring at our devices all day long can have a huge effect on our internal balance. Vata becomes over-stimulated by the light and constant changing and flashing imagery on our phones, computers and television screens.
While it might not be possible to abandon our devices throughout the day, making a commitment to limiting the amount of time you spend on your device in the evenings can have a big impact on your overall health.
Try to make a rule of not allowing devices into the bedroom. Nothing disrupts a healthy night sleep more than hours of late-night screen time, and if your phone is within reaching distance of your bed, it's much more tempting to check it regularly than if it is left outside the room.
Better still, try turning off your phone at least one hour prior to bed and don't turn it back on until at least an hour after rising. This way you can be more present at the start and end of each day.
From personal experience (as a highly vata person!) I find these simple practices to be transformative to my overall sense of well-being. My hope is that by incorporating all or any of these practices into your daily life, you will start to experience the benefits of a balanced vata.