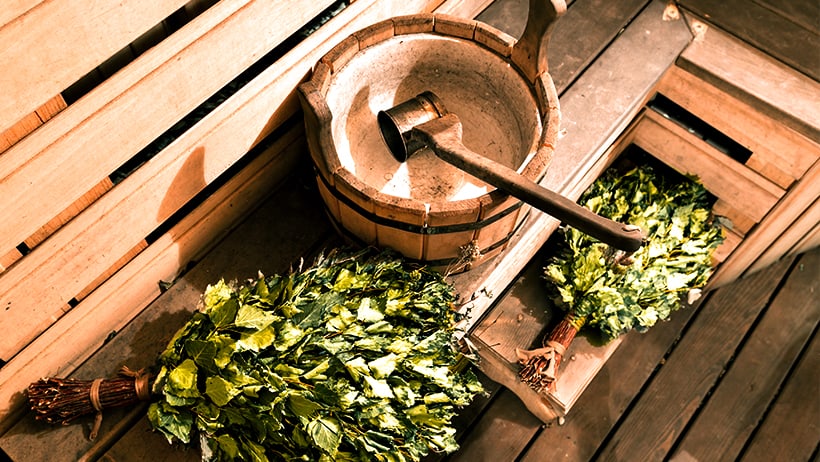 "Detox" and "cleanse" have become buzz words in the contemporary wellness industry. Whether it's fasts, juice cleanses, restrictive diets or boot camps, we are always on the hunt for the "ultimate cure" — some way to shake off feelings of heaviness or sluggishness, boost the immune system, and tackle those stubborn health problems.
However, wellness has become very confusing and complicated due to the number of fads that come in and out of fashion on a weekly basis. Real health is actually much simpler than you might expect.
Panchakarma is an ancient five-pronged Ayurvedic detoxification program that has been used to promote health and longevity for thousands of years. This profound purification therapy is designed to significantly reduce toxins in the body, balance the doshas, and prevent disease. Panchakarma can be a means of treating disease, or simply used as a spring clean for the body – boosting the immune system, increasing strength and overall well being.
What is Panchakarma?
Panchakarma Defined
Pancha means five, and karma means actions. Together, panchakarma means "five cleansing actions" and refers to the five stages of intensive detoxification within an Ayurvedic cleanse.
Although panchakarma refers to a specific set of healing practices, each cleanse will be structured according to the needs of the individual under the guidance of a Vaidya (Ayurvedic doctor). Panchakarma is an assisted cleanse, meaning that it usually takes place in a residential clinic or with assistance and under the supervision of Ayurvedic therapists and practitioners.
What Does Panchakarma Involve?
When the doshas fall out of balance, the strength of agni, the digestive fire, is compromised. This causes the accumulation of toxins (ama) in the body. Ama enters into the bloodstream and is circulated throughout the body, causing blockages in the channels or getting stuck in organs, muscles, or tissues — usually finding a home in the areas of the body that already have issues. This can result in discomfort, symptoms of ill-health, or even acute disease state.
While much of ayurvedic treatment could be considered palliative care — using diet, lifestyle, herbs and yoga techniques to promote wellbeing — panchakarma is a more intensive and thorough means of getting right to the root of poor health, rather than simply addressing visible symptoms.
Detoxing through panchakarma helps us to unravel negative behavioural patterns, helping us to restore our relationship with ourselves, both body and mind. In this way we can incorporate more wholesome dietary and lifestyle practices into our lives, laying the foundations for long lasting strength and well-being.
What Should I Expect?
Panchakarma is not a quick fix, nor is it cheap. However the investment of time and money is well worth it if you have the means or are struggling with any persistent health issues. The entire cleanse can take anywhere from 3 weeks to 6 weeks and must been seen through in its entirety. You must prepare for a week before moving into the clinic, then spend at least a week receiving treatment, and then spend at least another week gradually transitioning back to your normal routine.
Preparing for Treatment
During the preparation week you will be asked to abstain from any caffeine, alcohol, nicotine, sugar or processed foods and stick to a simple, vegetarian mono-diet, such as kitchari. You will also be encouraged to increase your intake of ghee, digestive spices and herbal teas during this week.
You may find that you require more time to rest and may start to experience headaches or withdrawal-type symptoms that come early on in the detoxification process. However, by the end of the first week, many feel revitalized.
At the Clinic
The deeper healing comes in the second phase of panchakarma, which takes place in the supportive and slow-paced clinic environment. A very simple and medicinal diet will be constructed according to your individual needs, and specific treatments will be prescribed to aid rapid cleansing. Daily check-ins with your doctor will ensure that you are on the right path to optimal wellness and any necessary changes to your regime can be implemented as needed.
The therapies — which may include abhyanga, shirodhara and swedana — are designed to draw out the impurities in the body and calm the nervous system. When not receiving treatment or in consultation with your doctor, you are encouraged to rest, take gentle walks in nature, and practice relaxing forms of yoga and pranayama.
Towards the end of the week, your doctor may prescribe one or more of the "five cleansing actions" to eliminate the ama (toxin) that has been loosened throughout the week. At the end of your stay, your doctor will guide you as to how best to spend the next week or so weaning yourself off the cleanse and returning to your normal activities at home.
The 5 Actions
Vamana: therapeutic vomiting to release excess kapha from the digestional tract
Virechana: purgation to eliminate excess pitta from the system
Basti: enema therapy (using medicated oils or teas) to eliminate excess vata
Nasya: administering medicated oils into the sinuses via the nostrils to eliminate excess vata
Rakta Moksha: (this is rarely practiced in the West) detoxification of the blood, usually through blood-letting, to eliminate excess pitta
Why Do Panchakarma?
If you experience any of the symptoms of heavy toxicity in the body, such as sluggishness, weight gain, depression or lack of motivation, you may benefit from undergoing panchakarma. From chronic disease states to digestive issues and mood swings, an intensive Ayurvedic cleanse could be an effective way to address your problems. When imbalances and toxins are eliminated from the body, you will be left feeling enlivened, re-energized, inspired, and youthful.
When Not to Do Panchakarma
There are certain times when panchakarma is not advised, such as during pregnancy. However, panchakarma is beneficial for nearly all people and all disease states. As the cleanse is tailored specifically to the needs of the individual, your doctor will not advise any treatments or regimes that would compromise your health.
It is important to develop a very open relationship with your panchakarma doctor and bring up any queries or concerns as they may arise. If you are dealing with any specific health issues, it is best to consult your regular doctor before booking a panchakarma treatment. If they feel it would be beneficial for you, then your doctor can communicate with the Ayurvedic panchakarma physicians to ensure that all your medical needs are being met.
Choosing the Right Clinic or Physician
As Ayurveda is gaining popularity in the west, more and more clinics and spas are offering panchakarma. It is important to be discerning when choosing the best place to undergo such an intensive cleanse.
Things to consider:
Comfort: Panchakarma is a long and residential process, so it is very important to choose a clinic where you feel comfortable and at ease. This is especially important as there will be times during the program where you feel weak or experience some of the less desirable symptoms of detoxification and withdrawal. Look for a clinic that is clean and quiet, provides sufficient personal space, and offers plenty of support and care from the physicians and other staff.
Credentials: When entrusting anyone with your health, it is essential that they are fully qualified and well-respected within their field. Take the time to research any facility you are considering going to. Look into the doctors they have there and the experiences of past visitors. If you are feeling unsure, you can consult an Ayurvedic practitioner or look for panchakarma facilities recommended by NAMA (National Ayurvedic Medical Association) or another recognised and respected Ayurveda authority.
Relationship: As mentioned above, panchakarma treatment can be intensive and leave you feeling a little vulnerable as you detoxify. Therefore it is essential to work with an Ayurvedic physician that you feel very comfortable with and are able to develop a close relationship. Before booking in for panchakarma, always inquire into the lines of support available within the clinic.
There are many different types of Ayurvedic clinics, some very large and others smaller. Personally, I would encourage anyone going for their first panchakarma to look for a small and intimate clinic where you will have the same doctor for the entirety of your stay, and where you can get to know the various therapists and support staff. Seeing familiar and friendly faces throughout your stay will help you to have the best experience possible.