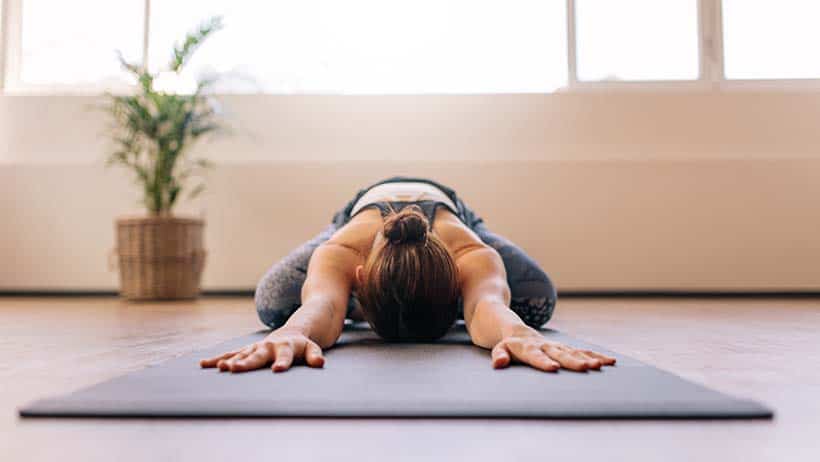 Every yoga pose, known in Sanskrit as an "asana," has its own way of bringing the body and mind into greater harmony. World-renowned yoga teacher B.K.S. Iyengar poetically compares the body to a bow and each asana to the various arrows with which individuals target the ultimate aim of yoga practice — the soul.
This guide offers an in-depth look at child's pose (balasana).
About the Pose
बलासन​​
Balasana
This pose asks you to reconnect with your inner child by giving your body a good rest. One of the most relaxing asanas, balasana puts your spine at ease. That makes it an excellent pose to practice at the end of a sequence. After you test your limits and twist parts of your body that don't often twist, you'll rejoice in the softening of this pose. While most people must push themselves to live a good and balanced life, part of that balance involves knowing when to let their bodies and minds relax. Level: Beginner Key Benefits:
Stretches the ankles, knees, and hips
Relieves pain in head, neck, and chest
Opens the hips, lower back, and pelvic floor
Calms the mind
Specific Cautions:
Individuals with an ankle, knee, or hip injury should avoid this pose.
If pregnant, be sure to widen your knees and avoid placing any pressure on your abdominal area.
Related Poses:
Corpse Pose (Savasana): This beginner pose relaxes the whole body, making it ideal for use at both the start and end of a yoga sequence.
Knees to Chest Pose (Apanasana): This beginner pose stretches the spine and shoulders, massages back pain, and opens the hips.
Revolved Belly Pose (Jathara Parivartanasana): This beginner pose twists the spine, improves digestion, and massages the internal organs.
Reclining Hero Pose (Supta Virasana): This intermediate pose relieves lower back pain, opens the chest, and stretches the hips, knees, and ankles.
Trying It Out
Remember to keep your breathing full and steady as you follow these step-by-step instructions to try this pose out for yourself:
Step One
Start in staff pose (dandasana) and then tuck your feet underneath you so you end up sitting on your heels. Align your shoulders with your hips.
Step Two
Lean forward to rest your forehead on the floor. Lay your chest on the tops of your thighs.
Step Three
You can either place your hands beside your feet behind you with your arms extended or walk your fingertips in front of you until they stretch out in that direction. Breathe in this pose for as long as desired.
Refining the Pose
Achieving maximum benefit from your yoga practice requires you to pay close attention to your physical alignment. To ensure you maintain proper alignment, ask yourself these questions:
Are your arms comfortably placed?
Are you sitting on your heels?
Is your lower back relaxed? (Placing a sandbag on your lower back may help.)
Are your feet together with your toes pointed backward?
Is your neck relaxed?
Variations:
Child's Pose Both Arms to the Side (Balasana Variation Both Arms to the Side): This variation involves stretching your arms in front of you and then moving them to one side of your body to gently stretch both your arms and shoulders.
Child's Pose Hands Back (Balasana Variation Hands Back): This variation involves placing your hands on your back with your palms facing upward.
Hips Raised: This variation starts by resting your forehead on the floor with your arms stretched out in front of you. Then, raise your hips off your heels so your legs form a 45-degree angle.
Additional Resources: