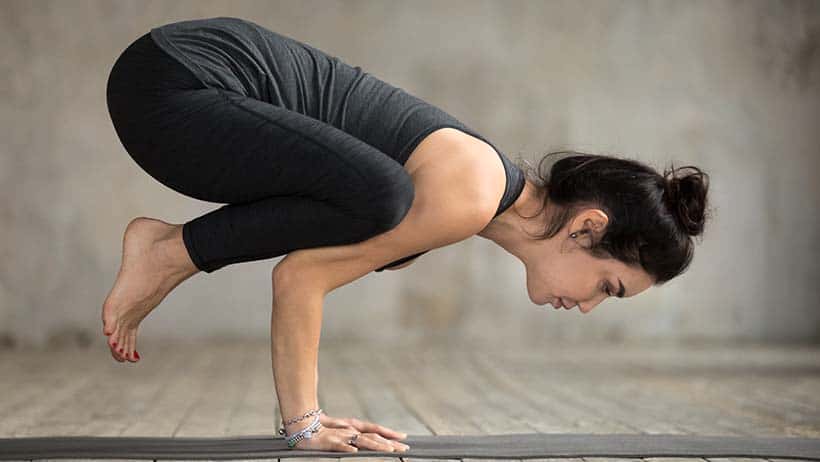 Every yoga pose, known in Sanskrit as an "asana," has its own way of bringing the body and mind into greater harmony. World-renowned yoga teacher B.K.S. Iyengar poetically compares the body to a bow and each asana to the various arrows with which individuals target the ultimate aim of yoga practice — the soul.
This guide offers an in-depth look at crow pose (kakasana).
About the Pose
काकासन​​
Kakasana
This pose inspires you to lift yourself off the ground like a bird in flight. Specifically, a crow. While it's similar to crane pose (bakasana), crow pose involves bending the arms whereas crane pose features straight arms. Most yogis consider this an essential pose to master in hatha yoga because kakasana embodies the goals of yoga very well — physical, mental, and emotional strength. While it tones your arms and stretches your buttocks, this pose also provides an opportunity to nourish your mental and emotional muscles. Many yoga poses offer opportunities for concentration and self-reflection. Crow pose will definitely help you soar into a sharper mindset as you tackle a strengthening challenge. Level: Advanced Key Benefits:
Strengthens the arms, wrists, and shoulders
Loosens the joints, tendons, and ligaments in the upper body
Opens the chest
Improves concentration
Provides a calming mindset for meditation
Specific Cautions:
Individuals with hip injuries, inflammation of the wrists, or carpal tunnel syndrome — as well as pregnant women — should avoid this pose.
Headaches or migraines also can present major obstacles to safely and pleasantly practicing this pose.
If you're menstruating, save this pose for a later time.
Related Poses:
Crane Pose (Bakasana): This advanced pose strengthens the shoulders, arms, buttocks, and hips.
Peacock Pose (Mayurasana): This advanced pose strengthens the chest, forearms, and core while also massaging the internal organs.
Rooster Pose (Kukkutasana): This advanced pose engages the core, expands the chest, and strengthens the arms, shoulders, and wrists.
Insect Pose (Dvihasta Bhujasana): This advanced pose enhances the flexibility of the hips and hamstrings, expands the chest, and develops arm and shoulder strength.
Pendant Pose (Lolasana): Another advanced pose that strengthens the arms and core while developing concentration and balance.
Shoulder-Pressing Pose (Bhujapidasana): This tricky pose works your arms, shoulders, and core, and requires a high degree of flexibility.
Recommended: Browse more of our guides on the art and practice of yoga to harmonize your body, mind, and soul.
Trying It Out
For this pose, Iyengar suggests using two folded blankets covered by a mat beneath your back, neck, and shoulders. Remember to keep your breathing full and steady as you follow these step-by-step instructions to try this pose out for yourself:
Step One
Squat on the floor with your feet and knees far apart from each other. Reach your arms between your knees to rest your fingertips on the floor in front of you.
Step Two
Lean forward to press your palms flat to the floor. Spread out your fingers and bend your elbows slightly outward. Tilt your body forward so the soles of your feet lift up from the floor. Your toes provide your main support at this stage to help you transition into the full pose. Rest your knees on the backs of your upper arms and keep your hands beneath your shoulders.
Step Three
Lift your head just enough so it's parallel to the floor. Gently shift the weight from your toes to your palms, but leave your toes on the ground so they can help you balance.
Step Four
Shift your entire weight onto your hands. Gently raise your feet one at a time and keep them relaxed. Your shins should be parallel to the floor with your knees pressing into your upper arms.
Step Five
Breathe in this pose for as long as it feels comfortable.
Refining the Pose
Achieving maximum benefit from your yoga practice requires you to pay close attention to your physical alignment. To ensure you maintain proper alignment, ask yourself these questions:
Is your head parallel to the floor or drooping forward?
Are your hands pointing forward?
Are your hips raised?
Is your weight balanced?
Are your feet up, but relaxed?
Are your hands beneath your shoulders?
Are your fingers spread out to support your weight?
Variations:
Crow Pose Feet to Sides (Kakasana Feet to Sides): This variation starts in crow pose, but then challenges your arm strength even more as you extend your legs out instead of keeping them bent and behind you.
Side Crow Pose (Parsaa Kakasana): This variation involves resting all of your weight on your left arm as your knees remain together and bent past the left side of your body.
Additional Resources: