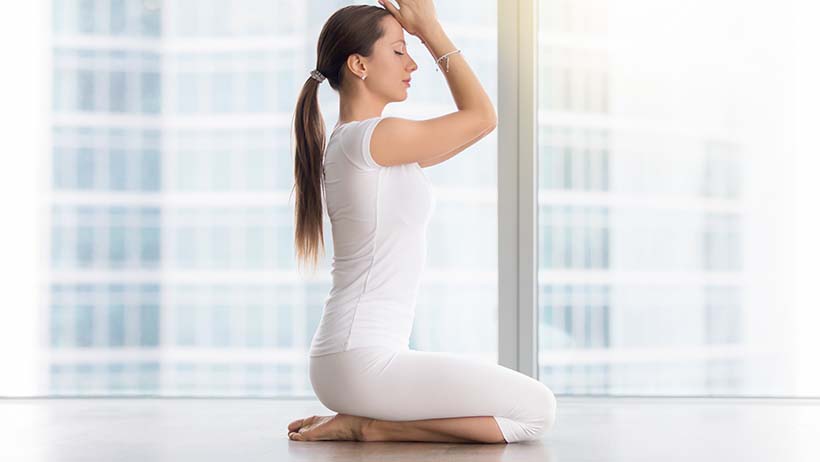 Every yoga pose, known in Sanskrit as an "asana," has its own way of bringing the body and mind into greater harmony. World-renowned yoga teacher B.K.S. Iyengar poetically compares the body to a bow and each asana to the various arrows with which individuals target the ultimate aim of yoga practice — the soul.
This guide offers an in-depth look at thunderbolt pose (vajrasana).
About the Pose
वज्रासन
Vajrasana
Vajrasana derives its name from "vajra," which can mean both "thunderbolt" and "firmness." Even a simple pose like this can bestow feelings of great power. It's special because it engages the vajra nadi — a tube of energy within your sushumna nadi or central channel associated with the power and ambition of the sun. This asana teaches that feeling powerful doesn't always require practicing the most complicated, twisted yoga pose, but sometimes involves just connecting with your roots in a simple, yet intentional way. Level: Beginner (Use vajrasana as a base pose for the start of a sequence or as a simple warm-up.) Key Benefits:
Promotes good posture
Improves digestion
Increases ankle flexibility
Stretches calves, thighs, and the groin
Strengthens pelvic muscles
Specific Cautions:
Individuals with an ankle, calf, knee, or hamstring injury should avoid thunderbolt pose. It also can prove problematic for those with arthritic knees.
People with hernias or ulcers should enlist a medical or yogic expert to guide them through this pose.
Related Poses:
Hero Pose (Virasana): This beginner pose helps develop your strength and endurance while easing tension in your hip joints, knees, groin area, and entire upper torso.
Staff Pose (Dandasana): This beginner pose opens the chest, corrects posture, reduces heartburn and flatulence, and tones leg muscles.
Bound Angle Pose (Baddha Konasana): This beginner pose aids in the treatment of urinary tract disorders, helps prevent hernias, and promotes overall health in both gender's genitalia and pelvic regions.
Recommended: Browse more of our guides on the art and practice of yoga to harmonize your body, mind, and soul.
Trying It Out
This pose requires only a comfortable surface on which to rest your thighs, but remember to keep your breathing full and steady throughout your practice. Follow these step-by-step instructions to try this pose out for yourself:
Step One
Start by sitting on a comfortable surface and stretching your legs out in front of you. Elongate your spine, close your eyes, and breathe deeply for a few breaths as you focus on making your spine as straight as possible.
Step Two
Inhale and bend your right leg underneath you so your right foot rests beneath your right buttock. Do the same for your other leg. Your big toes should touch each other, but don't press them together.
Step Three
Raise your buttocks so your weight doesn't crush your feet or ankles.
Step Four
Place your palms flat on your thighs just in front of your knees to keep your buttocks raised and your spine straight.
Step Five
Hold this position for at least eight full breaths and feel the energy flowing through your spine.
Refining the Pose
Achieving maximum benefit from your yoga practice requires you to pay close attention to your physical alignment. To ensure you maintain proper alignment, ask yourself these questions:
Are your ankles apart, but parallel to each other?
Are your big toes touching?
Did you distribute your weight evenly so the pose isn't painful?
Is your spine straight?
Are your hands relaxed, but flat on your thighs?
Is your chin level?
Variations:
Sleeping Thunderbolt Pose (Supta Vajrasana): This variation of vajrasana eases you into a gentle backbend down to the floor.
Thunderbolt Pose Reverse Prayer Arms (Vajrasana Paschima Namaskarasana): Starting in vajrasana, place your hands together in a prayer position behind your back. Alternatively, you can reach for the opposite elbow behind your back.
Sitting Wrist Stretch Pose: Instead of placing your palms on your thighs, place them palm up on the ground in front of you while your fingers point back at you. Lean forward just enough so your buttocks still touch your heels and you feel a comfortable weight stretching your wrists.
Additional Resources: