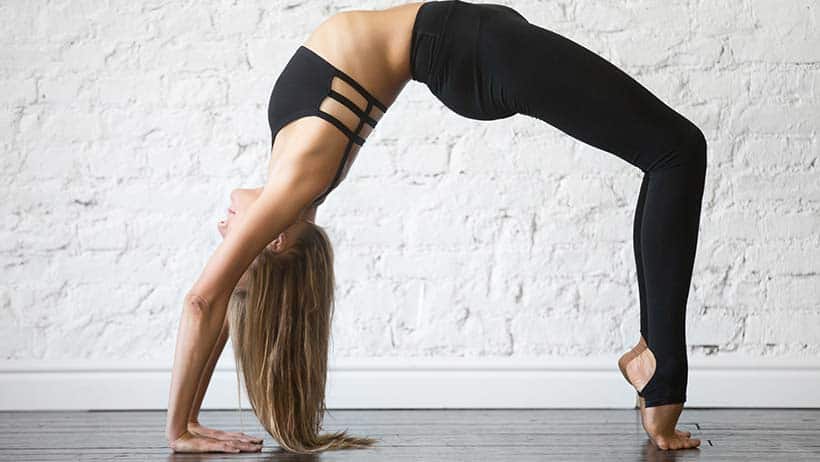 Every yoga pose, known in Sanskrit as an "asana," has its own way of bringing the body and mind into greater harmony. World-renowned yoga teacher B.K.S. Iyengar poetically compares the body to a bow and each asana to the various arrows with which individuals target the ultimate aim of yoga practice — the soul.
About the Pose
चक्रासन
Chakrasana
This pose is also known as upward bow pose (urdhva dhanurasana), but, in order to avoid mistaking it for regular bow pose, this guide will use the name "chakrasana." Chakras represent the turning wheels of energy located at different points along the human spine. "Chakra" is the Sanskrit word for "wheel," explaining the name of this pose in which your body nearly takes the shape of a wheel. Various religions feature affinities with things resembling or representing a circle because circles remind people of the eternal cycle of life and death. Let this pose remind you of the vast amounts of power and energy spinning inside you, urging you to align those forces and use them for good. Level: Intermediate Key Benefits:
Stretches the back and hips
Improves menstruation
Encourages healthy blood circulation
Strengthens the spine, abdomen, and thighs
Supports the abdominal and pelvic organs
Specific Cautions:
Iyengar recommends individuals with too high or too low blood pressure avoid this pose.
People suffering from diarrhea or constipation also should avoid this pose.
Don't practice this pose when you're tired or experiencing a severe headache or migraine.
People with cardiac conditions or ischemia should practice inverted staff pose (viparita dandasana) instead of chakrasana.
Related Poses:
Bow Pose (Dhanurasana): This beginner pose aligns the spine, tones abdominal organs, and stretches the hamstrings, calves, and legs.
Boat Pose (Navasana): This intermediate pose engages the core and strengthens the hip flexors.
Camel Pose (Ustrasana): This beginner pose improves posture, relieves back and shoulder stiffness, and increases lung capacity.
Bridge Pose (Setu Bandha Sarvangasana): This beginner pose encourages flexibility in the spine and shoulders, improves digestion, and expands the chest.
Recommended: Browse more of our guides on the art and practice of yoga to harmonize your body, mind, and soul.
Trying It Out
Remember to keep your breathing full and steady as you follow these step-by-step instructions to try this pose out for yourself:
Step One
Lie down on your back. Pull your heels to your buttocks so your knees bend. Align your feet with your hips. Bend your elbows and place your hands on the floor beside your ears so your fingers point toward your shoulders.
Step Two
Using your feet and hands as your main supports for this pose, flex your shoulder blades and back so you can lift your torso and buttocks off the floor. Keep your hands on the floor and your elbows shoulder-width apart.
Step Three
Now, lift your chest. Place the top of your head on the floor to help with the full transition. Clenching your back and buttocks, shift your weight away from your palms and more into your feet as you push your torso upward.
Step Four
Distribute your weight evenly between your hands and your feet and lift your head off the floor. Pull your spine up into your body as you arch. Keep your arms straight and your elbows locked. Move your head back slightly, but not too far, and breathe here for five to 10 seconds.
Refining the Pose
Achieving maximum benefit from your yoga practice requires you to pay close attention to your physical alignment. To ensure you maintain proper alignment, ask yourself these questions:
Are your feet flat on the floor?
Are your feet and hands pointing forward?
Are your feet parallel to each other?
Are your hands parallel to each other?
Are your fingers spread so they can more easily hold your weight?
Are your hips and shoulders pushing upward?
Is your back arched?
Variations:
Head and Foot Touching the Ground Pose (Sirshapada Bhumi Sparshasana): This advanced variation engages the core and upper back because you only use your head and feet as support to lift your back off the floor.
Additional Resources: