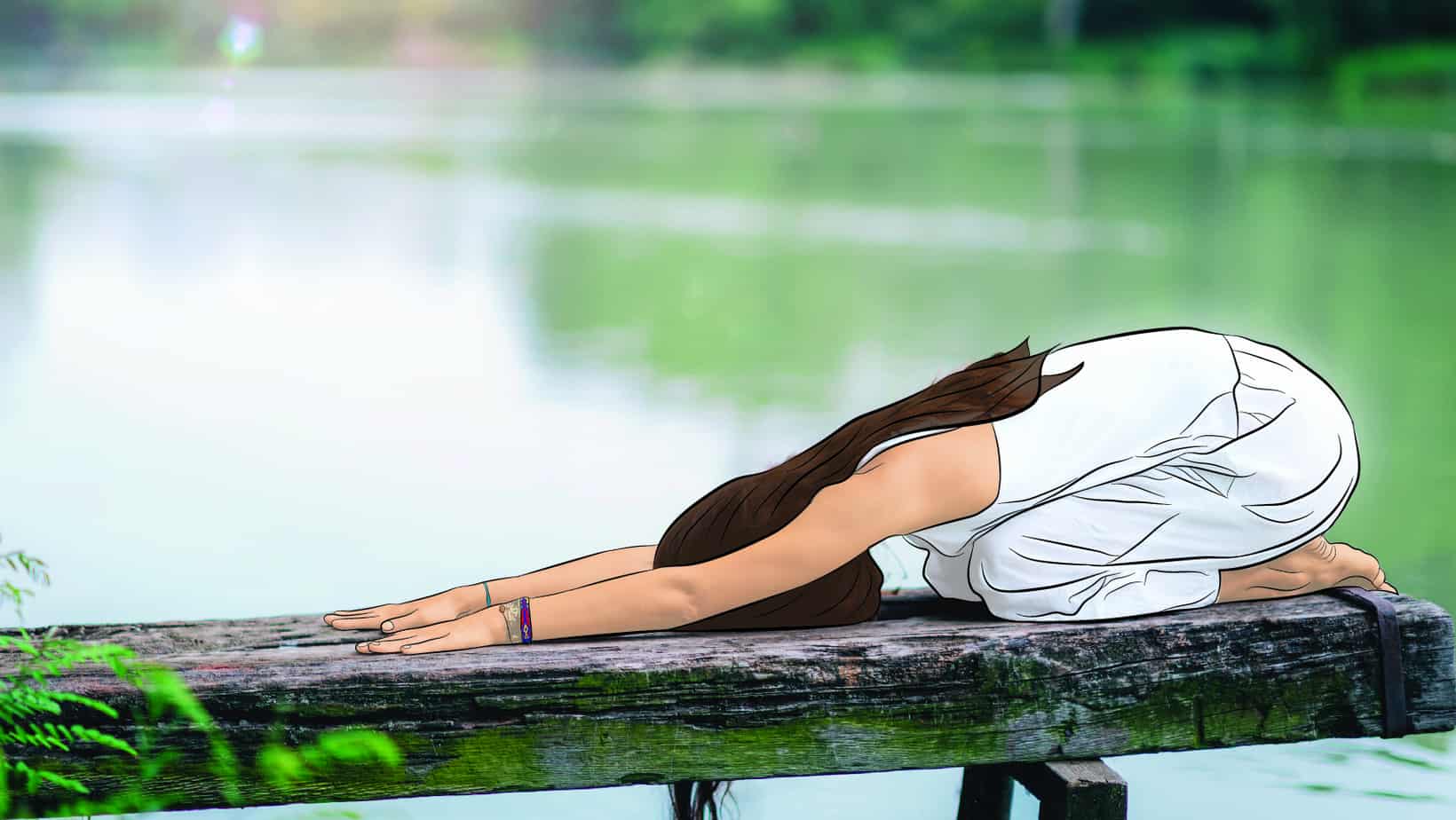 With a wide range of yoga styles to practice, everyone has a favorite. Many people prefer rigorous styles — such as power vinyasa, hot yoga, or ashtanga — because they offer a workout that incorporates meditation, increased flexibility, and body awareness. These styles also include the incredibly relaxing corpse pose (savasana) at the end of every class.
Whatever your favorite style, try to find a place for restorative yoga in your weekly routine. It can provide the intense recharge and healing you need to support all other physical activity. If you're new to yoga, this style offers a gentle introduction that will still challenge you and require the engagement of your mind, body, and emotions.
What is a Restorative Yoga Class?
Restorative yoga uses props — from bolsters and blocks to straps and blankets — to help yogis open, relax, and release in poses more fully than in other styles of yoga. These classes usually practice just a handful of poses so participants can hold each pose for a longer time period. This style of practice can therefore take on a calming, meditative quality. However, it also can prove very challenging as your body learns to let go of stress and your mind learns to find stillness while doing nothing — even as it races from thought to thought. Try these five restorative yoga poses and then consider adding them to your routine.
1. Child's Pose (Balasana)
This is probably the most popular resting pose in yoga, and you can practice it with or without props based on your preference. One especially comfortable and restorative variation of this pose positions a large bolster in between your legs. When you fold forward to lie down in the pose, your upper body will drape over the bolster.
Start in a seated position on your knees with your hips/buttocks reaching toward your heels.
Open your knees as wide as your mat and open your heart center toward the floor.
Rest your forehead on the floor and keep your arms by your side or reach them out in front of you, resting them on the mat.
Rest in this posture for several minutes.
2. Supported Bridge/Backbend Pose (Setubandha Sarvangasana)
Bridge pose is a mild inversion that supports relaxation by increasing blood flow to the head and brain. Locking the chin at the neck also promotes a peaceful mental state.
Lie on your back with your knees bent and place your feet just close enough to your body so you can brush your heels with your fingertips.
Place a block on its lowest height under your sacrum and rest your arms by your sides on the floor — either close to your body or opened out wide.
Hold this position for three to five minutes.
Turn the block to its next height level and hold for another three to five minutes — only if the lower height still feels comfortable after the first three- to five-minute hold.
Alternative — Supported Backbend:
Place a block on its lowest height just above the small of your back — away from your hips and toward the middle of your back — and then lie down flat over the block.
Extend your legs and rest your head on the floor with your shoulders reaching down. (This posture can prove more challenging than the supported bridge. When you move in and out of a supported backbend, use deep breaths and slow, conscious movements.)
At the end of three minutes, bend your knees, press your hips up, and remove the block.
Lie on the floor with your back flat for at least one minute, massaging your back with slow, full breaths.
Recommended: Browse more of our guides on the art and practice of yoga to harmonize your body, mind, and soul.
3. Supine Spinal Twist with Strap (Supta Matsyendrasana)
This is a mild twist that engages your abdominal muscles and stretches your lower back. It improves digestion, opens the chest, and promotes the health of internal organs such as the liver and kidneys.
Lie down on your back, bend your right knee, and place the sole of your foot on the floor.
Hook a strap fastened into a large loop over your left shoulder.
Start to twist, crossing your right knee to the left while lifting your hips so your right hip stacks directly on top of your left.
Move your right leg through the loop of the strap.
Adjust the strap, as needed, to make it tight enough so it feels supportive. Both of your shoulders should touch (or reach to touch) the floor.
Release fully into the twist with the strap doing the work of holding your body in place. You can either bend your right knee or extend your right leg.
Hold the pose for 30-60 seconds, then repeat on the other side.
4. Legs Up the Wall Pose (Viparita Karani)
This pose releases tension in your legs, lower back, and hips. It also relaxes the nervous system. By inverting your lower body, you reverse the flow of gravity. That reversal helps to relieve pressure and detoxify your body by draining lymphatic fluids from your legs.
Sit with the left side of your body against a wall.
Lie down on your right side, with your buttocks up against the wall and your legs out. Make sure your buttocks touch the wall.
Roll over onto your back and lean your heels and legs against the wall.
Keep your arms by your sides or, if you prefer, rest your hands on your belly.
Stay here for as long as you like — five to ten minutes is a good start.
5. Reclining Bound Angle Pose (Supta Baddhakonasana)
Reclining bound angle pose is one of the most relaxing poses. It can even be practiced by new mothers or by those who have recently undergone surgery. This pose opens the hips, relaxes the lower back, and aids circulation through the upper body and vital organs.
Lie on your back and bring the soles of your feet together.
Open your knees out to the sides, bringing your heels as close to your pelvis as possible.
Rest each of your knees on a bolster or block to lessen the intensity of the stretch. (This also gives you the opportunity to let your hips melt open and drop the weight of your knees fully onto the bolster or block.)
Restorative yoga can help you relax, recharge, and heal your body. It's ideal for people with trouble sleeping, concentrating, and/or relaxing. It's also a useful practice for those recovering from a physical injury because it teaches patience and body awareness — critical to allowing an injury to heal in the time it needs.