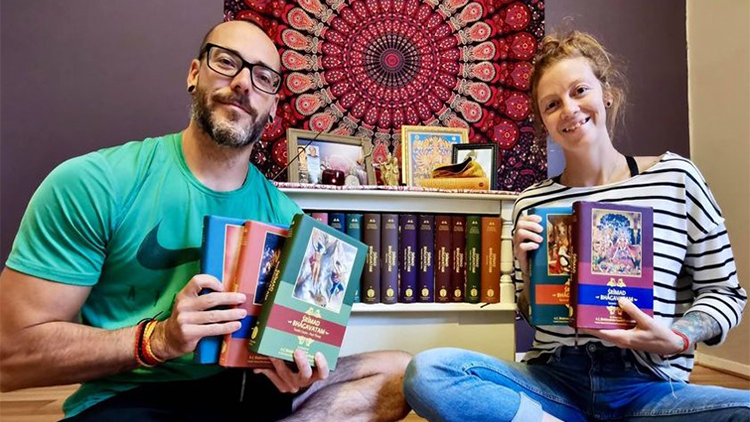 The Srimad-Bhagavatam, also known as the Bhagavata Purana, is an epic philosophical and literary classic that holds a prominent position among the wisdom texts of ancient India, known collectively as the Vedas. These ancient Sanskrit texts touch upon all fields of human knowledge.
Originally preserved through oral tradition, the Vedas were first put into writing by the sage known as Srila Vyasadeva. After he compiled the Vedas, Vyasadeva was inspired to present their most profound essence in the form of the Srimad Bhagavatam. If the Vedas as a whole are compared to a tree of knowledge, the Bhagavatam may be compared to a fully ripened, delicious fruit. It is the most complete and authoritative exposition of Vedic wisdom, covering everything from the nature of the self to the origin of the universe.
Stunningly Accurate Predictions
Some of the amazing revelations found in these ancient texts include:
A vivid description of Earth's greatest mass extinction, while also providing a date of 251.152 million years ago — within 0.2% of the contemporary estimate of paleontologists.
A detailed explanation of the lifecycle of the sun, including dates for its formation and eventual dissolution.
An astonishingly accurate date for the origin of our universe — 13.81 billion years.
A detailed account of the developmental phases of a human embryo within the womb from the moment of conception, thus proving the exact moment when "life" begins.
Outlining the Purpose of Human Life
However, the Bhagavatam's main attraction is not its stunning dates and scientific data, but its deeply profound description of the process of self-realization and the goal of human life — bhakti-yoga. The pinnacle of the Srimad Bhagavatam is its comprehensive presentation of the character, qualities, and pastimes of God (Krishna).
The occupational activities a man performs according to his own position are only so much useless labor if they do not provoke attraction for the message of the Personality of Godhead.

Life's desires should never be directed toward sense gratification. One should desire only a healthy life, or self-preservation, since a human being is meant for inquiry about the Absolute Truth. Nothing else should be the goal of one's works.

— Srimad-Bhagavatam 1.2.8 and 1.2.10
LIMITED TIME OFFER:
We're offering special editions of an eighteen-volume set of the Bhagavata Purana at a discounted price of only $200. Each edition includes:
Original Sanskrit text
English translation
Elaborate commentary
ORDER NOW
Shipping will be processed within 3 business days from Michigan, USA.