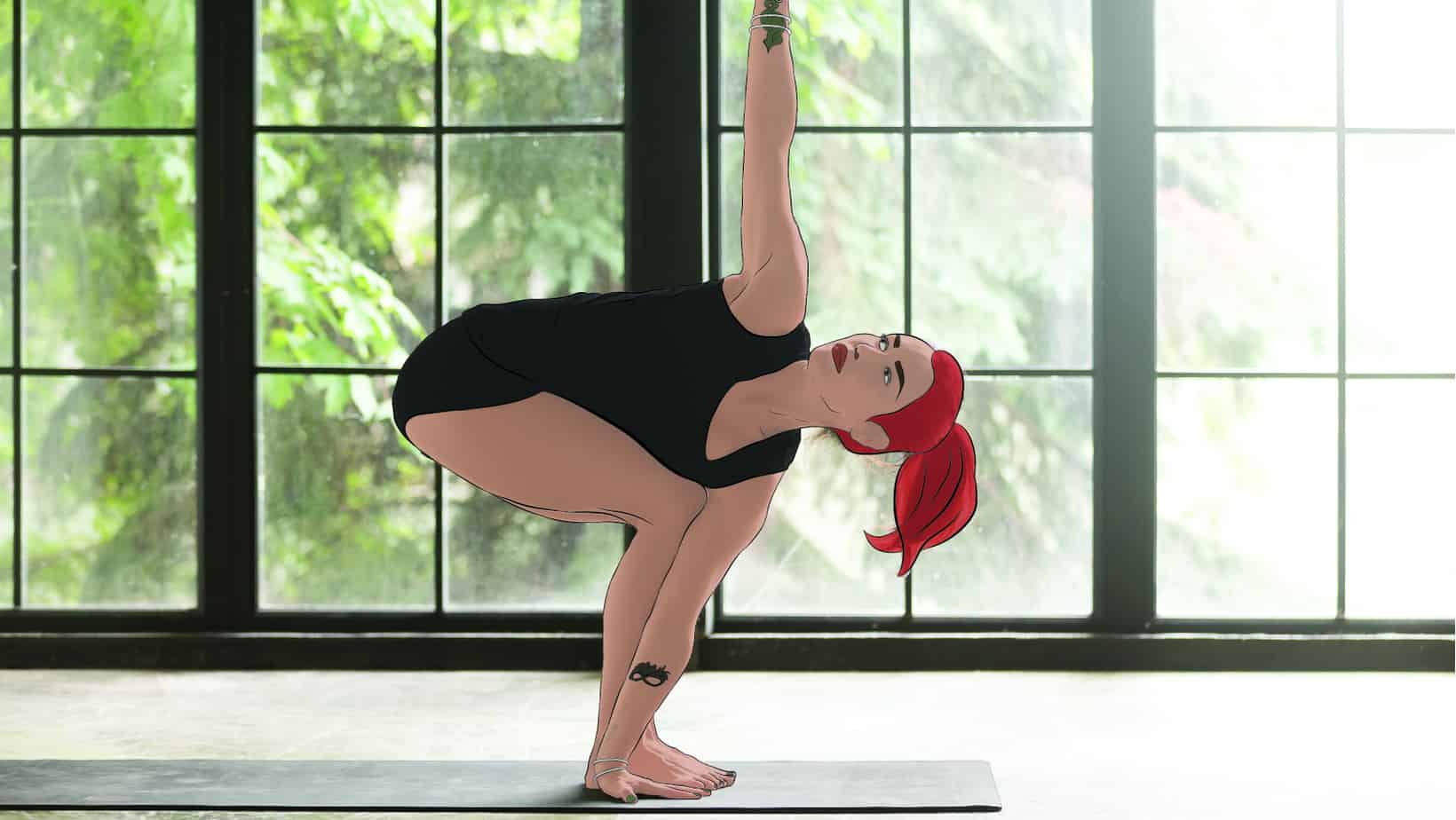 Yoga twists can feel like giving yourself a massage. The deep side stretching as well as the release in your neck, shoulders and lower back can provide a satisfying sensation after working in front of a computer, driving the daily commute, and carrying children, groceries or anything else around.
Twisting postures also support the energy required for a change in perspective. When you engage in a full twist, your view changes. You may, for example, look back over your shoulder or otherwise align your eyes over the side of your body rather than face forward. Over time, this can cultivate a healthy habit of realizing there's always more than one way to approach life's challenges.
Read on to learn about the health benefits of twisting, five twists to try, and why some people believe twisting can help detoxify the body.
Key Benefits of Twisting
Yoga twist poses can offer several key benefits, such as:
Promoting Overall Spine and Lower Back Health: By regularly stretching the back of your body to its full range of motion, you help keep your spine, lower back and soft tissues in this area supple, extended and flexible. This reduces the likelihood of your joints freezing and hardening.
Supporting Digestion: Twist postures also aid in digestion by stretching as well as moving or compressing your entire digestive system.
Neutralizing Other Poses: In the sequencing of a yoga practice, twists help to create a neutralizing effect on the body after you complete a backbend or work your abdominal muscles.
Sparking Feelings of Energy and Lightness: The actions of twisting and extending your spine — aided by attention to your breath — makes space in your spine. The energetic and physical effects of this process will create a lightness and freedom in your physical body as well as a mirrored effect in your attitude and overall feeling.
5 Yoga Twist Poses
Here are some popular twists, involving sitting, standing, and even a twisting arm balance:
1. Dynamic Twist Warm-Up
Sit in a comfortable, cross-legged position and take several breaths to allow your spine to lengthen and become straight.
Bring your hands to your shoulders with your elbows opening out to your sides.
Inhale to twist to the right and then exhale to twist to the left.
Continue twisting left and right, using your breath to guide you. (You can move slowly at first and as you begin to warm up, but then quicken the pace of both your breath and your movements.)
Continue these movements for 30 to 60 seconds before you come back to the center.
Exhale completely while keeping your hands on your shoulders and your elbows pointing outward.
Now, inhale to the top of your lungs and hold your breath.
When you're ready to release your held breath, let your hands float down to your knees.
Finally, take a few easy, full breaths as you sense the subtle movement of energy through your spine.
2. High-Lunge Twist
Stand at the top of your mat and fold forward on an exhale. Remember to bend at your knees and then tent your fingers on the floor.
Ground into your right foot and step your left foot back into a high lunge. (Be sure to align your right knee directly over your ankle.)
Steady yourself on your right foot and left toes and then raise your arms overhead.
Hold this position while breathing full, even breaths as you deepen your lunge and energetically lengthen your spine from your hips through the crown of your head.
Now, exhale and bring your hands together in front of your heart.
On a second exhale, twist to the right, press your palms together and bring your left elbow to your right knee.
Continue lengthening your spine, keeping your chin slightly tucked while the crown of your head extends forward at about 45 degrees. With each exhalation, deepen the twist.
Continue to hold the twist for five breath cycles, if possible.
3. Chair Twist
Stand with your feet together and your thighs and knees pulling together in an inward rotation.
Inhale and raise your arms overhead as you sit back into a high squat. (This squat resembles the movement of lowering yourself down into a chair.)
Pull your navel in and up, engaging your core muscles, and breathe a few steady breaths.
Exhale and bring your hands to the prayer position in front of your heart.
Take another breath as you sink down a little deeper into the squat.
As you exhale, twist to the right and lean forward slightly to bring your left elbow to your right knee. Allow your breath to settle and observe the subtle sensations in your lower back, up your spine, and into your shoulders.
Hold this twist for five breaths, and then repeat on your left side.
4. Side Crane Pose
Stand with your feet together, facing the short end of your yoga mat.
Bend your knees as you lower yourself into a deep squat. (Let your heels come off the floor and bring your bottom as close to your heels as possible while you balance on your toes.)
Bring your hands to the prayer position in front of your heart then twist to the right, rising up high on your toes and working the upper left arm to the outside of your right knee.
Take a few breaths in this position.
Now, bring your hands to the floor on your right side with your fingers pointed toward the long end of your yoga mat.
Bend your elbows and stack your knees onto your left elbow while you support your right hip on your right elbow.
Lean into the shelf you just created with your upper arms and let your feet float off the floor.
Hold this position for five to 10 breaths.
Note: Before practicing this pose, try the warm-up and standing twists described above. The side crane pose — in which you lean your body weight into your balancing arms on top of your twist — is more intense than the previous poses. As with any other yoga pose, listen to your body and take a step back if you experience any pain.
5. Revolved Triangle
Stand with your feet together at the top of your yoga mat.
Plant your right foot and step your left foot back about three feet, aligning your heels and angling your back toes forward at about 45 to 60 degrees.
Square your hips forward and hinge at the waist until you reach a flat-back posture. (The crown of your head should reach straight ahead.)
Keep your hips square by drawing your left hip forward as you tent your left fingertips on the floor toward the outer edge of your right foot. (Move slowly and use a few breaths in each step toward the complete pose to allow yourself to gradually open into the pose.)
Now, as you exhale, begin to twist open to the right while raising your right arm straight up to reach toward the ceiling.
Hold this position for 30 to 60 seconds, working to lengthen through your spine on each inhale and incrementally deepen the twist on each exhale.
Recommended: Browse more of our guides on the art and practice of yoga to harmonize your body, mind, and soul.
Debate: Do Twists Detox the Body?
If you regularly attend yoga classes, you may have heard some teachers describing a deep detox provided by spinal twists. This idea is that this detox occurs through a "wringing out" or a "squeeze and soak" movement in the organs, such as the liver. This language — popularized by B.K.S. Iyengar, the founder of the style of yoga called "Iyengar yoga" — became the subject of debate in the last decade or so.
Some people express concern about the lack of scientific evidence that humans can wring or squeeze out liver toxins by twisting and then flush or soak their organs with fresh blood as they release a twist. Check out this article for a perspective from modern science as well as discussions about this claim in a respected yoga blog and journal.
As interesting as this debate is, it's not always possible to rely on modern science to fully explain the effects and benefits of yoga because formal research on the topic remains limited. Some yoga-related publications reported full support of the liver detox benefits provided by twists just a few years before the articles linked above.
Regardless of where you stand on this matter, you can still enjoy and benefit from the notion of detoxing the body through twisting as more of a subtle body or energetic phenomenon. Twisting does create a massaging effect throughout the body while also building heat and increasing flexibility. The action of turning your gaze to look over your shoulder in a twist also provides a metaphor for developing a fresh perspective. Ultimately, twists can empower you to see your situation differently and maybe even discover other options from what you previously believed available.