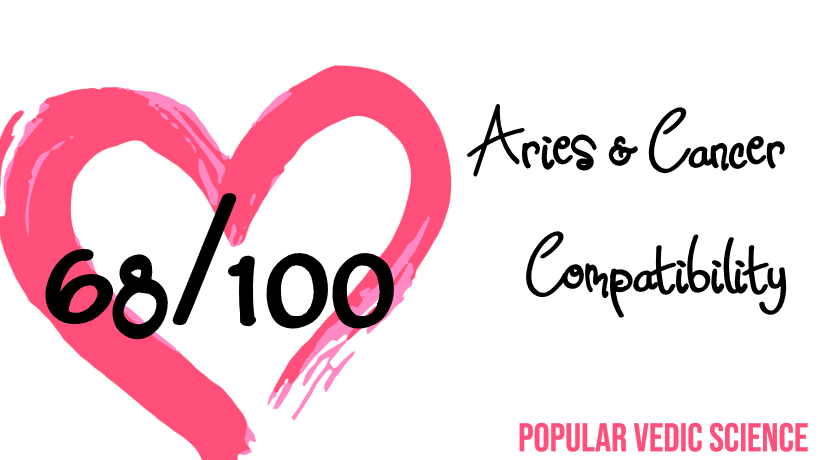 In this article we break down the astrological compatibility of Aries and Cancer signs, in terms of strengths and challenges in the relationship, romantic compatibility, communication, and more. We give tons of practical insights on how to nourish your relationship and overcome obstacles you'll likely face.
Recommended: Learn more about yours and your partner's overall personality, check out our complete guides to Aries and Cancer zodiac signs.
Aries Overview
Sign of the Ram. Aries natives are head-strong, and can be natural leaders. However, their competitive side might get them into trouble!
Ruled by Mars. Mars is the planet of war, explosions, sudden events, and land. Martian individuals are hard-working and self-confident.
A fire sign. Those with an Aries moon are temperamental, passionate, and energetic.
A movable sign. Persons born under this sign are fluid, spontaneous, and fond of change.
A masculine sign. This makes the native aggressive, bold, and thick-skinned.
Core Strengths
Natural born leaders
Ambitious and hard-working
Friendly and caring
Intelligent
Main Weaknesses
Overactive — may take on too much and leave things unfinished
Headstrong and reckless
Proud and boastful
Cancer Overview
Sign of the Crab. Cancerians are resilient, emotionally defensive, and progress through numerous different phases in life..
Ruled by the Moon. The Moon is the planet of the mind, motherhood, emotions, beauty, and water. Lunar individuals are creative and nurturing.
A water sign. Those with a Cancer moon are perceptive, artistic, and sentimental.
A movable sign. Persons born under this sign are fluid, spontaneous, and fond of change.
A feminine sign. This makes the native receptive, sensitive, and empathetic.
Core Strengths
Wise and contemplative
Calm
Empathetic
Artistic
Main Weaknesses
Non-confrontational
Prone to brooding and depression
Can experience mood swings
Easily influenced by others
How Aries Approaches Relationships
Aries natives make excellent romantic partners when they see eye-to-eye with their spouse and experience genuine love and trust in the relationship. In fact, they might even become overly submissive out of a desire to please their partner. Ariens should make sure to be honest and open about their personal feelings and needs so that their partner has a chance to properly reciprocate with all that they are putting into the relationship.
How Cancer Approaches Relationships
Cancerians take their romantic life seriously—sometimes too much so. They have a sensitive heart, and they may be disappointed in relationships if they give it to someone who doesn't reciprocate their feelings. However, they can be very thoughtful and dedicated spouses, especially when they find the right partner.
Planetary Compatibility
When assessing the compatibility of any two Zodiac signs, one of the first things to look at is the planetary friendships. Aries is ruled by Mars, a planet of youthful energy who loves competition, and Cancer is ruled by the Moon, a planet of royalty, dignity, and leadership.
Thankfully, Mars and the Moon are friendly planets. Though they have unique value systems, their personalities tend to be compatible rather than antagonistic. They both value interpersonal relationships, and they are willing to sacrifice their own interests for the people they love.
Strengths of the Relationship
Aries and Cancer partners are both committed and loyal partners. They are invested in their friendships and relationships, and they actively try to maintain good relations with the people they care about. They do not easily forget a friend, and they are always willing to forgive others.
You and your partner can mutually support each other in your creative endeavors. You may connect and deepen your relationship through your artistic or professional work. Depending on your skill sets, you may even be able to start a business together.
Another strength of the Aries–Cancer relationship is that you will both care for one another and support each other through times of difficulty. You will both feel love, affection, and compassion for one another, and you will do whatever you can to make your partner happy.
Challenges in the Relationship
One of the main challenges Aries and Cancer partners may face is that they have different ways of expressing themselves, and this may cause turbulence if they don't understand and respect one another's differences. Aries natives are passionate and even impatient at times, whereas Cancer natives tend to be cool, calm, and collected. This difference can be a cause of argument and misunderstanding in the course of day-to-day life.
Another aspect of the Aries–Cancer relationship is that Aries is a fire sign whereas Cancer is a water sign. The Aries partner may feel unsupported or disappointed if their Cancer spouse doesn't show excitement about joint plans. By contrast, the Cancer partner may feel hurt if the Aries partner doesn't show sufficient empathy for their frequently shifting moods.
In general, Aries is a more independent sign. They value words of praise and practical support from their spouse. Cancer natives are more dependent, and emotional connection is more important to them. These differences are likely to contribute to the problems that arise in the relationship.
The Sexes at a Glance
The Aries Man
Influential
Spirited
Physically strong
Passionate / romantic
Egotistical
Likely to change residence
The Aries Woman
Straightforward
Outgoing
Ambitious
Dominant in relationships
Harsh in speech
Self-centered
The Cancer Man
A family man
Moral
Affectionate
Soft-hearted
Possessive
Weak
The Cancer Woman
Responsible
Family-oriented
Doting
A worrier
Superstitious
Fussy
Romantic Compatibility
As a fire sign, Aries is very passionate, and physical intimacy is very important for them. Cancer, being a water sign, tends to value emotional connection more. Thus there must be a dynamic of give-and-take in order for both partners to feel satisfied. Both partners should endeavor to understand one another's needs and wants, and see how they can best contribute to each other's feeling of fulfillment.
Things You Can Do Together
Both Aries and Cancer natives enjoy the outdoors. Hiking, biking, kayaking, swimming, and any other outdoor activities are great ideas for Aries and Cancer couples. However, since Cancerians are usually less athletic, they are likely to be less interested in strenuous physical sports than their Aries counterparts. Art is another common interest shared by Aries and Cancer individuals. Try connecting over music, a good book, or learning a new type of visual art, such as pottery. Cooking is another hobby that is likely to interest both you and your partner.
How Aries and Cancer Communicate
Aries is a friendly, fun-loving sign. They like to joke around. Cancers tend to be more empathic and emotional in their speech. They like philosophical conversations and deep emotional connection. Ariens like to make others feel good about themselves. Cancers value vulnerability. Although in general these two communication styles go fine together, problems may still arise.
For each sign, there are different strengths and weaknesses. Rather than focusing on what you don't like about your partner, try to see their strengths. There will inevitably be differences in communication styles between you and your partner. The key is to find respectful ways you and your partner can express yourselves while still staying true to your core values.
Summary and Overall Score
On average Aries and Cancer natives score 68/100.  This makes Aries and Cancer slightly compatible signs. Their strengths may be able to help them overcome the numerous challenges they will face in a partnership.
No two people are perfectly compatible. Thus, there is no such thing as 100/100 compatibility. For Aries, the best score attainable is with a Leo partner, which scores 88/100. The idea is that every relationship requires self-sacrifice, respect, and mutual effort.
Note: Astrological compatibility is a highly nuanced science, and it is always a good idea to get a complete reading from a skilled astrologer to learn about the specifics of your personal chart and your romantic compatibility with your partner.
The 12 Signs of the Zodiac
Learn about each of the twelve signs of the zodiac.