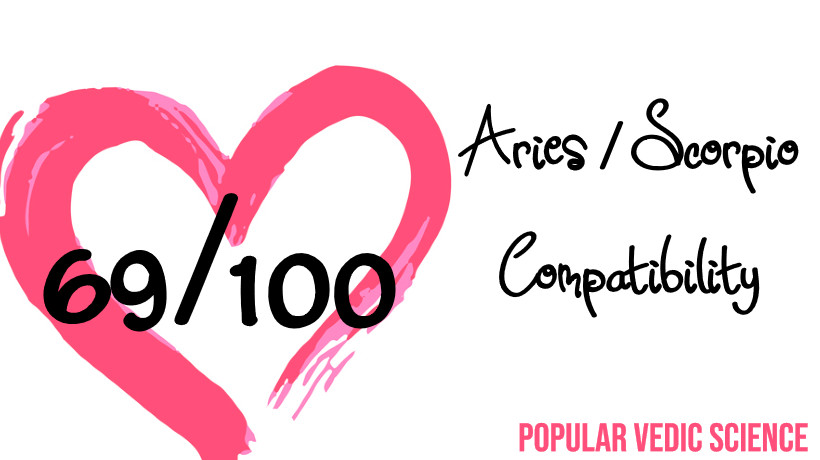 In this article we break down the astrological compatibility of Aries and Scorpio signs, in terms of strengths and challenges in the relationship, romantic compatibility, communication, and more. We give tons of practical insights on how to nourish your relationship and overcome obstacles you'll likely face.
Recommended: Learn more about yours and your partner's overall personality, check out our complete guides to Aries and Scorpio zodiac signs.
Aries Overview
Sign of the Ram. Aries natives are head-strong, and can be natural leaders. However, their competitive side might get them into trouble!
Ruled by Mars. Mars is the planet of war, explosions, sudden events, and land. Martian individuals are hard-working and self-confident.
A fire sign. Those with an Aries moon are temperamental, passionate, and energetic.
A movable sign. Persons born under this sign are fluid, spontaneous, and fond of change.
A masculine sign. This makes the native aggressive, bold, and thick-skinned.
Core Strengths
Natural born leaders
Ambitious and hard-working
Friendly and caring
Intelligent
Main Weaknesses
Overactive — may take on too much and leave things unfinished
Headstrong and reckless
Proud and boastful
Scorpio Overview
Sign of the Scorpion. Scorpio natives are intense and secretive. They may react harshly if provoked.
Ruled by Mars. Mars is the planet of war, explosions, sudden events, and land. Martian individuals are hard-working and self-confident.
A water sign. Those with a Scorpio moon are perceptive, artistic, and sentimental.
A fixed sign. Persons born under this sign are steady, predictable, and slow to change.
A feminine sign. This makes the native receptive, sensitive, and empathetic.
Core Strengths
Calm and composed
Straightforward and honest
A sharp and perceptive thinker
A powerful speaker
Main Weaknesses
Insensitive
A severe critic
Somewhat of a miser
May be pessimistic and grumpy
How Aries Approaches Relationships
Aries natives make excellent romantic partners when they see eye-to-eye with their spouse and experience genuine love and trust in the relationship. In fact, they might even become overly submissive out of a desire to please their partner. Ariens should make sure to be honest and open about their personal feelings and needs so that their partner has a chance to properly reciprocate with all that they are putting into the relationship.
How Scorpio Approaches Relationships
Scorpio-natives are passionate lovers. They can form an intense bond with their significant other. However, there is a risk of falling "head-over-heels" for a person without checking to ensure the two of you are actually compatible for the long-term. They may also become attracted to men or women who are not available.
Planetary Compatibility
When assessing the compatibility of any two Zodiac signs, one of the first things to look at is the planetary friendships. Aries and Scorpio have a unique planetary connection, as they are both ruled by Mars, the planet of energy, action, and desire. This shared Mars influence can lead to a strong bond and powerful physical attraction between these two signs.
However, in Vedic astrology, Scorpio is co-ruled by Ketu, or the Moon's southern node, which is associated with spiritual lessons, past-life karma, and deep introspection. This co-rulership adds a layer of complexity and depth to the Scorpio personality, making them appear mysterious and somewhat elusive. Aries, known for its straightforward and candid demeanor, may find it challenging to fully grasp the depth and complexity of Scorpio's Ketu-influenced character. This blend of influences can create an powerful and fascinating dynamic in their relationship, but also calls for a high degree of understanding and patience from both signs to successfully navigate the relationship.
Strengths of the Relationship
The Aries and Scorpio relationship is marked by a strong, deep connection. Both Aries and Scorpio are ruled by Mars, the planet of passion and drive. This shared ruling planet leads to a deep understanding between the two signs, creating a bond that's energetic and dynamic. The two signs often admire each other's strengths – Aries admires Scorpio's depth and strategic mind, while Scorpio appreciates Aries' courage and initiative.
Another strength of this pairing is their mutual respect for independence. Both Aries and Scorpio value their autonomy and aren't afraid to embark on solo ventures. This respect for each other's individuality can create a balanced relationship where each partner feels free to pursue their own interests without feeling restrained by their partner.
Challenges in the Relationship
The relationship between Aries and Scorpio isn't without its challenges. Aries, as a fire sign, is open, direct, and spontaneous, whereas Scorpio, a water sign, is secretive, intense, and emotionally complex. These fundamental differences in personality can lead to misunderstandings and conflicts. Aries might find Scorpio's emotional depth overwhelming, while Scorpio might view Aries' straightforwardness as too blunt or insensitive.
Another potential challenge is their different approaches to conflict. Aries prefers to address issues head-on and immediately, while Scorpio tends to hold onto grudges and can harbor resentment. These differences require both signs to exercise patience and understanding in order to maintain harmony in their relationship.
The Sexes at a Glance
The Aries Man
Influential
Spirited
Physically strong
Passionate / romantic
Egotistical
Likely to change residence
The Aries Woman
Straightforward
Outgoing
Ambitious
Dominant in relationships
Harsh in speech
Self-centered
The Scorpio Man
Patient
Determined
Outwardly calm, but aggressive within
Proud
Difficult to understand
Enjoys a good struggle
The Scorpio Woman
Ambitious
Loyal friend
Dedicated wife
Arrogant
Secretive
Vengeful
Romantic Compatibility
When it comes to romantic compatibility, Aries and Scorpio can form a passionate and rewarding relationship. The shared influence of Mars fuels a strong physical attraction and a shared sense of adventure. Scorpio's emotional depth brings a level of intimacy and emotional bonding that Aries finds captivating, while Aries' spontaneity and enthusiasm inject excitement into the relationship.
However, for this passionate relationship to work long-term, both Aries and Scorpio will need to exercise understanding and patience. Aries must be willing to navigate Scorpio's emotional waters, and Scorpio will need to accept Aries' need for independence and direct communication. If these challenges can be met, the Aries-Scorpio relationship can be deeply rewarding.
Things You Can Do Together
Aries and Scorpio have a shared love for adventure and challenge, which can lead to a number of exciting activities they can enjoy together. Outdoor activities such as hiking, camping, or exploring new places can satisfy Aries' need for adventure and Scorpio's love for mystery and exploration.
They might also enjoy competitive activities or games, as both signs are highly competitive and enjoy a good challenge. This could include sports, strategic board games, or even friendly debates. These shared activities can serve to deepen their bond and provide a healthy outlet for their competitive nature.
Because they are both very passionate signs, another area of common interest could be activism. Attending rallies, or organizing a food drive or other charitable project could be a rewarding way to spend time together and also deepen your relationship.
How Aries and Scorpio Communicate
Communication between Aries and Scorpio can be complex due to their different communication styles. Aries is direct and candid, preferring to express their thoughts and feelings openly. Scorpio, on the other hand, is more reserved, often choosing to keep their thoughts and feelings to themselves.
Despite these differences, both Aries and Scorpio value honesty and can have deep, meaningful conversations once trust is established. Aries can learn to be more sensitive to Scorpio's emotional depth, while Scorpio can appreciate Aries' straightforwardness. The key to successful communication between these two signs is mutual respect and understanding, as well as the willingness to navigate each other's communication styles with patience and care.
For each sign, there are different strengths and weaknesses. Rather than focusing on what you don't like about your partner, try to see their strengths. There will inevitably be differences in communication styles between you and your partner. The key is to find respectful ways you and your partner can express yourselves while still staying true to your core values.
Summary and Overall Score
On average Aries and Scorpio natives score 69/100.  This makes Aries and Scorpio moderately compatible signs. Their strengths are likely to help them overcome the challenges they will face in a partnership.
No two people are perfectly compatible. Thus, there is no such thing as 100/100 compatibility. For Aries, the best score attainable is with a Leo partner, which scores 88/100. The idea is that every relationship requires self-sacrifice, respect, and mutual effort.
Note: Astrological compatibility is a highly nuanced science, and it is always a good idea to get a complete reading from a skilled astrologer to learn about the specifics of your personal chart and your romantic compatibility with your partner.
The 12 Signs of the Zodiac
Learn about each of the twelve signs of the zodiac.