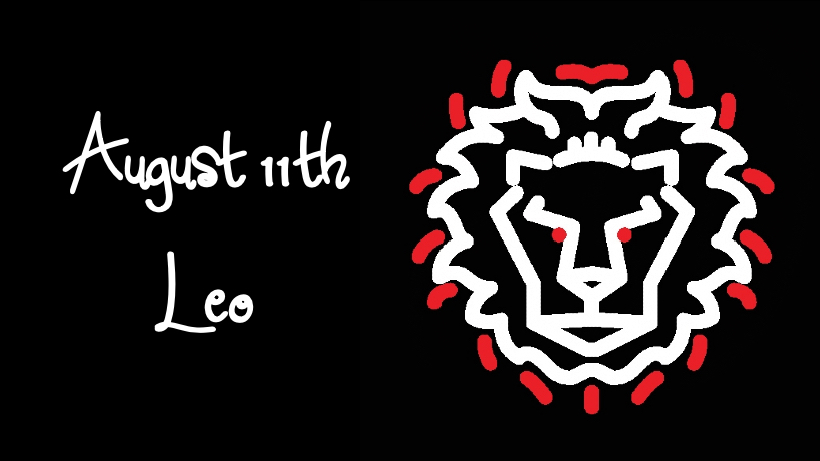 Were you born on August 11th? If so, then according to Western astrology your zodiac sign is Leo, the sign of the lion. This means that when you were born, the Sun was in the stars that make up the constellation known as Leo. Learn the basics of your horoscope below.
Leo Overview
Leo is known as सिंह (simha) in Sanskrit, or "lion." Each sign of the zodiac is characterized by certain basic traits. This includes Symbol, Planetary Ruler, Element, Nature, and Gender. The general make-up of the Leo sign is below:
Sign of the Lion. Leo natives are noble and powerful. They may unknowingly intimidate others with their strong presence.
Ruled by the Sun. The Sun is the planet of the self, fatherhood, government, authority, status, and will-power. Solar individuals are bright and influential.
A fire sign. Those with a Leo moon are temperamental, passionate, and energetic.
A fixed sign. Persons born under this sign are steady, predictable, and slow to change.
A masculine sign. This makes the native aggressive, bold, and thick-skinned.
Leo's preferred gemstone is the ruby. Leos can also benefit from red spinel and rhodolite.
Traits of the Sun in Leo
In Western Astrology, also known as Tropical astrology, a person's sign is determined by the position of the Sun. If you were born on August 9th, then you're considered a Leo according to most people in the Western world.
The influence of the Sun in a birth chart will change depending on which house it is located in, its relative position in relation to other planets, as well as other factors. However, the following general traits are likely to be found in a native whose Sun is in Leo:
You possess great courage. Here the Sun has come to his own sign of Leo. This is a very powerful combination. You are a natural leader — you are fearless, bold, and charismatic. Others admire you and trust you. They feel safe and confident with you. You like to take care of the people around you.
You are self-confident. You know what you want in life and you exert great effort to achieve your goals. You don't let others get in your way. You can easily overcome whatever challenges you come across in life.
You love the outdoors. You have an independent spirit and you enjoy time away from people. You also like to be physically active. Hiking in the woods and mountains is rejuvenating for you. Too much time in urban areas may cause you to become lethargic or depressed.
You have lots of stamina. You are capable of working very hard for prolonged periods of time. This makes you a good leader, since you are able to inspire others even when they are feeling weak or exhausted. However, you will also need to take periodic breaks to replenish your energy levels.
You are a voracious eater. You like to eat, and you may gain weight if you aren't careful. It is best if you can follow a vegetarian diet. This will help you avoid heart problems later on in life, and it will also keep you physically fit and strong.
RECOMMENDED: Check out all our articles on Vedic astrology to learn more about the different signs of the zodiac, as well as the planets, houses, and nakshatras.
Leo Careers
Leo-natives are passionate idealists. They excel in leadership roles but may have a difficult time taking direction from others.
Recommended careers: Anything that puts their visionary mind to good use. Leos can be terrific politicians, publishers, producers, directors, entrepreneurs, artists, actors, writers, or designers.
Careers to avoid: Your tendency to see the big picture can sometimes cause you to overlook important details. Careers that require attention to detail may not be the best choice. For example, accountants, carpenters, auditors, librarians, or copy editors.
Leo Mantras
A mantra is a short phrase that uplifts and cleanses our mind, heart, and consciousness. Most suffering takes place only within the mind, and by practicing mantra meditation, we can experience total relief from all suffering and negativity.
The Vedic wisdom texts offer many different mantras, powerful and sacred sound vibrations, that are customized for each individual depending on their unique, personal circumstances.
Leos can especially benefit by meditating with the following mantra:
ॐ रामाय​ नमः
Om ramaya namaha
The Vedas contain many mantras that are effective for different people according to their particular situation. However, some mantras are universal. The following maha-mantra, or "super mantra," is beneficial for people born in any zodiac sign:
हरे कृष्ण हरे कृष्ण कृष्ण कृष्ण हरे हरे
हरे राम हरे राम राम राम हरे हरे
Hare krishna hare krishna krishna krishna hare hare
Hare rama hare rama rama rama hare hare
RECOMMENDED: In ancient times, all astrologers made calculations using the same sidereal system that's used in Vedic astrology. Check out our article on the differences between Western and Vedic astrology to learn more.
Famous Birthdays on August 11
Chris Hemsworth
Joe Rogan
Viola Davis
Events in History on August 11
2020: US Democratic candidate for President Joe Biden announces California Senator Kemala Harris is his running mate, the 1st woman of color selected by a major party
1885: $100,000 raised in US for pedestal for Statue of Liberty
Learn About the Zodiac
Learn more about your Zodiac Sign by checking out our complete guide on Leo. You can also learn about the signs of your friends and family!
Find the birth sign of any day of the year! Check out our comprehensive archive page where you can easily look up the Zodiac Sign for any day of the year!
Discover Your Nakshatra
In Vedic astrology the nakshatra is a used to determine many important aspects of a your life and personality. We have developed a free nakshatra finder you can use to look up your nakshatra.