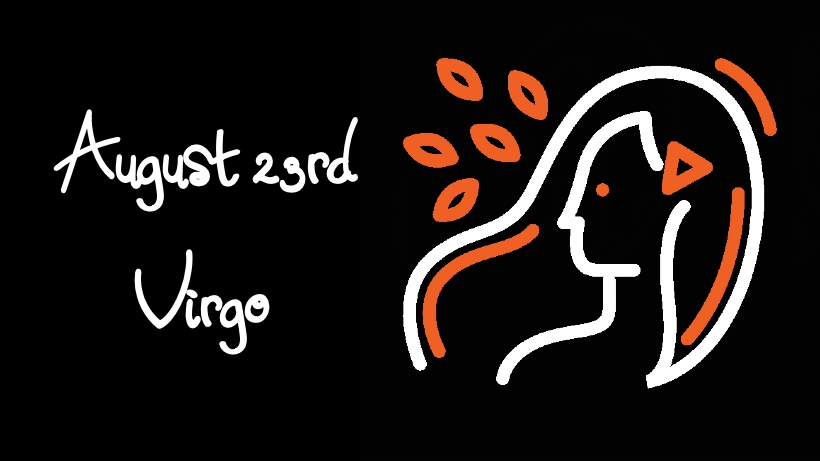 Were you born on August 23rd? If so, then according to Western astrology your zodiac sign is Virgo, the sign of the Virgin. This means that when you were born, the Sun was in the stars that make up the constellation known as Virgo. Learn the basics of your horoscope below.
Virgo Overview
Virgo is known as कन्य​ (kanya) in Sanskrit, or "virgin." Each sign of the zodiac is characterized by certain basic traits. This includes Symbol, Planetary Ruler, Element, Nature, and Gender. The general make-up of the Virgo sign is below:
Sign of the Virgin. Virgo natives are intelligent and resourceful. They may experience conflicting feelings and desires in life.
Ruled by Mercury. Mercury is the planet of thought, the nervous system, communication, and literature. Mercurial individuals are hard to predict. Their minds move so quickly that others have a hard time keeping up.
An earth sign. Those with a Virgo moon are dexterous, thoughtful, and practical.
A dual sign. Persons born under this sign are adaptable and multi-talented.
A feminine sign. This makes the native receptive, sensitive, and empathetic.
Virgo gemstone: emerald. Virgo natives can also benefit from green tourmaline and peridot.
Traits of the Sun in Virgo
In Western Astrology, also known as Tropical astrology, a person's sign is determined by the position of the Sun. If you were born on August 23rd, then you're considered a Virgo according to most people in the Western world.
The influence of the Sun in a birth chart will change depending on which house it is located in, its relative position in relation to other planets, as well as other factors. However, the following general traits are likely to be found in a native whose Sun is in Virgo:
You have a strong memory. Ruled by Mercury, Virgo brings ample mental strength. You pay attention to the events in your life and do not easily forget the people who have helped you, or those who have done you wrong.
You enjoy serving others. You have a natural inclination to serve others, especially people in religious, spiritual, or charitable positions. Service is a major part of your personal spirituality.
You are skilled in science and the arts. Mercury also brings artistic gifts. You are knowledgeable and talented in writing, calligraphy, art, and mathematics. And your strong memory enables you to learn almost anything.
You have feminine features. As a feminine sign, Virgo is recognized by soft features. You may not have much physical or mental stamina, but you excel in empathy and emotional intelligence.
You can be shy. You prefer to be in the background and do not like receiving too much attention for your work. You have a hard time asserting yourself in personal relationships and in the workplace.
RECOMMENDED: Check out all our articles on Vedic astrology to learn more about the different signs of the zodiac, as well as the planets, houses, and nakshatras.
Virgo Careers
Virgos are multi-talented individuals who can succeed in a number of different professions. However, they generally prefer to take up a helper role and are rarely to be found in the driver's seat.
Recommended careers: Virgos do well in careers involving hard facts, data, and anything service-related. They can make good mathematicians, scientists, linguists, architects, or researchers. Their literary and scholastic talent can make them excellent teachers, writers, or journalists.
Careers to avoid: Roles involving a high degree of leadership would likely not suit a Virgo. For example, CEOs, principals, or deans. Virgos are also dispassionate by nature. This means they may want to avoid roles which require a high level of empathy, such as a career in counseling, coaching, or childcare.
Virgo Mantras
A mantra is a short phrase that uplifts and cleanses our mind, heart, and consciousness. Most suffering takes place only within the mind, and by practicing mantra meditation, we can experience total relief from all suffering and negativity.
The Vedic wisdom texts offer many different mantras, powerful and sacred sound vibrations, that are customized for each individual depending on their unique, personal circumstances.
Virgos can especially benefit by meditating with the following mantra:
ॐ बुद्धदेवाय नमः
Om buddha-devaya namaha
The Vedas contain many mantras that are effective for different people according to their particular situation. However, some mantras are universal. The following maha-mantra, or "super mantra," is beneficial for people born in any zodiac sign:
हरे कृष्ण हरे कृष्ण कृष्ण कृष्ण हरे हरे
हरे राम हरे राम राम राम हरे हरे
Hare krishna hare krishna krishna krishna hare hare
Hare rama hare rama rama rama hare hare
RECOMMENDED: In ancient times, all astrologers made calculations using the same sidereal system that's used in Vedic astrology. Check out our article on the differences between Western and Vedic astrology to learn more.
Famous Birthdays on August 23
Kobe Bryant
River Pheonix
Seth Curry
Jeremy Lin
Shelley Long
Barbara Eden
Keith Moon
Scott Caan
August Ames
Louis 14 of France
Vera Miles
Eugene Kelly
Geurges Cuvier
Andrew Rannells
Julian Casablancas
Rick Springfield
Ray Park
Jay Mohr
Alexandra Roach
Ivan 6 of Russia
Events in History on August 23
2011: Libyan leader Muammar al-Gaddafi is overthrown
2008: The American women's basketball team wins the gold medal at the Beijing Olympics
2007: The hashtag is used for the first time on social media
2005: Hurricane Katrina forms over the Bahamas
1996: Osama bin Laden issues a declaration of war against the Americans occupying holy places
1990: East and West Germany announce they will reunite on October 3
1990: Armenia declares independence
1979: Iranian Army begins attacking the Kurds
1976: Thousands die in a deadly earthquake in China
1975: Communists conquer Laos
1974: John Lennon claims he sees a UFO in NYC
1963: The Beatles release their hit song "She Loves You"
1960: The world's largest frog is discovered, weighing over 7 pounds
1946: Film premiere of "The Big Sleep" starring Humphrey Bogart and Lauren Bacall
1944: Allied troops recapture Marseilles, France
1943: The Soviet Army captures Charkow
1942: More than 40,000 Russian soldiers die at the Battle of Stalingrad due to aggressive bombing from German planes
1940: The German Luftwaffe begins night bombings of London
1939: The Soviet Union and Nazi Germany divide Poland via the Molotov-Ribbentrop non-aggression pact
1933: Mahatma Gandhi is released from prison after a hunger strike
1933: Mahatma Gandhi is released from prison after a hunger strike
1923: Finnish Paavo Nurmi sets a new world record for the mile run at 4:10:04
1914: Japan declares war on Germany during World War 1
1866: The Austro-Prussian war ends with the Treaty of Prague/li>
1799: Napoleon Bonaparte departs Egypt to return to France
1793: The Levee en Masse begins conscription of all fit men for military service during the French Revolution
1789: The National Assembly in France declares freedom of religious opinion in the French Revolution
1595: Michael the Brave battles the Ottoman army at Calugareni
1541: French explorer Jacques Cartier arrives in Canada
1500: Governor Francisco De Bobadilla arrives in the Indies and arrests Christopher Columbus, sending him back to Spain as a prisoner and criminal
1305 Scottish hero William Wallace is executed for treason in London
1059: Pope Nicholas 2 signs Treaty of Melfi
406: Roman army wins the Battle of Florence
Learn About the Zodiac
Learn more about your Zodiac Sign by checking out our complete guide on Virgo. You can also learn about the signs of your friends and family!
Find the birth sign of any day of the year! Check out our comprehensive archive page where you can easily look up the Zodiac Sign for any day of the year!
Discover Your Nakshatra
In Vedic astrology the nakshatra is a used to determine many important aspects of a your life and personality. We have developed a free nakshatra calculator you can use to look up your nakshatra.