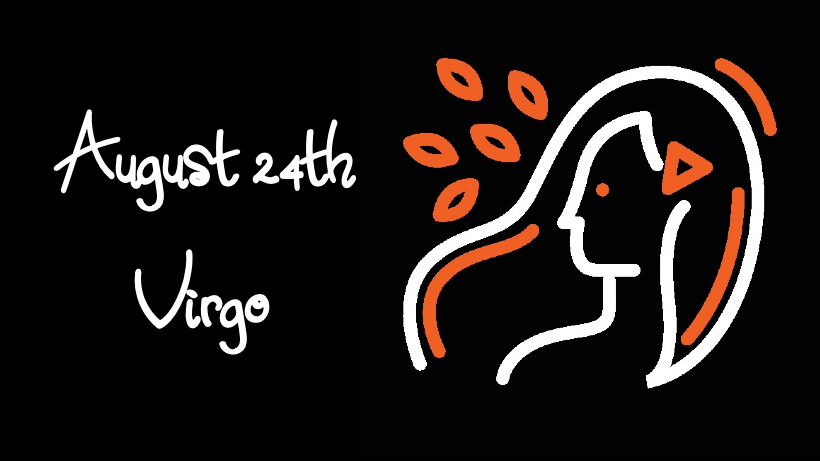 Were you born on August 24th? If so, then according to Western astrology your zodiac sign is Virgo, the sign of the Virgin. This means that when you were born, the Sun was in the stars that make up the constellation known as Virgo. Learn the basics of your horoscope below.
Virgo Overview
Virgo is known as कन्य​ (kanya) in Sanskrit, or "virgin." Each sign of the zodiac is characterized by certain basic traits. This includes Symbol, Planetary Ruler, Element, Nature, and Gender. The general make-up of the Virgo sign is below:
Sign of the Virgin. Virgo natives are intelligent and resourceful. They may experience conflicting feelings and desires in life.
Ruled by Mercury. Mercury is the planet of thought, the nervous system, communication, and literature. Mercurial individuals are hard to predict. Their minds move so quickly that others have a hard time keeping up.
An earth sign. Those with a Virgo moon are dexterous, thoughtful, and practical.
A dual sign. Persons born under this sign are adaptable and multi-talented.
A feminine sign. This makes the native receptive, sensitive, and empathetic.
Virgo gemstone: emerald. Virgo natives can also benefit from green tourmaline and peridot.
Traits of the Sun in Virgo
In Western Astrology, also known as Tropical astrology, a person's sign is determined by the position of the Sun. If you were born on August 24th, then you're considered a Virgo according to most people in the Western world.
The influence of the Sun in a birth chart will change depending on which house it is located in, its relative position in relation to other planets, as well as other factors. However, the following general traits are likely to be found in a native whose Sun is in Virgo:
You have a strong memory. Ruled by Mercury, Virgo brings ample mental strength. You pay attention to the events in your life and do not easily forget the people who have helped you, or those who have done you wrong.
You enjoy serving others. You have a natural inclination to serve others, especially people in religious, spiritual, or charitable positions. Service is a major part of your personal spirituality.
You are skilled in science and the arts. Mercury also brings artistic gifts. You are knowledgeable and talented in writing, calligraphy, art, and mathematics. And your strong memory enables you to learn almost anything.
You have feminine features. As a feminine sign, Virgo is recognized by soft features. You may not have much physical or mental stamina, but you excel in empathy and emotional intelligence.
You can be shy. You prefer to be in the background and do not like receiving too much attention for your work. You have a hard time asserting yourself in personal relationships and in the workplace.
RECOMMENDED: Check out all our articles on Vedic astrology to learn more about the different signs of the zodiac, as well as the planets, houses, and nakshatras.
Virgo Careers
Virgos are multi-talented individuals who can succeed in a number of different professions. However, they generally prefer to take up a helper role and are rarely to be found in the driver's seat.
Recommended careers: Virgos do well in careers involving hard facts, data, and anything service-related. They can make good mathematicians, scientists, linguists, architects, or researchers. Their literary and scholastic talent can make them excellent teachers, writers, or journalists.
Careers to avoid: Roles involving a high degree of leadership would likely not suit a Virgo. For example, CEOs, principals, or deans. Virgos are also dispassionate by nature. This means they may want to avoid roles which require a high level of empathy, such as a career in counseling, coaching, or childcare.
Virgo Mantras
A mantra is a short phrase that uplifts and cleanses our mind, heart, and consciousness. Most suffering takes place only within the mind, and by practicing mantra meditation, we can experience total relief from all suffering and negativity.
The Vedic wisdom texts offer many different mantras, powerful and sacred sound vibrations, that are customized for each individual depending on their unique, personal circumstances.
Virgos can especially benefit by meditating with the following mantra:
ॐ बुद्धदेवाय नमः
Om buddha-devaya namaha
The Vedas contain many mantras that are effective for different people according to their particular situation. However, some mantras are universal. The following maha-mantra, or "super mantra," is beneficial for people born in any zodiac sign:
हरे कृष्ण हरे कृष्ण कृष्ण कृष्ण हरे हरे
हरे राम हरे राम राम राम हरे हरे
Hare krishna hare krishna krishna krishna hare hare
Hare rama hare rama rama rama hare hare
RECOMMENDED: In ancient times, all astrologers made calculations using the same sidereal system that's used in Vedic astrology. Check out our article on the differences between Western and Vedic astrology to learn more.
Famous Birthdays on August 24
Catherine Paizt
Rupert Grint
Alan Walker
Griffin Gluck
Payton Ackerman/li>
Sofia Richie
Pau Torres
Jamie Rise
Chad Michael Murrays
Armando Rubio
Vince McMohan
Boyinaband
John Green
Rocky Johnson
Nuni Dior
Dave Chappelle
Robin Packalen
Tyler Schrage
Justin Skye
Grant Horvat
Events in History on August 24
2021 Beyoncé becomes first black woman and third person to wear the Tiffany Diamond in an advertising campaign for the company alongside her husband Jay-Z
2021 Kathy Hochul becomes the first female Governor of New York, replacing Andrew Cuomo after his resignation
2019 Brazilian President Jair Bolsonaro orders the army to help contain fires in the Amazon after widespread environmental destruction, wildlife loss and international criticism
2018 French Open Tennis bans Serena Williams' black Nike catsuit from future tournaments citing 'respect for the game and the place'
2018 Scott Morrison becomes Prime Minister of Australia after defeating Peter Dutton in a leadership spill, replacing Malcolm Turnbull
2018 Aerosmith lead singer Steven Tyler sends cease-and-desist letter to President Trump demanding he stop using the band's songs at rallies
2015 Facebook CEO Mark Zuckerberg announces that for the 1st time 1 billion people logged into Facebook
2015 Physicist Stephen Hawking presents a new theory on black holes at a lecture at the KTH Royal Institute of Technology, Stockholm
2011 Steve Jobs resigns as CEO of Apple Inc., and is succeeded by Tim Cook, as a result of his illness
2008 The star-studded American men's basketball team led by the likes of LeBron James, Chris Paul & Kobe Bryant win the gold medal at the Beijing Olympics with a relatively narrow 118-107 win over Spain
2006 After signing a one-day contract with the San Francisco 49ers, Jerry Rice officially retires from the NFL
2004 Future 8-time Olympic gold medal winner Usain Bolt of Jamaica finishes 5th in his 200m heat in 21.05, failing to qualify for the 2nd round at the Athens Olympics
1991 Mikhail Gorbachev resigns as head of USSR Communist Party
1984 Pat Bradley sets LPGA record for 9 holes with a 28 during 2nd round of Columbia Savings National at Green Gables CC, Denver, CO
1983 Cincinnati Red Pete Rose ends consecutive games played streak at 745
1981 Mark David Chapman is sentenced to 20 yrs to life for John Lennon's murder
1979 Musical film "Rock 'n' Roll High School" directed by Allan Arkush featuring the Ramones is released in NYC (released throughout the US 20 days later)
1975 PGA Tournament Players Championship, Colonial CC: Al Geiberger leads wire-to-wire to finish 3 strokes ahead of runner-up Dave Stockton
1972 Gordie Howe and Jean Béliveau inducted into the Ice Hockey Hall of Fame
1962 Los Angeles Dodger coach Leo Durocher suffers a near-fatal allergic reaction to a penicillin injection while in the clubhouse at the Polo Grounds, NYC
1954 US President Eisenhower signs Communist Control Act, outlawing the Communist Party, at height of McCarthyism
1951 Bill Veeck's "Fans Managers' Night", Browns defeat A's 5-3; Browns coaches hold up placards for fans to vote on strategy options
1945 Cleveland ace Bob Feller returns from Navy & strike out 12
1940 Red Sox left fielder Ted Williams pitches the last 2 innings in a 12-1 loss to Detroit Tigers, Williams allows 3 hits & 1 run/li>
1936 FDR gives the FBI the authority to pursue fascists and communists
1932 1st transcontinental non-stop flight by a woman, Amelia Earhart
1925 US National Championship Women's Tennis, Forest Hills, NY: Helen Wills Moody beats Kitty McKane of England 3-6, 6-0, 6-2 for her third straight US singles title
1923 Paavo Nurmi of Finland runs world record 3 mile time of 14:11.2 in Stockholm; intermediate time during 5000m event
1914 Jerome Kern & Michael E Rourles musical premieres in NYC
1891 Thomas Edison patents motion picture camera
1847 Charlotte Brontë finishes manuscript of "Jane Eyre"
1831 John Henslow asks Charles Darwin to travel with him on the HMS Beagle
1787 Wolfgang Amadeus Mozart completes his violin and piano sonata in A, K526
Learn About the Zodiac
Learn more about your Zodiac Sign by checking out our complete guide on Virgo. You can also learn about the signs of your friends and family!
Find the birth sign of any day of the year! Check out our comprehensive archive page where you can easily look up the Zodiac Sign for any day of the year!
Discover Your Nakshatra
In Vedic astrology the nakshatra is a used to determine many important aspects of a your life and personality. We have developed a free nakshatra calculator you can use to look up your nakshatra.