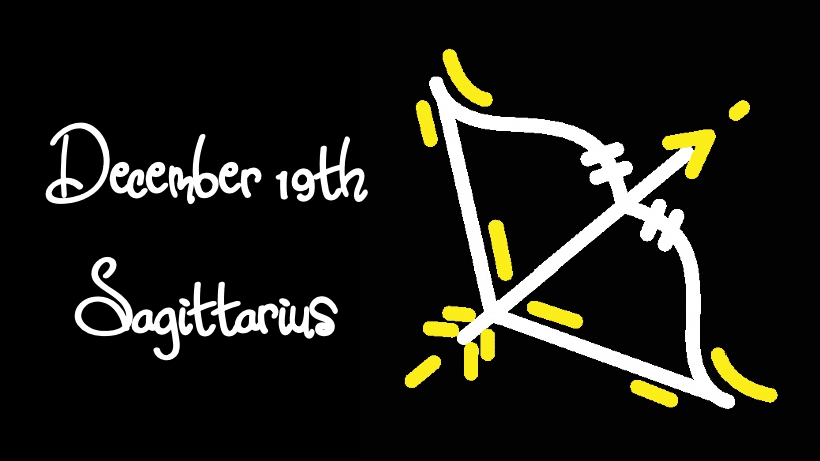 Were you born on December 19th? If so, then according to Western astrology your zodiac sign is Sagittarius, the sign of the Archer.
This means that when you were born, the Sun was in the stars that make up the constellation known as Sagittarius. Learn the basics of your horoscope below.
Sagittarius Overview
Sagittarius is known as धनुस् (dhanus) in Sanskrit, or "bow." Each sign of the zodiac is characterized by certain basic traits. This includes Symbol, Planetary Ruler, Element, Nature, and Gender. The general make-up of the Sagittarius sign is below:
Sign of the Archer. Sagittarians are fortunate and righteous individuals. However, their luck and good qualities can sometimes lead them to look down on others.
Ruled by Jupiter. Jupiter is the planet of wisdom, spirituality, wealth, and learning. Jupiterians are religious and warm-hearted.
A fire sign. Those with a Sagittarius moon are temperamental, passionate, and energetic.
A dual sign. Persons born under this sign are adaptable and multi-talented.
A masculine sign. This makes the native aggressive, bold, and thick-skinned.
Sagittarius's preferred gemstone is yellow sapphire. Sagittarians can also benefit from yellow topaz and citrine as well.
Traits of the Sun in Sagittarius
In Western Astrology, also known as Tropical astrology, a person's sign is determined by the position of the Sun. If you were born on December 19th then you're considered a Sagittarius according to most people in the Western world.
The influence of the Sun in a birth chart will change depending on which house it is located in, its relative position in relation to other planets, as well as other factors. However, the following general traits are likely to be found in a native whose Sun is in Sagittarius:
You are fortunate. Sagittarius is the one of the signs ruled by Jupiter, the planet of prosperity and good fortune. You lead a comfortable life. You have sufficient wealth to provide for yourself and your family, and you are well-respected by your peers.
You are independent. You have a strong personality and you don't like being overly dependent on others. You are confident, and once you make a decision you stick to it. You are never afraid to speak your mind and stand up for what you believe in. You are also capable of defending yourself, and you're willing to use physical force if necessary.
You are drawn to the medicinal and healing arts. You have a passion for helping others and this can lead to a fruitful career in medicine or a related field. You are caring, kind, and sensitive to others' needs. This makes you an excellent friend, parent, and life partner.
You are physically fit. You aren't a scrawny person. You enjoy physical activity and you like to keep your body healthy through regular exercise. You possess above-average strength and endurance, and you can excel in sports.
You are spiritually-inclined. You were likely raised in a religious family and your spiritual life is important to you. You strive to live a virtuous and noble life. For you, religion is more than mere dogma and ritual; it is a path meant for bettering oneself and for serving one's fellow human beings.
RECOMMENDED: Check out all our articles on Vedic astrology to learn more about the different signs of the zodiac, as well as the planets, houses, and nakshatras.
Sagittarius Careers
Sagittarians have strong personalities and do well in leadership roles. They are ideal persons to spearhead new projects or explore new fields. As high-performing individuals, they often hold others to high expectations. They can also succeed in creative professions.
Recommended careers: Sagittarius-natives make talented authors, artists, scholars, administrators, CEOs, entrepreneurs, investors, consultants, and professional speakers.
Careers to avoid: Sagittarians are ethically-minded. They wouldn't do well in industries that involve any kind of deception or exploitation. For example, adult entertainment, casinos, large-scale animal agriculture, logging, mining, or tobacco.
Sagittarius Mantras
A mantra is a short phrase that uplifts and cleanses our mind, heart, and consciousness. Most suffering takes place only within the mind, and by practicing mantra meditation, we can experience total relief from all suffering and negativity.
The Vedic wisdom texts offer many different mantras, powerful and sacred sound vibrations, that are customized for each individual depending on their unique, personal circumstances.
Sagittarians can especially benefit by meditating with the following mantra:
ॐ वामनाय​ नमः
Om vamanaya namaha
The Vedas contain many mantras that are effective for different people according to their particular situation. However, some mantras are universal. The following maha-mantra, or "super mantra," is beneficial for people born in any zodiac sign:
हरे कृष्ण हरे कृष्ण कृष्ण कृष्ण हरे हरे
हरे राम हरे राम राम राम हरे हरे
Hare krishna hare krishna krishna krishna hare hare
Hare rama hare rama rama rama hare hare
RECOMMENDED: In ancient times, all astrologers made calculations using the same sidereal system that's used in Vedic astrology. Check out our article on the differences between Western and Vedic astrology to learn more.
Famous Birthdays on December 19th
Karim Benzema
Jake Gyllenhaal
Alexis Sanchez
Alyssa Milano
Muge Anli
Edith Plaf
Jennifer Beals
Takashi Sorimachi
Leonid Brezhnev
Paulina Gretzky
Criss Angel
Events in History on December 19th
2016: US electoral collage votes 304 to 227 to nominate Donald Trump for President over the objections of seven faithless electors
2012: Park Geun-hye wins the South Korean presidential election to become the nation's first female president
2008: Chanda Kochhar is named as the successor of K. V. Kamath to the post of CEO and Managing Director of ICICI Bank
1998: US House of Representatives votes to impeach President Bill Clinton
1991: Boris Yeltsin takes control of the Kremlin
1989: Larry Bird (Celtics) begins NBA free throw streak of 71 games
1986: "Platoon" directed by Oliver Stone, starring Charlie Sheen, Tom Berenger, and Willem Dafoe is released (Academy Awards Best Picture & Best Director)
1986: USSR frees dissident Andrei Sakharov from internal exile
1984: Chinese Premier Zhao Ziyang and British Prime Minister Margaret Thatcher sign the Sino-British Joint Declaration to transfer Hong Kong back to China in 1997
1980: "Raging Bull", directed by Martin Scorsese and starring Robert De Niro as boxer Jake LaMotta and Cathy Moriarty as his wife, is released in the United States
1979: "Kramer vs Kramer" directed by Robert Benton and starring Dustin Hoffman and Meryl Streep is released (Best Picture 1980)
1978: Indira Gandhi ambushed in India
1976: Soviet leader Leonid Brezhnev receives his 5th Order of Lenin
1975: British guitarist Ron Wood joins The Rolling Stones
Learn About the Zodiac
Learn more about your Zodiac Sign by checking out our complete guide on Sagittarius. You can also learn about the signs of your friends and family!
Find the birth sign of any day of the year! Check out our comprehensive archive page where you can easily look up the Zodiac Sign for any day of the year!
Discover Your Nakshatra
In Vedic astrology the nakshatra is a used to determine many important aspects of a your life and personality. We have developed a free nakshatra calculator you can use to look up your nakshatra.