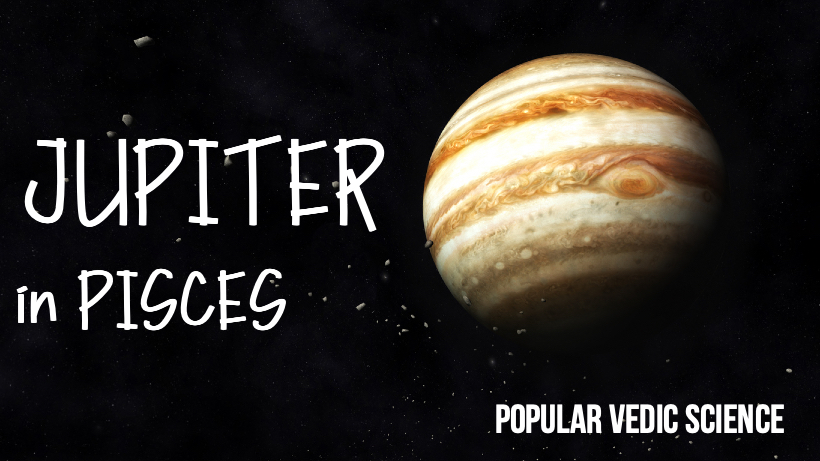 In this article we provide a detailed overview of Jupiter in Pisces as well as its impact in each of the 12 houses of the zodiac. Do you have Jupiter in Pisces in your horoscope? If so then this article is for you.
Jupiter: The Planet of Wisdom, Teachers, and Spirituality
In the royal court of the planets, Jupiter is the advisor and priest. In Vedic theology, Jupiter is known as Brhaspati, the guru of the gods. The Romans worshiped Jupiter as the king of the gods, seeking his blessings for good fortune and military victory. Their view seems to be an amalgamation of the original Puranic personalities of Brhaspati and Indra, the god of weather and king of the celestial realm.
Weekday
Jupiter's weekday is Thursday, known in Latin as Jovis, or the day of Jupiter. In Sanskrit, Thursday is known as Guruvar, or the day of Brhaspati, the guru of the gods.
Speed of Travel
One of the slower moving planets, Jupiter completes one round of the zodiac in approximately eleven years, ten months, and five days. Jupiter spends just under a year in each sign — eleven months and 26 days.
Areas of Influence
In an astrological chart, Jupiter governs the following:
Wisdom, devotion, and piety
Ministers, teachers, and gurus
The husband and children, especially sons
Worship, expansion, and liberation
Wealth, sacrifice, and self-control
Virtue, good manners, one's overall character
Reputation, position, education
Fruit, charity, and holy places
Initiation, spirituality, and one's worldview
Pisces: The Sign of the Fishes
Pisces is the twelfth sign of the zodiac. In Vedic astrology, Pisces is known by the Sanskrit name meena, or "the fish." The sign of Pisces possesses a soft-hearted, contemplative, and spiritual nature. Pisces is a sign of adventure. In an astrological chart, it indicates areas where you apply intuition and an aesthetic sense to your efforts.
Basic Traits
Ruled by Jupiter. Jupiter is known as the planet of wisdom, devotion, and piety. He brings wisdom and a religious energy to the house he inhabits.
A water sign. Pisces is perceptive, artistic, and sentimental.
A dual sign. Pisces is adaptable and multi-talented.
A feminine sign. Pisces is receptive, sensitive, and empathetic.
Areas of Influence
Pisces influences its planetary lord in the following areas:
Depth and insight
Introversion and shyness
Beauty and aesthetic sense
Wisdom and mysticism
Spirituality
Traits of Jupiter in Pisces
The influence of Jupiter in a birth chart will change depending on which house it is located in, its relative position in relation to other planets, as well as other factors. However, the following general traits are likely to be found in a native who has Jupiter in Pisces:
You are imaginative. Ruled by Jupiter, Pisceans are exceptionally creative and liberal in their approach to life. They often come up with new and unusual ideas and inventions. They are natural artists, and they taking great pleasure in expressing themselves through poetry or the visual arts.
You are an empath. You hold greater compassion and care in your heart than most people. You naturally find yourself lending others a helping hand, an empathetic ear, or even just a shoulder to cry on. This virtue will serve you well in life and win you many friends and admirers. However, be careful not to take on others burdens as your own. Only God can carry the weight of all the sadness in the world.
You have a sixth sense. You often "just know" things — and you are also often right about them. Your intuition is sharper than most. You may take an active interest in the occult or in spirituality. Just be careful not to place much trust in spiritual guides who are not connected to an established spiritual tradition. There are many charlatans in the guise of enlightened self-proclaimed gurus.
You care deeply about your spiritual well-being. Jupiter is the planet of spirituality and religious wisdom, and when he is in his own sign of Pisces, this combination blesses the native with an intuitive understanding of the spiritual dimension of life. You realize that human life is a precious gift, and it is meant for more than vain, materialistic pursuits. You can greatly benefit by studying the Bhagavad-gita and other world scriptures.
You are a healer. You enjoy helping and caring for others. You have a loving, maternal energy. You would do well in a career that allows you to share this gift, such as a doctor, nurse, counselor, spiritual guide, or alternative medical practitioner, such as an Ayurvedic doctor or acupuncturist.
Jupiter in Pisces in the 12 Houses
Every natal chart is unique. It is not possible to give a fully accurate reading without considering the various elements of the chart, including planetary combinations, aspects, friendships, directional strength, and more.
The traits below are general indications which will change depending on the influence of the factors listed above.
In the First House
The first house indicates physique and self-expression. This is a very good position for Jupiter. You will be blessed in the areas of family life, marriage, career, and social status. You will lead a successful and fulfilling life.
In the Second House
The second house indicates wealth and cultural traditions. This position is favorable for business and long-term wealth. You will be adventurous and enterprising. You may do well in the hospitality industry.
In the Third House
The third house indicates siblings, courage, and literary works. You are highly creative and may find success as an artist, writer, or publisher. You are also keenly interested in spiritual growth. You will experience gains from your life partner and / or siblings.
In the Fourth House
The fourth house indicates one's mother, home, and basic beliefs. This is a very good position for Jupiter. You are blessed to have a happy and long life, and though you may not be wealthy by certain standards, you have ample income to provide for yourself and your loved ones.
In the Fifth House
The fifth house indicates children, creative works, and overall success. You may find success in speculative business practices and investing. However, be careful to save what you earn and not to spend lavishly, as money that comes easily may disappear just as quickly.
In the Sixth House
The sixth house indicates debt, disease, and service. You may do well in a service-oriented occupation, such as the hospitality industry, customer service, tech support, or small business. You may suffer from diseases relating to the stomach.
In the Seventh House
The seventh house indicates the spouse, marital happiness, and sexual desire. You are blessed with a pleasant and spiritually fulfilling married life. You can benefit from networking and business partnerships.
In the Eighth House
The eighth house indicates death, calamities, and interest in the occult. You may face numerous financial difficulties throughout life, and this can cause excessive levels of stress. However, by a strong spiritual practice you can rise above these difficulties.
In the Ninth House
The ninth house indicates religion and morality. You possess an active interest in philosophy and spirituality. You will be blessed with a good career and support from your family members. You can benefit from foreign travel.
In the Tenth House
The tenth house indicates one's father, career, and reputation. You are likely to hold a high position in your social circle or in your workplace. You may also get certain benefits from the local, state, or federal government. You will have a steady flow of income throughout life.
In the Eleventh House
The eleventh house indicates gains, aspirations, and friendships. You may gain some unexpected wealth through an older relative or well-wisher. Be careful to wisely invest such unsought earnings.
In the Twelfth House
The twelfth house indicates losses, misfortune, and liberation. This is a challenging position for Jupiter in the horoscope. You may face ongoing legal issues or chronic health challenges. You may offend an older relative or teacher, and this will bring you hardship and remorse. However, by a strong spiritual practice, you can eventually overcome these difficulties.
Famous People with Jupiter in Pisces
Friedrich Nietzsche
Sigmund Freud
Eva Longoria
Jaden Smith
Laeticia Hallyday
Elliot Page
Angelina Jolie
Michelle Obama
Johnny Depp
Brad Pitt
Whitney Houston
Robin Williams
Nikola Tesla
Jeff Bezos
David Beckham
Kate Winslet
Russell Brand
Salvador Dali
Nicolas Cage
Enrique Iglesias
Learn More About Vedic Astrology
Expand your knowledge of astrology! Check out our guides to Vedic Astrology and the nine planets, known collectively in Sanskrit as the nava-graha. You can also learn about the differences between Western and Vedic astrology.
The Twelve Signs of the Zodiac
The 27 Nakshatras