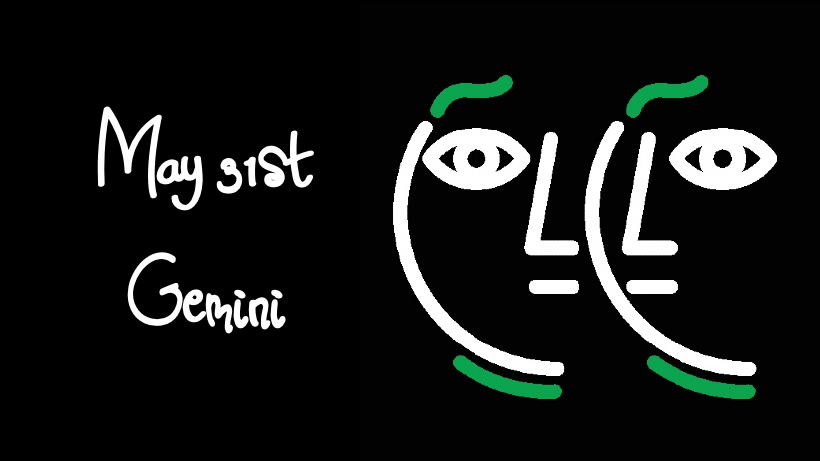 Were you born on May 31st? If so, then according to Western astrology your zodiac sign is Gemini, the sign of the twins. This means that when you were born, the Sun was in the stars that make up the constellation known as Gemini. Learn the basics of your horoscope below.
Gemini Overview
Gemini is known as मिथुन (mithuna) in Sanskrit, or "twins." Each sign of the zodiac is characterized by certain basic traits. This includes Symbol, Planetary Ruler, Element, Nature, and Gender. The general make-up of the sign of Gemini is below:
Sign of the Twins. Gemini natives are charming and talkative. However, they may sometimes display a "know-it-all" attitude.
Ruled by Mercury. Mercury is the planet of thought, the nervous system, communication, and literature. Mercurial individuals are hard to predict. Their minds move so quickly that others have a hard time keeping up.
An air sign. Those with a Gemini moon are imaginative, logical, and curious.
A dual sign. Persons born under this sign are adaptable and multi-talented.
A masculine sign. This makes the native aggressive, bold, and thick-skinned.
Gemini's preferred gemstone is emerald. Geminis can also benefit from green tourmaline and peridot.
Traits of the Sun in Gemini
In Western Astrology, also known as Tropical astrology, a person's sign is determined by the position of the Sun. If you were born on May 31st, then you're considered a Gemini according to most people in the Western world.
The influence of the Sun in a birth chart will change depending on which house it is located in, its relative position in relation to other planets, as well as other factors. However, the following general traits are likely to be found in a native whose Sun is in Gemini:
You are very intelligent. You have a sharp mind and you are very good at solving complex problems. You may choose to take up the study of psychology or astrology, and others may come to you for guidance and help in their personal lives.
You will do well in school. You are likely to have a very good education in life. You have a strong memory and a natural fondness for learning. These qualities ensure that you will take full advantage of your schooling. Whenever you are studying, reading, writing, or speaking, you are in your element.
You are a good communicator. Gemini is ruled by Mercury, the planet of self-expression. You are a clear and convincing communicator, and you know how to speak in a way that pleases others. You can succeed in a career related to the communications field, such as broadcasting, performance, writing, marketing, sales, and so on.
You will earn well throughout life. Your ability to learn new things as well as your talent for communication makes it easy for you to find work and make money. You do not live lavishly, but you do like to spend money on the things that are important to you. You will almost always have enough money to buy whatever you need.
You may have multiple mother figures. Gemini is the sign of the twins, and one effect of this sign is that you may be raised by someone who is not your mother, or you may have a strong second mother figure in your life.
RECOMMENDED: Check out all our articles on Vedic astrology to learn more about the different signs of the zodiac, as well as the planets, houses, and nakshatras.
Gemini Careers
As a Gemini native, you're something of a "jack of all trades." Your curiosity combined with your powerful intellect leads you to develop proficiency in many different areas. For this reason, you may never be satisfied working a single job, and will feel drawn to pursue one or two side hobbies as means of supplemental income.
Recommended careers: Anything involving communication, performance, or the sciences. Geminians do well as diplomats, lawyers, doctors, professors, researchers, mathematicians, creative writers, or critics.
Careers to avoid: You may want to avoid career paths involving little to no creative freedom, such as janitorial work, manufacturing, or finance. In addition, your affinity for logic and reason may hinder you in professions that require a high level of empathy, such as childcare, midwifery, or counseling.
Gemini Mantras
A mantra is a short phrase that uplifts and cleanses our mind, heart, and consciousness. Most suffering takes place only within the mind, and by practicing mantra meditation, we can experience total relief from all suffering and negativity.
The Vedic wisdom texts offer many different mantras, powerful and sacred sound vibrations, that are customized for each individual depending on their unique, personal circumstances.
Geminis can especially benefit by meditating with the following mantra:
ॐ बुद्धदेवाय​ नमः
Om buddha-devaya namaha
The Vedas contain many mantras that are effective for different people according to their particular situation. However, some mantras are universal. The following maha-mantra, or "super mantra," is beneficial for people born in any zodiac sign:
हरे कृष्ण हरे कृष्ण कृष्ण कृष्ण हरे हरे
हरे राम हरे राम राम राम हरे हरे
Hare krishna hare krishna krishna krishna hare hare
Hare rama hare rama rama rama hare hare
RECOMMENDED: In ancient times, all astrologers made calculations using the same sidereal system that's used in Vedic astrology. Check out our article on the differences between Western and Vedic astrology to learn more.
Famous Birthdays on May 31
Clint Eastwood
Brooke Shields
Colin Farrell
Colin Farrell
Colin Farrell
Colin Farrell
Viktor Orban
Events in History on May 31
1990: NYC's Zodiac killer shoots 3rd victim, Joseph Ponce
1984: Viv Richards hits 189* (170 balls) v England, ODI cricket record
1968: Movie star James Stewart retires from the US Air Force after 27 years of service
1961: US President John F. Kennedy visits Charles de Gaulle in Paris
1916: Battle of Jutland: British battle cruiser HMS Invincible explodes, only 6 crew members survive
1879: Madison Square Garden opens in New York, named after 4th President James Madison
1727: France, Britain & Netherlands sign accord of Paris
1621: Sir Francis Bacon imprisoned in the Tower of London for 1 night
1279: BC Ramesses II, also known as Ramesses the Great becomes Pharaoh of Ancient Egypt (19th Dynasty)
Learn About the Zodiac
Learn more about your Zodiac Sign by checking out our complete guide on Gemini. You can also learn about the signs of your friends and family!
Find the birth sign of any day of the year! Check out our comprehensive archive page where you can easily look up the Zodiac Sign for any day of the year!
Discover Your Nakshatra
In Vedic astrology the nakshatra is a used to determine many important aspects of a your life and personality. We have developed a free nakshatra finder you can use to look up your nakshatra.