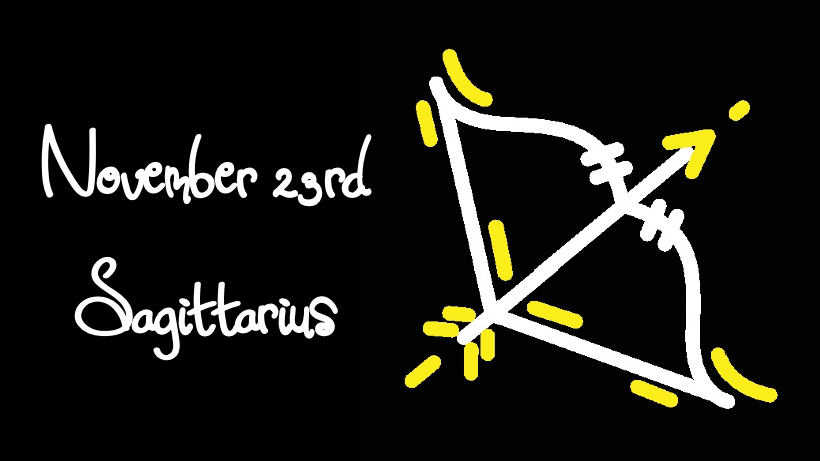 Were you born on November 23rd? If so, then according to Western astrology your zodiac sign is Sagittarius, the sign of the Archer.
This means that when you were born, the Sun was in the stars that make up the constellation known as Sagittarius. Learn the basics of your horoscope below.
Sagittarius Overview
Sagittarius is known as धनुस् (dhanus) in Sanskrit, or "bow." Each sign of the zodiac is characterized by certain basic traits. This includes Symbol, Planetary Ruler, Element, Nature, and Gender. The general make-up of the Sagittarius sign is below:
Sign of the Archer. Sagittarians are fortunate and righteous individuals. However, their luck and good qualities can sometimes lead them to look down on others.
Ruled by Jupiter. Jupiter is the planet of wisdom, spirituality, wealth, and learning. Jupiterians are religious and warm-hearted.
A fire sign. Those with a Sagittarius moon are temperamental, passionate, and energetic.
A dual sign. Persons born under this sign are adaptable and multi-talented.
A masculine sign. This makes the native aggressive, bold, and thick-skinned.
Sagittarius's preferred gemstone is yellow sapphire. Sagittarians can also benefit from yellow topaz and citrine as well.
Traits of the Sun in Sagittarius
In Western Astrology, also known as Tropical astrology, a person's sign is determined by the position of the Sun. If you were born on November 23rd, then you're considered a Sagittarius according to most people in the Western world.
The influence of the Sun in a birth chart will change depending on which house it is located in, its relative position in relation to other planets, as well as other factors. However, the following general traits are likely to be found in a native whose Sun is in Sagittarius:
You are fortunate. Sagittarius is the one of the signs ruled by Jupiter, the planet of prosperity and good fortune. You lead a comfortable life. You have sufficient wealth to provide for yourself and your family, and you are well-respected by your peers.
You are independent. You have a strong personality and you don't like being overly dependent on others. You are confident, and once you make a decision you stick to it. You are never afraid to speak your mind and stand up for what you believe in. You are also capable of defending yourself, and you're willing to use physical force if necessary.
You are drawn to the medicinal and healing arts. You have a passion for helping others and this can lead to a fruitful career in medicine or a related field. You are caring, kind, and sensitive to others' needs. This makes you an excellent friend, parent, and life partner.
You are physically fit. You aren't a scrawny person. You enjoy physical activity and you like to keep your body healthy through regular exercise. You possess above-average strength and endurance, and you can excel in sports.
You are spiritually-inclined. You were likely raised in a religious family and your spiritual life is important to you. You strive to live a virtuous and noble life. For you, religion is more than mere dogma and ritual; it is a path meant for bettering oneself and for serving one's fellow human beings.
RECOMMENDED: Check out all our articles on Vedic astrology to learn more about the different signs of the zodiac, as well as the planets, houses, and nakshatras.
Sagittarius Careers
Sagittarians have strong personalities and do well in leadership roles. They are ideal persons to spearhead new projects or explore new fields. As high-performing individuals, they often hold others to high expectations. They can also succeed in creative professions.
Recommended careers: Sagittarius-natives make talented authors, artists, scholars, administrators, CEOs, entrepreneurs, investors, consultants, and professional speakers.
Careers to avoid: Sagittarians are ethically-minded. They wouldn't do well in industries that involve any kind of deception or exploitation. For example, adult entertainment, casinos, large-scale animal agriculture, logging, mining, or tobacco.
Sagittarius Mantras
A mantra is a short phrase that uplifts and cleanses our mind, heart, and consciousness. Most suffering takes place only within the mind, and by practicing mantra meditation, we can experience total relief from all suffering and negativity.
The Vedic wisdom texts offer many different mantras, powerful and sacred sound vibrations, that are customized for each individual depending on their unique, personal circumstances.
Sagittarians can especially benefit by meditating with the following mantra:
ॐ वामनाय​ नमः
Om vamanaya namaha
The Vedas contain many mantras that are effective for different people according to their particular situation. However, some mantras are universal. The following maha-mantra, or "super mantra," is beneficial for people born in any zodiac sign:
हरे कृष्ण हरे कृष्ण कृष्ण कृष्ण हरे हरे
हरे राम हरे राम राम राम हरे हरे
Hare krishna hare krishna krishna krishna hare hare
Hare rama hare rama rama rama hare hare
RECOMMENDED: In ancient times, all astrologers made calculations using the same sidereal system that's used in Vedic astrology. Check out our article on the differences between Western and Vedic astrology to learn more.
Famous Birthdays on November 23
Miley Cyrus
Chuck Schumer
Franklin Pierce
Boris Karloff
Lucas Grabeel
John Schnatter
Franco Nero
Dennis Nilsen
Robin Roberts
Chris Hardwick
Alexis Ren
Ludovico Einaudi
Vincent Cassel
Michelle Gomez
Mary Seattle
Harpo Marx
Kelly Brook
Tyler Schrage
Sathya Sai Baba
Events in History on November 23
2015: President Yahya Jammeh of Gambia bans "Khatna", the Islamic ritual practice of genital mutilation of young girls
2014: Lewis Hamilton wins Abu Dhabi Grand Prix at the Yad Marina Circuit, securing the F1 World Drivers Championship
2014: Magnus Carlsen defeats Vishy Anand in chess, defending his World Chess Champion title
2014: Mass protests take place in Mexico over 43 missing students who were killed by a drug gang
2014: A suicide bomber kills 40 people at a volleyball tournament in Afghanistan
2004: Blizzard Entertainment releases World of Warcraft, a massive multi-player online game.
2003: Georgian president Eduard Shevardnadze resigns following weeks of mass protests over flawed elections
2001: Convention on Cybercrime is signed in Budapest, Hungary.
2001: Jeff Gordon wins 53rd NASCAR Sprint Cup.
1999: Jessica Simpson releases her debut album, "Sweet Kisses"
1996: Angola joins the World Trade Organization
1992: The 10,000,000th cell phone is sold
1991: Martín López-Zubero swims world record 200m backstroke (1:56.57)
1991: Freddie Mercury confirms he has AIDs just one day before he dies, age 45
1988: France performs a nuclear test
1985: Retired CIA analyst Larry Wu-tai Chin is arrested and charged with spying for China
1983: USSR abandons weapon disarmament talks
1980: The National Black Independent Party forms
1980: 4,800 die as earthquakes devastate Italy
1974: 60 Ethiopian government officials are executed
1971: China joins the UN Security Council
1970: George Harrison releases his hit single, "My Sweet Lord"
1965: US performs a nuclear test at the Nevada test site
1964: The Beatles release their singles "I Feel Fine," and "She's a Woman"
1954: The Dow Jones finally closes above the peak it reached before the stock market crash of 1929
1945: US ends war-time food rationing
1942: Japan bombs Port Darwin, Australia
1941: Germany conquers Klin, just Northwest of Moscow
1937: John Steinbeck's play "Of Mice and Men" premiers in NYC
1887: Notre Dame loses its 1st football game 8-0 to Michigan
1863: Battle of Chattanooga & Orchard Knob, Tennessee begins (results in Union victory 25 Nov)
1783: Annapolis, Maryland, becomes US capital (until June 1784)
1700: Cardinal Francesco Albani elected Pope Clemens XI
1654: French mathematician, scientist, and religious philosopher Blaise Pascal experiences an intense, mystical vision that marks him for life.
1584: English parliament expels Jesuits
1227: Polish Prince Leszek I the White is assassinated at an assembly of Polish dukes at Gąsawa
1165: Pope Alexander III returns to Rome from exile
800: Charlemagne arrives in Rome to investigate the alleged crime of Pope Leo III
Learn About the Zodiac
Learn more about your Zodiac Sign by checking out our complete guide on Sagittarius. You can also learn about the signs of your friends and family!
Find the birth sign of any day of the year! Check out our comprehensive archive page where you can easily look up the Zodiac Sign for any day of the year!
Discover Your Nakshatra
In Vedic astrology the nakshatra is a used to determine many important aspects of a your life and personality. We have developed a free nakshatra calculator you can use to look up your nakshatra.