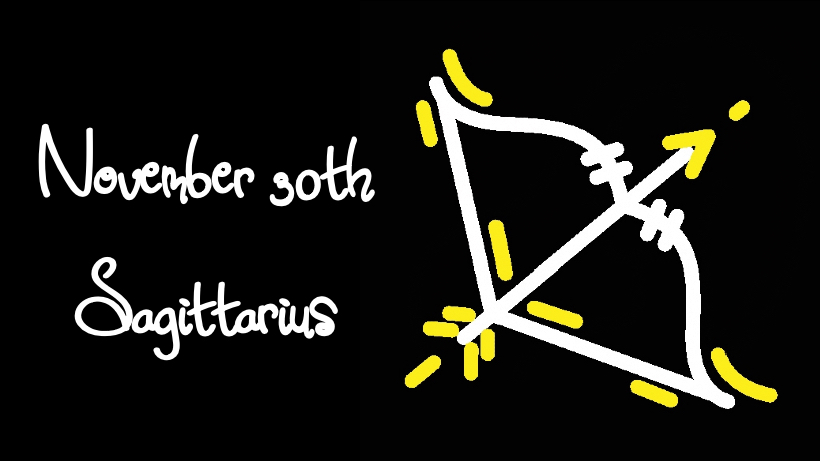 Were you born on November 30th? If so, then according to Western astrology your zodiac sign is Sagittarius, the sign of the Archer.
This means that when you were born, the Sun was in the stars that make up the constellation known as Sagittarius. Learn the basics of your horoscope below.
Sagittarius Overview
Sagittarius is known as धनुस् (dhanus) in Sanskrit, or "bow." Each sign of the zodiac is characterized by certain basic traits. This includes Symbol, Planetary Ruler, Element, Nature, and Gender. The general make-up of the Sagittarius sign is below:
Sign of the Archer. Sagittarians are fortunate and righteous individuals. However, their luck and good qualities can sometimes lead them to look down on others.
Ruled by Jupiter. Jupiter is the planet of wisdom, spirituality, wealth, and learning. Jupiterians are religious and warm-hearted.
A fire sign. Those with a Sagittarius moon are temperamental, passionate, and energetic.
A dual sign. Persons born under this sign are adaptable and multi-talented.
A masculine sign. This makes the native aggressive, bold, and thick-skinned.
Sagittarius's preferred gemstone is yellow sapphire. Sagittarians can also benefit from yellow topaz and citrine as well.
Traits of the Sun in Sagittarius
In Western Astrology, also known as Tropical astrology, a person's sign is determined by the position of the Sun. If you were born on November 30th then you're considered a Sagittarius according to most people in the Western world.
The influence of the Sun in a birth chart will change depending on which house it is located in, its relative position in relation to other planets, as well as other factors. However, the following general traits are likely to be found in a native whose Sun is in Sagittarius:
You are fortunate. Sagittarius is the one of the signs ruled by Jupiter, the planet of prosperity and good fortune. You lead a comfortable life. You have sufficient wealth to provide for yourself and your family, and you are well-respected by your peers.
You are independent. You have a strong personality and you don't like being overly dependent on others. You are confident, and once you make a decision you stick to it. You are never afraid to speak your mind and stand up for what you believe in. You are also capable of defending yourself, and you're willing to use physical force if necessary.
You are drawn to the medicinal and healing arts. You have a passion for helping others and this can lead to a fruitful career in medicine or a related field. You are caring, kind, and sensitive to others' needs. This makes you an excellent friend, parent, and life partner.
You are physically fit. You aren't a scrawny person. You enjoy physical activity and you like to keep your body healthy through regular exercise. You possess above-average strength and endurance, and you can excel in sports.
You are spiritually-inclined. You were likely raised in a religious family and your spiritual life is important to you. You strive to live a virtuous and noble life. For you, religion is more than mere dogma and ritual; it is a path meant for bettering oneself and for serving one's fellow human beings.
RECOMMENDED: Check out all our articles on Vedic astrology to learn more about the different signs of the zodiac, as well as the planets, houses, and nakshatras.
Sagittarius Careers
Sagittarians have strong personalities and do well in leadership roles. They are ideal persons to spearhead new projects or explore new fields. As high-performing individuals, they often hold others to high expectations. They can also succeed in creative professions.
Recommended careers: Sagittarius-natives make talented authors, artists, scholars, administrators, CEOs, entrepreneurs, investors, consultants, and professional speakers.
Careers to avoid: Sagittarians are ethically-minded. They wouldn't do well in industries that involve any kind of deception or exploitation. For example, adult entertainment, casinos, large-scale animal agriculture, logging, mining, or tobacco.
Sagittarius Mantras
A mantra is a short phrase that uplifts and cleanses our mind, heart, and consciousness. Most suffering takes place only within the mind, and by practicing mantra meditation, we can experience total relief from all suffering and negativity.
The Vedic wisdom texts offer many different mantras, powerful and sacred sound vibrations, that are customized for each individual depending on their unique, personal circumstances.
Sagittarians can especially benefit by meditating with the following mantra:
ॐ वामनाय​ नमः
Om vamanaya namaha
The Vedas contain many mantras that are effective for different people according to their particular situation. However, some mantras are universal. The following maha-mantra, or "super mantra," is beneficial for people born in any zodiac sign:
हरे कृष्ण हरे कृष्ण कृष्ण कृष्ण हरे हरे
हरे राम हरे राम राम राम हरे हरे
Hare krishna hare krishna krishna krishna hare hare
Hare rama hare rama rama rama hare hare
RECOMMENDED: In ancient times, all astrologers made calculations using the same sidereal system that's used in Vedic astrology. Check out our article on the differences between Western and Vedic astrology to learn more.
Famous Birthdays on November 30
Kaley Cuoco
Winston Churchill
Ben Stiller
Elisha Cuthbert
Mark Twain
Chrissy Teigen
Steve Aoki
Magnus Carlsen
Billy Idol
Ridley Scott
Hikari Mitsushima
Marina Abramovic
Gary Lineker
Mandy Patinkin
Aoi Miyazaki
Bo Jackson
Yuri Chinen
Sido
Wallace Chung
Ryan Murphy
Events in History on November 30
2021: Josephine Baker becomes the first black woman to be honored at Paris' Panthéon, France's highest honor
2021: El Chapo's wife Emma Coronel Aispuro sentenced to three years in the US
2020: Joe Biden announces he is nominating Janet Yellen for US treasury secretary
2015: Pope Francis urges peace while visiting controversial mosque in Bangui's PK5 district in Central African Republic
2009: José Mujica announced as the winner of the run-off election in Uruguay
2007: Hillary Clinton presidential campaign office hostage crisis: Leeland Eisenberg enters campaign office of Hillary Clinton in Rochester
2006: American folk artist "Grandma" Moses' 1943 painting "Sugaring Off" sells for a record $1.3 million
2005: The Boston Bruins trade captain Joe Thornton to the San Jose Sharks
2004: RCA releases "Breakaway", Kelly Clarkson's 2nd studio album
2004: Longtime "Jeopardy!" champion Ken Jennings of Salt Lake City, Utah finally loses
2002: Ina Garten's cooking show "Barefoot Contessa" premieres on the Food Network
1993: "Schindler's List", American historical drama film directed by Steven Spielberg and starring Liam Neeson, Ben Kingsley, and Ralph Fiennes, premieres in Washington,
1992: David Boon's 14th Test Cricket century, 111 v WI at Brisbane
1990: US President George H. W. Bush offers to send Secretary of State James Baker to Baghdad to meet with Saddam Hussein
1990: American actor Burt Lancaster suffers a stroke
1988: NYC furrier sues Mike Tyson for $92,000 for non payment of purchase
1986: American-based Czech tennis star Ivan Lendl is first player to make over $10 million in career earnings
1982: "Gandhi" directed by Richard Attenborough and starring Ben Kingsley and John Gielgud premieres in New Delhi
1982: "Thriller", 6th studio album by Michael Jackson is released
1981: NY Yankee Dave Righetti wins AL Rookie of Year Award
Learn About the Zodiac
Learn more about your Zodiac Sign by checking out our complete guide on Sagittarius. You can also learn about the signs of your friends and family!
Find the birth sign of any day of the year! Check out our comprehensive archive page where you can easily look up the Zodiac Sign for any day of the year!
Discover Your Nakshatra
In Vedic astrology the nakshatra is a used to determine many important aspects of a your life and personality. We have developed a free nakshatra calculator you can use to look up your nakshatra.