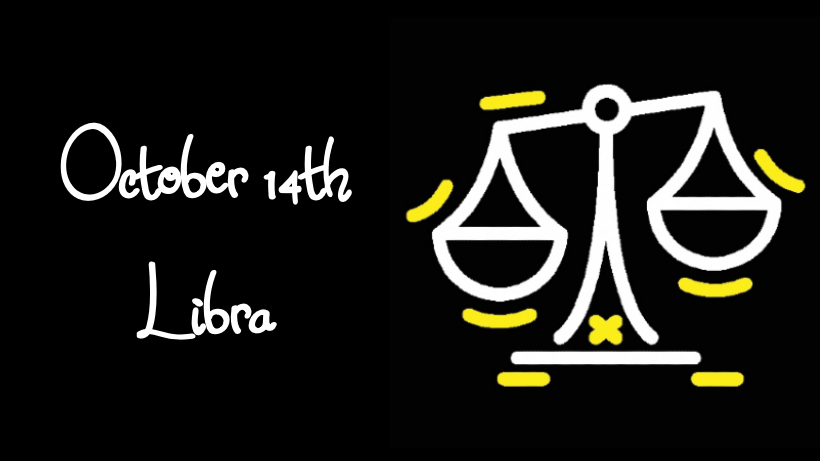 Were you born on October 14th? If so, then according to Western astrology your zodiac sign is Libra, the sign of the Scales. This means that when you were born, the Sun was in the stars that make up the constellation known as Libra. Learn the basics of your horoscope below.
Libra Overview
Libra is known as तूला (tula) in Sanskrit, or "measuring scale." Each sign of the zodiac is characterized by certain basic traits. This includes Symbol, Planetary Ruler, Element, Nature, and Gender. The general make-up of the Libra sign is below:
Sign of the Scales. Libra natives are balanced and judicious. However, they can be somewhat selfish.
Ruled by Venus. Venus is the planet of sensuality, fine food, the arts, and affairs of the home. Venetian individuals are fond of luxury and living the good life.
An air sign. Those with a Libra moon are imaginative, logical, and curious.
A movable sign. Persons born under this sign are fluid, spontaneous, and fond of change.
A masculine sign. This makes the native aggressive, bold, and thick-skinned.
Libra's preferred gemstone is diamond. Libras can also benefit from white sapphire and white topaz.
Traits of the Sun in Libra
In Western Astrology, also known as Tropical astrology, a person's sign is determined by the position of the Sun. If you were born on October 14th, then you're considered a Libra according to most people in the Western world.
The influence of the Sun in a birth chart will change depending on which house it is located in, its relative position in relation to other planets, as well as other factors. However, the following general traits are likely to be found in a native whose Sun is in Libra:
You are restless. Of the twelve signs of the Zodiac, the Sun is weakest in Libra. Ruled by the Sun's enemy, Venus, Libra is a sign of diplomacy and refinement. You feel uncomfortable in social settings. You are indecisive, and you often find yourself torn between multiple paths in life.
You will travel often. One plus side of this planetary placement is that you will have the opportunity for frequent travel, which you generally like to do. It is unlikely that you will settle in your place of birth when you are older.
You meet with many frustrations in life. The Sun is the planet of self-confidence, vigor, and enthusiasm. When the Sun is in Libra in the birth chart, the native struggles in these areas and meets with various obstacles. You may not feel you have ever found your "calling" in this lifetime. However, this can also be an impetus for detachment and spiritual exploration.
You may have an excessive desire for sex. Be wary not to over indulge in romantic pursuits. Short-term pleasures cannot compensate for inner feelings of deficiency, low self-esteem, boredom, and the like. If you practice yoga and meditation, especially bhakti-yoga, then you can become a master of your mind and senses and achieve enlightenment in this very life.
You know how to get along with people. You have a flexible personality type and you know how to adapt to any situation. You can easily fit in to any kind of group, and you may find that you belong to diverse circles.
RECOMMENDED: Check out all our articles on Vedic astrology to learn more about the different signs of the zodiac, as well as the planets, houses, and nakshatras.
Libra Careers
Librans do best in professions that allow a certain degree of independence. When working for themselves, they can be very enterprising.
Recommended careers: Libra-natives can do well as lawyers, judges, doctors, academics, artists, poets, sculptors, designers, and architects.
Careers to avoid: Librans are refined individuals. You may have a hard time working for others, especially bosses who are less intelligent or organized than you. For this reason, you may want to avoid careers that require selfless service or offer little recognition. For example, secretaries, janitors, plumbers, or mechanics.
Libra Mantras
A mantra is a short phrase that uplifts and cleanses our mind, heart, and consciousness. Most suffering takes place only within the mind, and by practicing mantra meditation, we can experience total relief from all suffering and negativity.
The Vedic wisdom texts offer many different mantras, powerful and sacred sound vibrations, that are customized for each individual depending on their unique, personal circumstances.
Librans can especially benefit by meditating with the following mantra:
ॐ परषुरामाय नमः
Om parashuramaya namaha
The Vedas contain many mantras that are effective for different people according to their particular situation. However, some mantras are universal. The following maha-mantra, or "super mantra," is beneficial for people born in any zodiac sign:
हरे कृष्ण हरे कृष्ण कृष्ण कृष्ण हरे हरे
हरे राम हरे राम राम राम हरे हरे
Hare krishna hare krishna krishna krishna hare hare
Hare rama hare rama rama rama hare hare
RECOMMENDED: In ancient times, all astrologers made calculations using the same sidereal system that's used in Vedic astrology. Check out our article on the differences between Western and Vedic astrology to learn more.
Famous Birthdays on October 14th
Usher
Dwight D Eisenhover
Roger Moore
Rowan Blanchard
Stephen A Smith
Cliff Richard
Nana Seino
Lourdes Leon
Mia Wasikowska
Ben Whishaw
Cansu Dere
Hannah Arendt
Stacy Keibler
Lori Petty
Steve Coog
Farah Pahlavi
Max Thieriot
Alexandra Lamy
Roy Chiu
Jared Golf
Events in History on October 14th
2020: A copy of William Shakespeare's First Folio sells for a record $9.98 million at auction in New York
2020: French president Emmanuel Macron announces a public health emergency and a curfew of 9 pm for nine cities due to surge in COVID-19 cases
2019: Booker Prize awarded jointly to Margaret Atwood for "The Testaments
2017: Spanish government says it will impose direct rule on Catalonia /li>
2014: Utah State University receives terrorist threats pertaining to Anita Sarkeesian's planned lecture the following day
2010: Mark Rutte sworn in as Prime Minister of the Netherlands
2001: German Ferrari driver Michael Schumacher wins his 4th F1 World Drivers Championship
1994: Nobel Peace Prize awarded to Yasser Arafat, Yitzhak Rabin and Shimon Peres
1991: Burmese opposition leader Aung San Suu Kyi wins Nobel Peace Prize
1986: Nobel Peace Prize awarded to Auschwitz survivor Elie Wiesel, for his efforts to ensure the Holocaust was remembered
1982: IOC Executive Committee approves the reinstatement of Jim Thorpe's gold medals from the 1912 Olympics
1980: Presidential nominee Ronald Reagan promises to name a woman to the US Supreme Court
1976: Nobel Prize in Economics awarded to American economist Milton Friedman
1975: US President Gerald Ford escapes injury when his limousine is struck broadside
1968: Opening of the rebuilt Euston railway station in London, England/li>
1964: Premier Nikita Khrushchev replaced by Leonid Brezhnev as General Secretary of the Soviet Communist Party
1964: Martin Luther King Jr. announced as winner of the Nobel Peace Prize
1960: Peace Corps 1st suggested by John F. Kennedy in a speech at the University of Michigan in Ann Arbor
1957: Queen Elizabeth II becomes the first Canadian monarch to open the Parliament of Canada with the Speech from the Throne.
Learn About the Zodiac
Learn more about your Zodiac Sign by checking out our complete guide on Libra. You can also learn about the signs of your friends and family!
Find the birth sign of any day of the year! Check out our comprehensive archive page where you can easily look up the Zodiac Sign for any day of the year!
Discover Your Nakshatra
In Vedic astrology the nakshatra is a used to determine many important aspects of a your life and personality. We have developed a free nakshatra calculator you can use to look up your nakshatra.