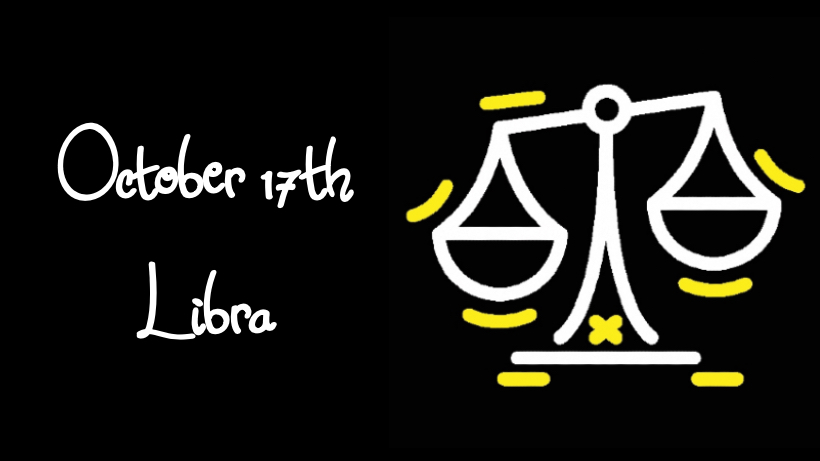 Were you born on October 17th? If so, then according to Western astrology your zodiac sign is Libra, the sign of the Scales. This means that when you were born, the Sun was in the stars that make up the constellation known as Libra. Learn the basics of your horoscope below.
Libra Overview
Libra is known as तूला (tula) in Sanskrit, or "measuring scale." Each sign of the zodiac is characterized by certain basic traits. This includes Symbol, Planetary Ruler, Element, Nature, and Gender. The general make-up of the Libra sign is below:
Sign of the Scales. Libra natives are balanced and judicious. However, they can be somewhat selfish.
Ruled by Venus. Venus is the planet of sensuality, fine food, the arts, and affairs of the home. Venetian individuals are fond of luxury and living the good life.
An air sign. Those with a Libra moon are imaginative, logical, and curious.
A movable sign. Persons born under this sign are fluid, spontaneous, and fond of change.
A masculine sign. This makes the native aggressive, bold, and thick-skinned.
Libra's preferred gemstone is diamond. Libras can also benefit from white sapphire and white topaz.
Traits of the Sun in Libra
In Western Astrology, also known as Tropical astrology, a person's sign is determined by the position of the Sun. If you were born on October 17th, then you're considered a Libra according to most people in the Western world.
The influence of the Sun in a birth chart will change depending on which house it is located in, its relative position in relation to other planets, as well as other factors. However, the following general traits are likely to be found in a native whose Sun is in Libra:
You are restless. Of the twelve signs of the Zodiac, the Sun is weakest in Libra. Ruled by the Sun's enemy, Venus, Libra is a sign of diplomacy and refinement. You feel uncomfortable in social settings. You are indecisive, and you often find yourself torn between multiple paths in life.
You will travel often. One plus side of this planetary placement is that you will have the opportunity for frequent travel, which you generally like to do. It is unlikely that you will settle in your place of birth when you are older.
You meet with many frustrations in life. The Sun is the planet of self-confidence, vigor, and enthusiasm. When the Sun is in Libra in the birth chart, the native struggles in these areas and meets with various obstacles. You may not feel you have ever found your "calling" in this lifetime. However, this can also be an impetus for detachment and spiritual exploration.
You may have an excessive desire for sex. Be wary not to over indulge in romantic pursuits. Short-term pleasures cannot compensate for inner feelings of deficiency, low self-esteem, boredom, and the like. If you practice yoga and meditation, especially bhakti-yoga, then you can become a master of your mind and senses and achieve enlightenment in this very life.
You know how to get along with people. You have a flexible personality type and you know how to adapt to any situation. You can easily fit in to any kind of group, and you may find that you belong to diverse circles.
RECOMMENDED: Check out all our articles on Vedic astrology to learn more about the different signs of the zodiac, as well as the planets, houses, and nakshatras.
Libra Careers
Librans do best in professions that allow a certain degree of independence. When working for themselves, they can be very enterprising.
Recommended careers: Libra-natives can do well as lawyers, judges, doctors, academics, artists, poets, sculptors, designers, and architects.
Careers to avoid: Librans are refined individuals. You may have a hard time working for others, especially bosses who are less intelligent or organized than you. For this reason, you may want to avoid careers that require selfless service or offer little recognition. For example, secretaries, janitors, plumbers, or mechanics.
Libra Mantras
A mantra is a short phrase that uplifts and cleanses our mind, heart, and consciousness. Most suffering takes place only within the mind, and by practicing mantra meditation, we can experience total relief from all suffering and negativity.
The Vedic wisdom texts offer many different mantras, powerful and sacred sound vibrations, that are customized for each individual depending on their unique, personal circumstances.
Librans can especially benefit by meditating with the following mantra:
ॐ परषुरामाय नमः
Om parashuramaya namaha
The Vedas contain many mantras that are effective for different people according to their particular situation. However, some mantras are universal. The following maha-mantra, or "super mantra," is beneficial for people born in any zodiac sign:
हरे कृष्ण हरे कृष्ण कृष्ण कृष्ण हरे हरे
हरे राम हरे राम राम राम हरे हरे
Hare krishna hare krishna krishna krishna hare hare
Hare rama hare rama rama rama hare hare
RECOMMENDED: In ancient times, all astrologers made calculations using the same sidereal system that's used in Vedic astrology. Check out our article on the differences between Western and Vedic astrology to learn more.
Famous Birthdays on October 17th
Eminem
Norm Macdonald
Felicity Jones
Arthur Miller
Rita Hayworth
Matthew Macfadyen
Kimi Raikkonen
Tarkan
Tori Matsuzaka
Prabowo Subianto
Holly Holm
Bill Hudson
Ziggy Marley
Evel Knievel
Wood Harris
Max Irons
Bea Alonzo
Luke Rockhold
Sydney Brooke Simpson
Brenda Asnicar
Events in History on October 17th
2020: Labour Party headed by Jacinda Ardern re-elected in a landslide in New Zealand's general election
2019: Mick Mulvaney, President Trump's acting chief of staff says the White House withheld nearly $400 million in military aid from Ukraine to further Trump's own political interests
2019: Turkey agrees to a ceasefire in Northern Syria for 5 days to allow withdrawal of Kurdish troops
2019: UK Prime Minister Boris Johnson announces new Brexit deal with the EU
2017: George Soros announces he has donated $18 billion to his grantmaking network the Open Society Foundations
2017: Philippine President Rodrigo Duterte declares city of Marawi "liberated" from militants
2015: Star forward Cristiano Ronaldo becomes Real Madrid's all-time leading scorer
2012: Lance Armstrong loses a host of endorsements in the wake of his doping scandal
2008: Sachin Tendulkar becomes the highest run-scorer ever in test cricket beating Brian Lara's record and passing 12,000 runs against Australia in Mohali
2007: The Dalai Lama receives the United States Congressional Gold Medal
1991: Pitts Penguin Paul Coffey sets NHL defenseman scoring record with 1,053 career points (309 goals & 744 assists)
1991: Ángel Cordero Jr. is 3rd jockey to win 7,000 horse races
1987: US First Lady Nancy Reagan undergoes a modified radical mastectomy
1986: Yitzhak Rabin forms Israeli government
1979: Mother Teresa of Calcutta awarded Nobel Peace Prize/li>
1978: President Jimmy Carter signs bill restoring US citizenship to Jefferson Davis
1970: Anwar Sadat sworn in as the 3rd President of Egypt
1967: Barbra Streisand stars on "Belle of 14th Street" special on CBS
1959: Queen Elizabeth II is fined $140 for withdrawing her race horse
Learn About the Zodiac
Learn more about your Zodiac Sign by checking out our complete guide on Libra. You can also learn about the signs of your friends and family!
Find the birth sign of any day of the year! Check out our comprehensive archive page where you can easily look up the Zodiac Sign for any day of the year!
Discover Your Nakshatra
In Vedic astrology the nakshatra is a used to determine many important aspects of a your life and personality. We have developed a free nakshatra calculator you can use to look up your nakshatra.